Dr. Mark Munoz featured in Private University Products and News Magazine
A best-selling author, an artificial intelligence (AI) advisor and an international business executive; Dr. J. Mark Munoz is an exceptionally accomplished faculty member at Millikin University who is helping bridge the gap between academia and industry.
Like many of the faculty members at Millikin, Dr. Munoz is incorporating his expertise in the classroom at the Tabor School of Business by providing unique hands-on learning experiences. From helping a country improve its economy to developing a marketing strategy for Ecuadorian handicrafts in the U.S. market, and even building a branding strategy for the entire country of Ecuador, Dr. Munoz is literally bringing the international business experience to Millikin's campus.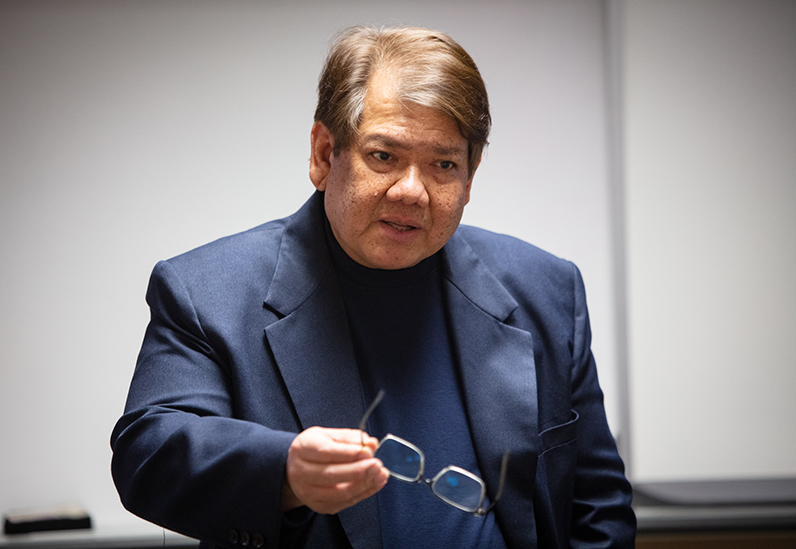 In a professor spotlight article featured in the January 2020 edition of Private University Products and News Magazine, Dr. Munoz described his latest work with AI, how his students helped develop a microenterprise zone in Zambia and offered insight into their work with Ecuador.
Recently, Dr. Munoz has brought artificial intelligence on the Millikin campus to another level by purchasing a Temi personal robot for use in the classroom. A premium designed, video-oriented, autonomous personal AI assistant robot, Temi uses facial recognition to identify and track users, and plugs into Google's artificial intelligence tools to mimic Google Assistant's functionality. Temi also gives users a hands-free way to video chat, watch TV or listen to music. Munoz is collaborating with other Millikin faculty to help students build apps to make the robot "smarter."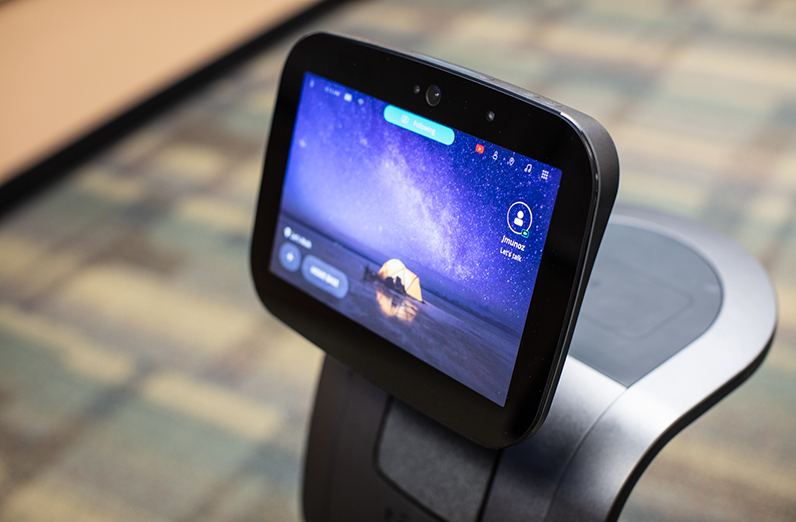 Munoz notes that companies need to evolve and adapt as they use AI. "I estimate that there is $5 billion devoted to AI startups, which means the investment community is betting on it, and AI is estimated to have a huge impact on industries in the near future, representing as much as $5.7 trillion."
In January 2018, Munoz was appointed as an advisor to the Artificial Intelligence Initiative through the John F. Kennedy School of Government at Harvard University. As an advisor, Dr. Munoz helps advance the scholarship of Harvard students, researchers, alumni, faculty and other experts in the area of artificial intelligence. A few years ago, he worked with Al Naqvi, founder of the American Institute of Artificial Intelligence, on a book about AI. Their book was considered ground-breaking and has been sold in bulk to many companies.
"With Mark, you're only two degrees of separation from anyone you'd ever need in the business," said Naqvi. "These relationships happen because Mark is well-liked and trustworthy. People respect him and want to work with him."
Real-world projects are one of the many essential components of Millikin's Performance Learning curriculum. Such is the case in Munoz's International Business Consulting course where over the last few years students have engaged in real life projects for companies, and sometimes governments, in various parts of the world.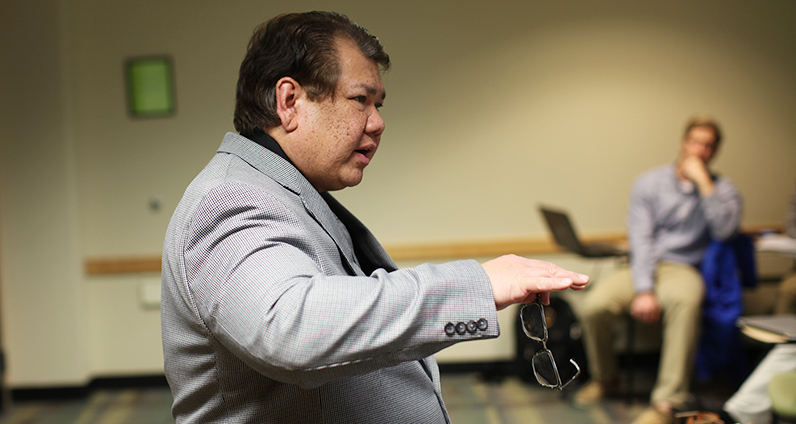 In 2012, students worked with the southern African country of Zambia to develop a microenterprise zone that would help the country's economy. Munoz authored a book on how the creation of microenterprise zones could help small businesses learn more about research, transportation or other areas affecting their success. After reading his book, the Minister of Microenterprise in Zambia reached out to Munoz about pioneering this project in Zambia.
"We had 12 students in the class spend the semester focusing on what microenterprise zones for small farmers in Zambia would look like," said Munoz. "The students put their heart and soul into the project." After Munoz and his students traveled to Zambia to present their findings, the government of Zambia facilitated a multi-day safari for them.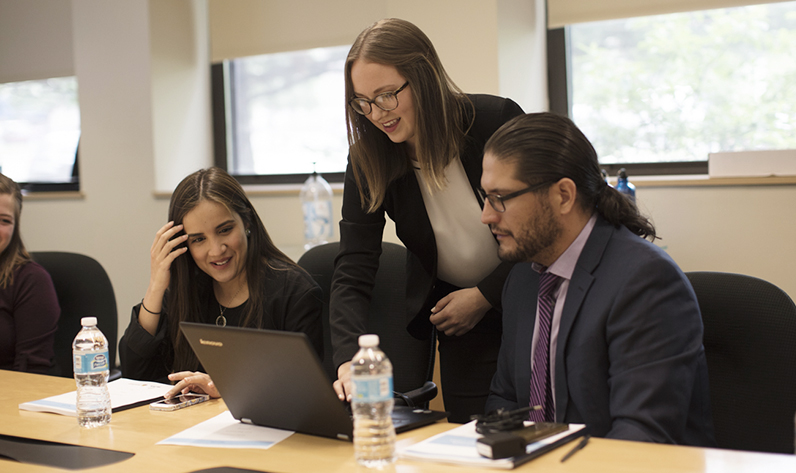 In 2017, Munoz's International Business Consulting students were tasked once again with another significant project, this time working with the government of Ecuador to develop a U.S. market entry strategy for Ecuadorian handicrafts.
Haley Hogenkamp '17 was one of the 11 students that worked on the project. "It was an incredibly formative experience for me as an undergraduate," she said. "At the beginning of our project, we had no idea just how immense the undertaking of the project would be. Additionally, it was high stakes. Our findings would inform decision-makers in Ecuador in a way that had never been done regarding handicrafts and the informal business sector."
In 2019, the government of Ecuador once again approached Munoz to have his class take on a branding strategy project for the Ecuadorian province of Imbabura to help boost tourism. Soon after, Munoz received another call; they asked if Munoz and the students would be willing to plan the global branding strategy for the entire country.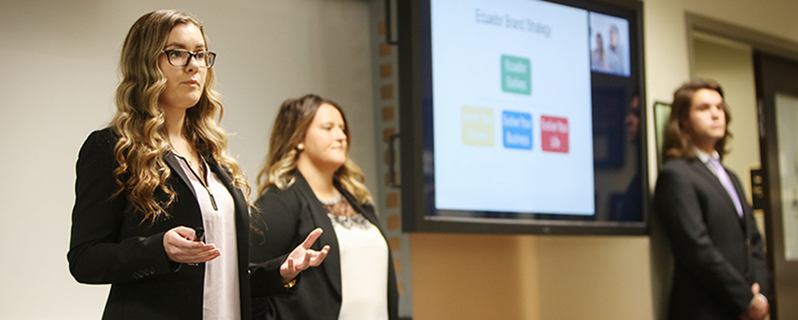 The objective of the project was threefold: to help the country export more products; to improve tourism; and attract investments.
"From the beginning, our goal was to showcase how Ecuador could transform its global positioning through tourism, investment and trade," said student Olivia Brewer, a senior entrepreneurship major from Moweaqua, Ill., who took part in the project. "We firmly believe that Ecuador has a huge opportunity to enhance its global position."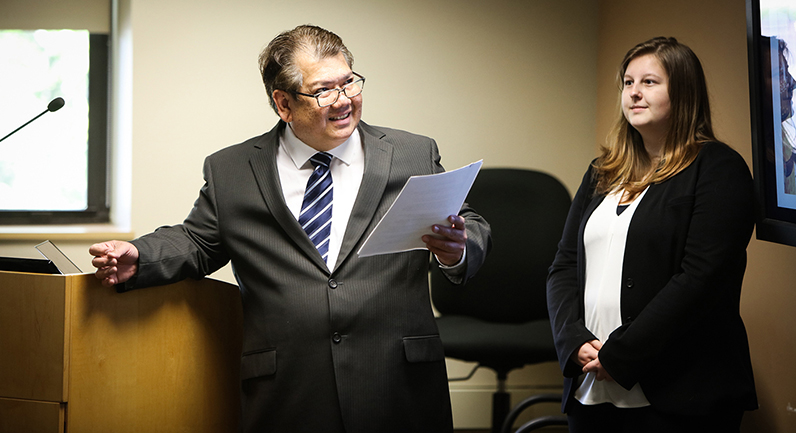 The end result of the students' work was a strategy called "Ecuador Evolves: A Global Branding Vision." The feedback from the government officials was positive, noting that the strategy could be used as a framework to build a branding campaign.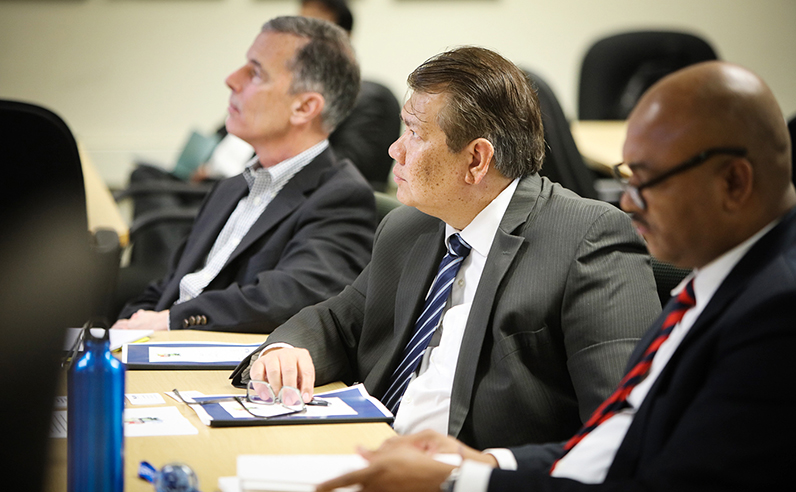 "The Tabor School of Business allows for this type of project to happen and not many schools have these type of opportunities," said Munoz. "The report was timely in the sense that they're trying to come up with their own branding company and wanted to know what are the things we should be thinking about? It was a unique experience for the students."
Dr. Jeffrey Aper, provost at Millikin University, shares that it is not at all uncommon for Millikin professors and their students to gain acclaim, whether that be locally, statewide, nationally or internationally.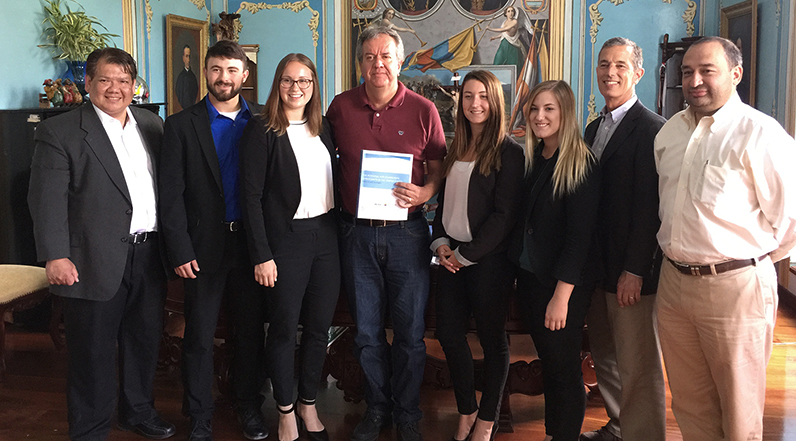 "Mark is a prime example. He epitomizes the character of the faculty – a group of people all committed to taking any extra steps for their students to help them understand what it means to be engaged professionals and to be involved citizens," said Aper. "We believe so deeply in the impact that our students can make on the larger world. It's what we care about the most."