Blue Review: All Access
I had the absolute pleasure of spending an afternoon with President Patrick White, drinking hot chocolate, asking him a few of my burning questions, and getting a glimpse of the man behind the presidency. I was surprised by his soft-spoken, quiet nature, as I have heard him fill the Kirkland Fine Arts Center with speeches of insight, wisdom, and great pride for Millikin. Over laughs, jokes and stories, I got a small look into the life of our leader.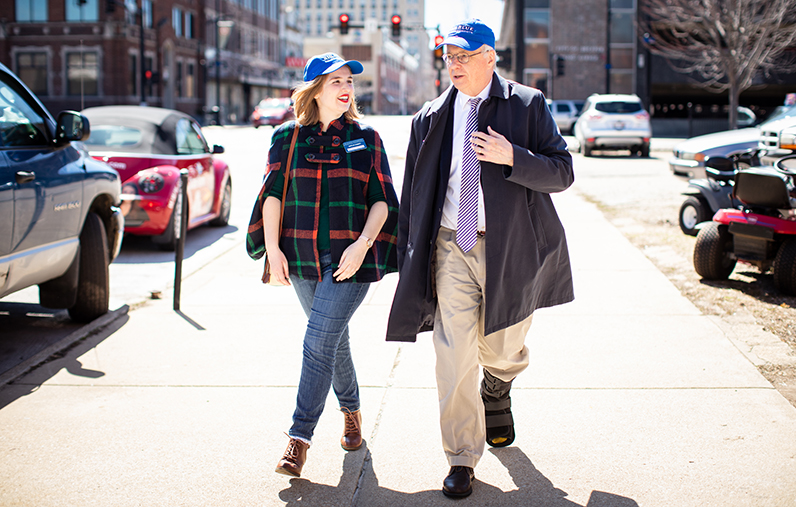 (Note: we were welcomed with warmth and hospitality at The River Coffee Company, and were deeply saddened when the building was lost to a devastating fire only a week later. Our afternoon spent enjoying the cozy comfort of easy conversation, sipping our drinks, shaking hands with friends and neighbors, and relaxing into a short relief from daily hustle will be a memory we will both keep.)
Me: Have you ever pulled an all-nighter as President? How late have you ever had to stay up working?
President White: I thought that when I got to grad school, I wouldn't have to pull all-nighters. (Wrong.) I thought when I became an Assistant Professor I wouldn't have to pull all-nighters. (Wrong.) I thought becoming an Associate Dean would mean I wouldn't have to work weekends. (Wrong!) In truth, I pull very few no-sleep-at-all-all-nighters, but there are way too many nights when I maybe get three hours a sleep. That's nuts! I'm not proud of that and certainly don't recommend it.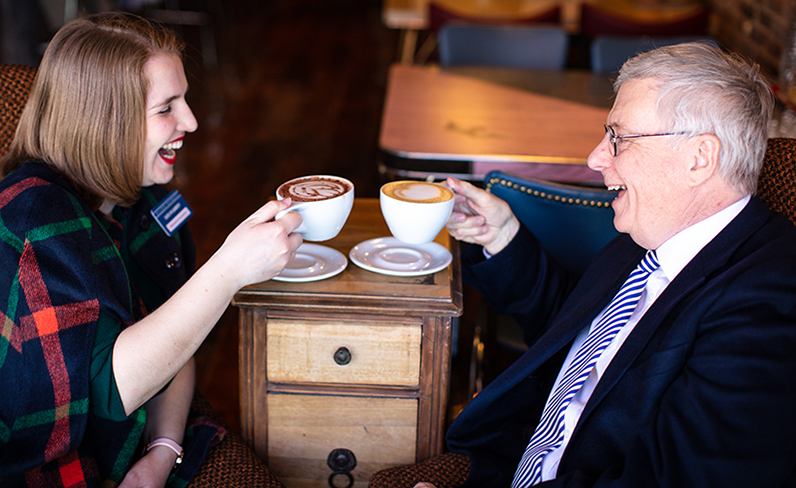 Me: What is your favorite thing about Millikin students?
President White: Oh it's impossible to say. One of many things is that I am constantly astonished at what our students are capable of. We teach by practice and performance, and that results in extraordinary courage. A good education gives students power over their own future and their own lives, and Millikin does that. When students graduate they aren't afraid about what's next. They're able to embrace uncertainty. People call it confidence, but I prefer the word courage.
Me: How did you meet Mrs. White? What has been her favorite part of Millikin involvement?
President White: I met Chris 49 years ago at my brother's wedding. I was the best man. I walked into the church, saw the back of her head with this beautiful long blonde hair, and I asked somebody, "Who is that?!" Turns out she was one of the bridesmaids. We danced and talked, and before the night was over I said, "I probably won't see you again, huh."

She smiled and replied, "You'll see me again."
Her favorite part of being involved with Millikin, like everybody, is meeting the students. She loves the incredible performances, the music and theatre, the athletics, and hosting students in our home. Tomorrow night we're having the wrestling team over to celebrate because three of them made it to nationals. At Millikin, there is good faculty and good friends, but it's always about the students.

Me: Describe your favorite college memory.
President White: My college days were spent reading (I was an English major), and playing guitar with my friends. I owned a $25 guitar that my dad bought for me when I won the National Merit Scholarship. We would gather and sing folk songs, and at that time, each year Chicago hosted a huge folk festival. They would bring in people from all over the world who were genuine folk and blues artists. I got to experience performances from some of my favorite music heroes.
Me: In 15 years, if you run into a Millikin graduate, what would you ask them? What would you hope they would say to you?
President White: I would hope that they would say, "Millikin transformed my life." I would hope they would still be actively involved and engaged with the Millikin community, and feel they are still a part of our University. Long after they've left campus as students, I want Millikin graduates to feel pride and ownership of our successes.
When I run into a grad, I want them to ask me, "Have you been back, President White? Have you heard what our music department is doing now? Have you heard what our philosophy department is doing now?" To me, that would imply that not only are they proud of their own time at Millikin, they're proud of present-day Millikin. That demonstrates investment.

Me: What are you most proud of as President?
President White: I'm a hard grader of myself. I would say I think I've helped Millikin discover some of its possibilities. The "Ah, there you are Millikin" phrase shows that our identity is wrapped up in the best version of ourselves. I hope Millikin is a braver place than it was a couple of years ago. I think I've helped the board feel courageous as they've worked to help fund the new buildings we need. I think I've helped some of our colleagues think of the possibilities to grow our programs.
Everyone is curious about the cap. I bought it years ago, just before a trip to Chicago. I wanted people to stop me and say, "Where is Millikin?" And I'd say, "You've never heard of Millikin University?!"
Millikin really does deliver on the promise of education. And I'm proud when people feel a strong sense of competitive energy to make Millikin even better.

Me: What do you worry about?
President White: I worry about a sense of shortsightedness in our culture and our lives; this sense of antagonism towards each other. People say that we've never had so many troubles, but being a liberally-educated person gives you a sense of time, space, and perspective. Millikin's best days are ahead of us. We've got to be thinking about the future. And to do that you have to understand the past. Some people would have you believe there's never been this kind of conflict in America. But the truth is we have seen worse. And we've endured. That's where courage comes in.
Me: What are you most excited about?
President White: Millikin's future is built on the decisions we're making today. There's a lot of pressure around that, but there's enormous excitement and belief. And that excitement is reborn every time I interact with a student. I might be walking out of my office wondering, "What are we going to do about the budget?" and bump into a student whose concert I enjoyed the evening before. I get the chance to celebrate with that student and affirm that student's sense of belonging and worth. Our students deserve that from me, and I get excited about that opportunity every single day.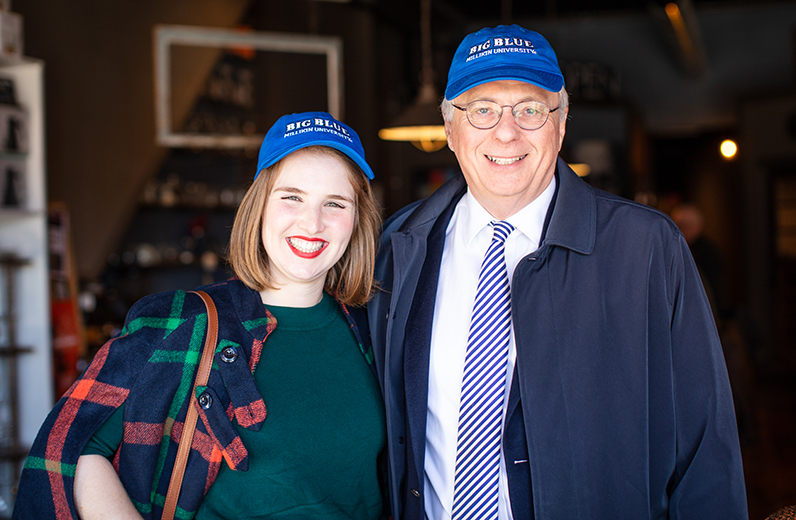 President White is the quintessence of what makes Millikin the place that it is. His genuine passion for Millikin is undeniable, his commitment to Millikin is unwavering. And his belief in the future of Millikin is nothing short of inspiring.

It was a conversation I'll treasure the rest of my days.