Professor of Hip-Hop opens Civic Discourse Week
As a high school student, A.D. Carson '04 aspired to become a professional rapper. Years later, the Millikin University graduate has made a name for himself as not only a performing artist, but an educator serving as an assistant professor of Hip-Hop and the Global South at the University of Virginia.
Carson grew up in Decatur, Ill., and attended Decatur Public Schools. After graduating from Millikin in 2004, he earned a Ph.D. in Rhetorics, Communication, and Information Design at Clemson University engaging in work that focuses on race, literature, history and rhetorical performances.
On April 9, Carson returned to Decatur and his alma mater to host a presentation for Civic Discourse Week, an opportunity for Millikin and the Decatur community to have authentic conversations about our duties as citizens in relation to America with focus on engaging and empowering local youth.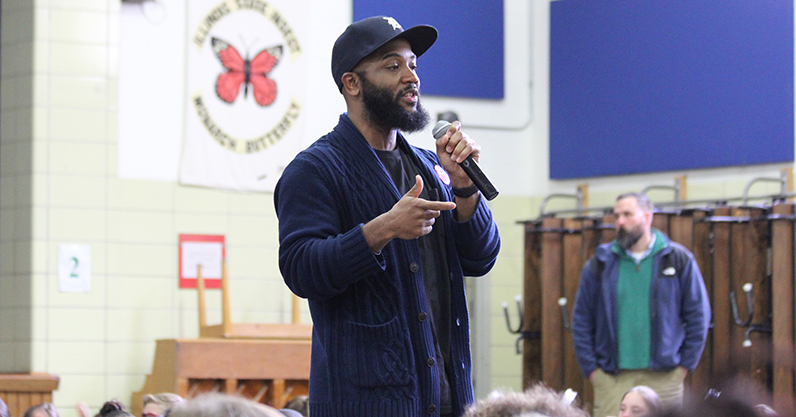 Before his presentation at Millikin University, Carson spoke to students at Dennis Lab Elementary School where he talked about what inspired him to write music.
"I loved hearing poetry set to music and it made me want to become a rapper more than a poet," said Carson. "I began writing songs in notebooks and soon was ready to record."
Carson gained national attention when he completed a 34 track rap album titled "Owning My Masters: The Rhetorics of Rhymes & Revolutions," which served as his doctoral dissertation. The dissertation was recognized by the Clemson Graduate Student Government as the 2017 Outstanding Dissertation.
Carson was also a 2016 recipient of the Martin Luther King, Jr. Award for Excellence in Service at Clemson where he worked with students, staff, faculty and community members to raise awareness of historic, entrenched racism at the university through his See the Stripes campaign.
In a recent interview with the Herald & Review, Carson talked about his position at the University of Virginia. "I know that it's the first time in title at the University of Virginia," Carson said. "There have been other professors who taught hip-hop, some very pioneering hip-hop studies. Research was done there by Kyra Gaunt, she's one of the foundational figures in the field of hip-hop."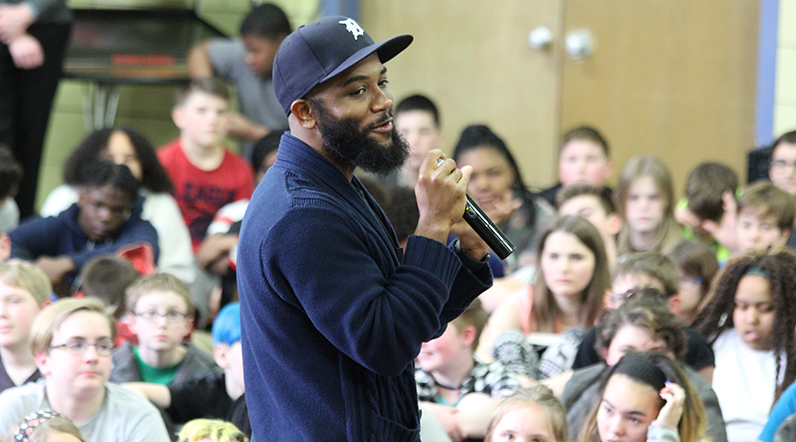 During his presentation at Millikin that same evening, Carson held a cross-disciplinary discussion linking literature, history and music to social justice issues and living in America today.
"I think that it really does enact some of these ideas that we might have on what it means to listen, respect voices that might sound differently than the ways that we understand being employed in academic spaces," said Carson.
Carson uses his artistry to raise political awareness, connecting music and literature in his dynamic approach to teaching. He has been called on as a race relations expert in the wake of the Charlottesville rallies.
In addition to Carson's presentation, Civic Discourse Week includes a presentation from young adult author Nic Stone as well as the 10th annual Conversation on Race, an event that celebrates a decade of creating space for ongoing and honest dialog about race in the Decatur community.