"I hope the conversations were as helpful to the students as they were for me."
It had been a few years since Millikin University graduate A.D. Carson, Class of 2004, walked the hallways of Shilling Hall.
On Feb. 24, Carson, an award-winning performance artist and educator from Decatur, was to take part in a visiting lecture series at the University of Illinois at Urbana-Champaign to discuss his academically "peer-reviewed" rap album, "i used to love to dream." Dr. Julio Enríquez-Ornelas, associate professor of Spanish and coordinator of Global Studies and Spanish Education at Millikin, got wind of the event and invited Carson to make a stop in his hometown.
Dr. Enríquez-Ornelas teaches a course through Millikin's African American Studies and Global Studies programs called Global Hip-Hop Culture. During the course, students gain awareness that hip-hop culture emerges out of a need to give visibility to often unheard human experiences; voices denouncing the economic oppression and exclusion within their communities.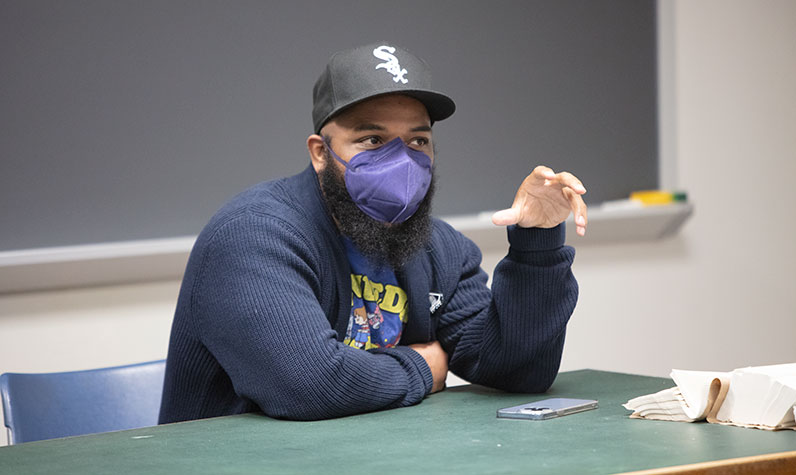 A.D. Carson
"Students learn how global urban music appropriates hip-hop culture to honor and respect those before them, but also because there is a universal aspect of hip-hop music that has made other artists around the world turn to it for self-expression, and for profit. Overall, students learn how communities of artists develop their own aesthetic out of a need to find their voice," Enríquez-Ornelas said.
Carson was the first speaker that the Millikin African American Studies and Global Studies programs hosted since the start of the COVID-19 pandemic. Currently an assistant professor of Hip-Hop and the Global South at the University of Virginia, Carson received a Ph.D. from Clemson University in Rhetorics, Communication, and Information Design.
Carson's latest work, "i used to love to dream," is the first-ever rap album peer-reviewed for publication with an academic press, and was released with University of Michigan Press in 2020. The work extends from his doctoral dissertation, "Owning My Masters: The Rhetorics of Rhymes & Revolutions," a rap album that is the primary feature of a digital archive at phd.aydeethegreat.com.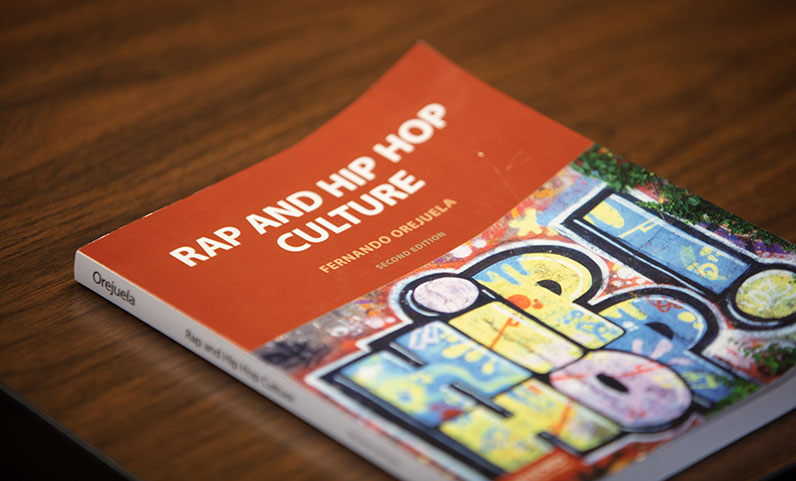 Carson's dissertation garnered international press and was also recognized by Clemson's Graduate Student Government as the 2017 Outstanding Dissertation. Carson was also a 2016 recipient of the Martin Luther King, Jr. Award for Excellence in Service at Clemson for his work with students, staff, faculty and community members to raise awareness of historic, entrenched racism at the university through his "See the Stripes" campaign, which takes its name from the poem featured on his dissertation album.
"Not only was it special to have an opportunity to discuss the album—which is about Decatur in a lot of ways—but to discuss Illinois hip-hop in a course focused on hip-hop at Millikin in Decatur makes it all the more special," Carson said. "Those are places that inform and continue to influence the kind of work I do and the music I make. It felt really good to be home."
Carson shared insight into the album which focuses on the idea of home—told through reflections about his past growing up in Decatur, from his present elsewhere, contending with the moral, philosophical, and ethical unease about authenticity and what it means to stay true to one's city or neighborhood. He uses Decatur as a reference point for rapped reflections about the ideas of growing up, moving away and pondering one's life choices.
"I was persistent in pushing forward saying that my music is a part of my intellectual practice," Carson said. "If we attend to histories of hip-hop that are culturally attentive, then we are always thinking about questions on appropriation, appreciation and ethical engagement. The first question I ask my students during the first week of classes is—what is your relationship to language?"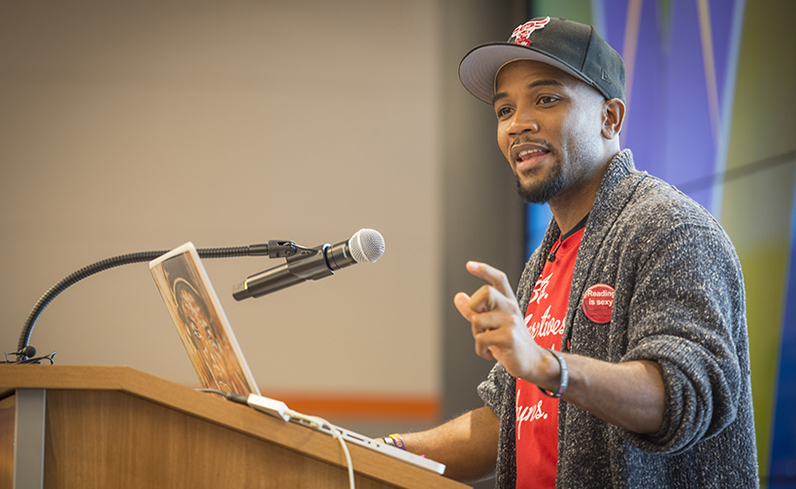 Carson also visited with students in a course called Introduction to African American Studies taught by Dr. Ngozi Onuora, associate professor in the School of Education and chair of the African American Studies minor at Millikin. Carson shared some of his work and spoke about the importance of valuing and respecting different oral literacies.
Carson says his time at Millikin played an integral part in his development as an artist and an educator.
"I hope the conversations were as helpful to the students as they were for me to be able to have it with them in the classrooms where I used to sit as an undergraduate wanting to have those same kinds of discussions," Carson said.
Dr. Enríquez-Ornelas added, "I was excited for my students to learn from Dr. Carson who grew up in Decatur and graduated from Millikin. Overall, one thing was clear during Dr. Carson's visit, and that is his love for Decatur and Millikin is real."