Business Experience Fund provides financial assistance for students securing internships
Craig Austin, of Oreana, Ill., aspires to become a corporate accountant, and his journey to that goal is off to a good start as the junior accounting major will be working as a tax intern this summer at the Ameren corporate headquarters in St. Louis, Mo.
To help with his internship expenses, the Tabor School of Business at Millikin University named Austin the first recipient of the Erik C. Brechnitz Business Experience Fund during a recognition ceremony on April 23.
The Erik C. Brechnitz Business Experience Fund was developed to provide financial assistance (up to $1,500) for students pursuing a major in the Tabor School of Business who have secured an internship and need financial assistance to pay for the travel and lodging expenses associated with the internship. To be considered a candidate for the fund, students had to submit their internship paperwork and a cover letter explaining what they hope to use the funds for.
"We thank Erik for being a lifelong supporter of Millikin University and the Tabor School of Business," said Dr. Najiba Benabess, dean of the Tabor School of Business. "Thanks to his generosity, our business students can complete their internship requirements anywhere in the country. Erik's support is vital to our ability to transform business education today and tomorrow."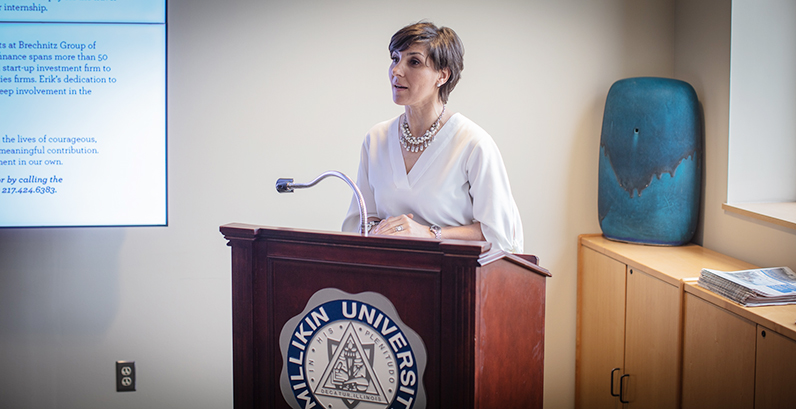 Millikin President Dr. Patrick White was among the speakers at the ceremony, noting that students sometimes need a little help financing the chase for knowledge and experience.
"One of the things the Business Experience Fund does is that it's a conceptually interesting way to solve a problem – how do we support this good work? These are the types of awards given to students for courage, determination and intellectual curiosity," he said.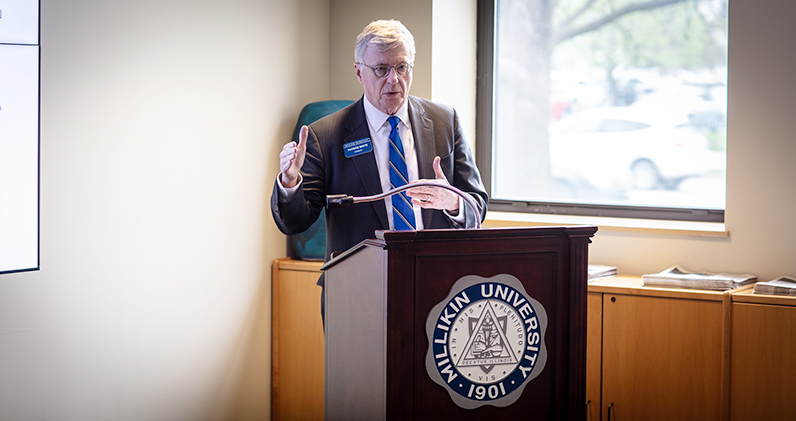 Erik Brechnitz served on the Millikin Board of Trustees from 1996 to 2008 and now serves as Trustee Emeritus. Brechnitz is senior vice president of the Brechnitz Group of Raymond James & Associates, Inc. His successful career in finance spans more than 50 years covering a wide universe of market conditions and economic environments. Before joining Raymond James in 2006, his career stops include senior vice president and branch manager positions at Morgan Stanley, Kemper Securities, Blunt, Ellis & Loewi and Loewi & Co.
Brechnitz has a long history of supporting and participating in his community. He has served as Decatur Jaycees president, Decatur City councilman, mayor of Decatur, president of the Decatur Economic Development Commission, president of the Decatur Investment Corporation and president of the Country Club of Decatur.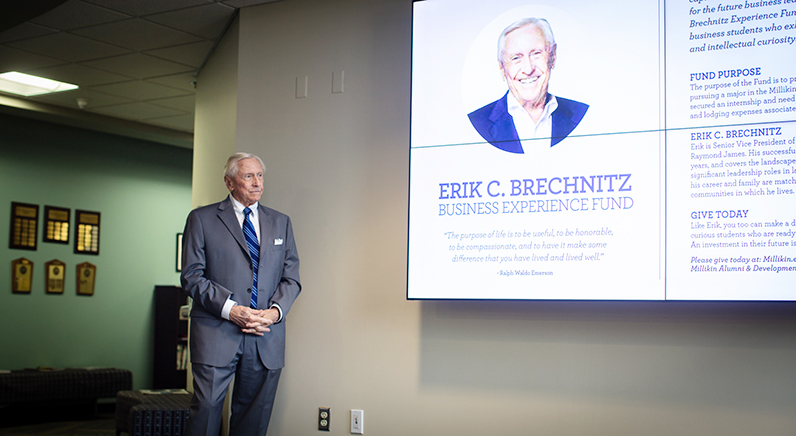 Wally Sparks, a wealth management specialist and chartered retirement planning counselor at Brechnitz Group of Raymond James & Associates, played an integral part of developing the Business Experience Fund.
"This was started by my longtime colleague Wally Sparks," said Brechnitz. "It was a way to honor me on my 80th birthday and I thought it was the greatest gift that I've ever received. I am pleased to be a part of this and I know I'm going to continue to contribute financially to this program. I will ask others to do the same and hopefully we will build it so that we will be able to give more awards in a few years."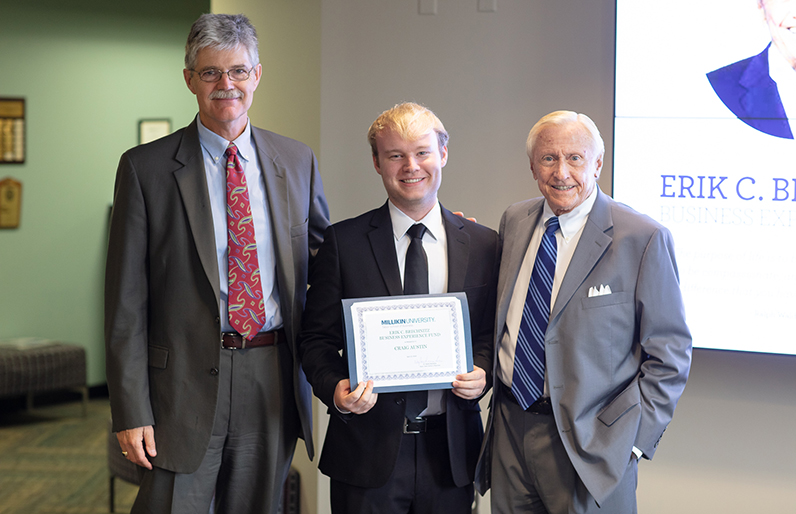 Austin was among 22 new members inducted into the Xi Sigma chapter of Delta Mu Delta (DMD) International Honor Society on March 21. Delta Mu Delta is a business honor society that recognizes and encourages academic excellence of students at qualifying colleges and universities.
Austin was also a recent member of the Volunteer Income Tax Assistance (VITA) program at Millikin, in which students file income taxes for low-income families in the local community free of charge.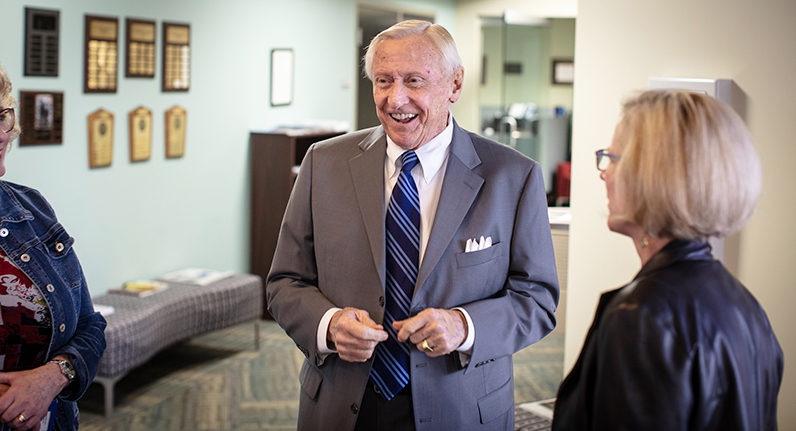 "I want to thank Erik for his generosity in providing this scholarship," said Austin. "The reason I wanted to have my internship with Ameren is because I want to go into corporate accounting. My experience at Ameren will allow me to interact with other business professionals."
In addition to preparing for the Uniform Certified Public Accountant (CPA) Examination, Austin plans to pursue a Master of Accounting Science at the University of Illinois at Urbana-Champaign.