Millikin conference celebrates the creative work of faculty
Millikin University faculty members consistently develop unique Performance Learning activities and projects each academic year. In celebration of these initiatives, Millikin hosted its annual Academic Interdisciplinary Conference (MAIC) on March 23 for faculty to showcase their creative and scholarly projects. The conference capped off Millikin's week-long celebration for its University Commons.
From discussing innovative teaching approaches to collaborative presentations, Millikin's Academic Interdisciplinary Conference featured 20 presentations centered on the theme of "Academic Leadership in Action."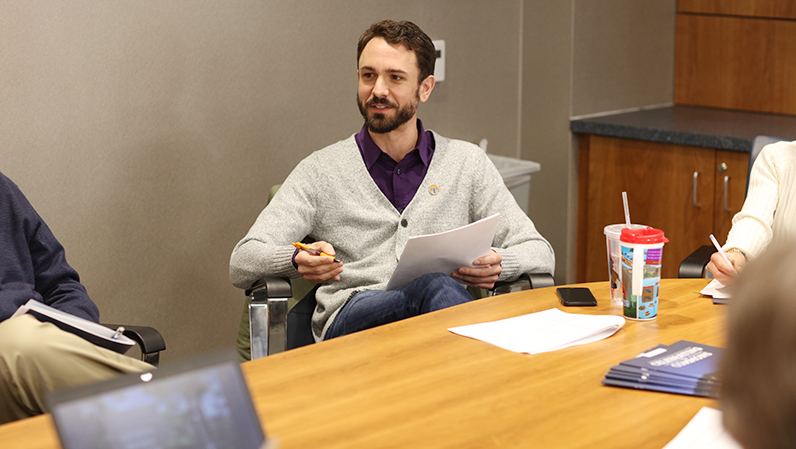 "A conference like the MAIC is a unique opportunity to learn more about the work of our Millikin colleagues," said Dr. Joyce Bezdicek, associate professor of education and conference committee member. "Our goal this year was to encourage a wider variety of presentations inclusive of teaching approaches, creative projects and more traditional scholarly work."
Among the morning sessions included presentations from Dr. J. Mark Munoz, professor of international management, and Dr. Tom Robson, assistant professor of theatre and dance. Dr. Munoz shared insight into his latest publication that he co-wrote with Dr. Michelle Ingram Spain, associate professor at the Walsh University Deville School of Business, on African-American entrepreneurs and their key contributions to the American economy. Dr. Robson presented a paper on Walt Disney World's Tomorrowland. The paper examined how both the park tells its story and what role the Disney park guests play in it.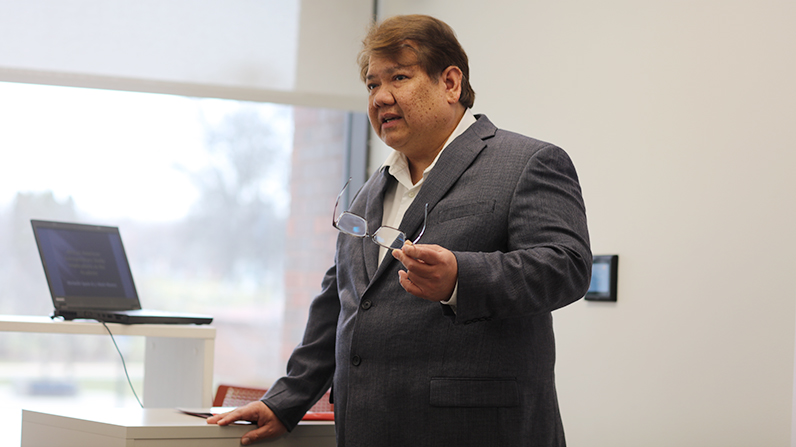 "We wanted to look at the mindset of African-American entrepreneurs, and we also wanted to see if there were trends that shaped the economic landscape and how African-American entrepreneurs are contributing to that landscape," said Dr. Munoz. "I believe the book will not only impact learning, but it will impact lives."
Dr. Tina Cloney, associate professor of exercise science and sport, and Brian Pehr, executive chef for dining services, teamed up to discuss an education program they host at Baby TALK in Decatur, Ill., where they teach teen moms in the Decatur community how to feed their families healthy foods.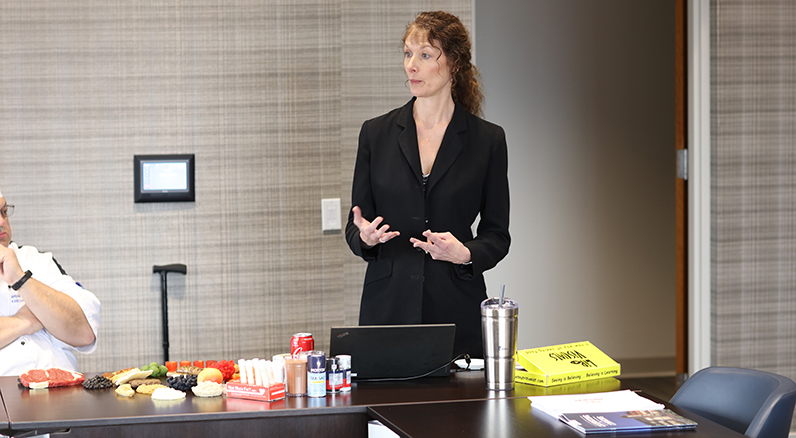 The sessions at Baby TALK began with Dr. Cloney and a Millikin student discussing nutrition topics important for young families to learn followed by a cooking and culinary lesson led by Chef Pehr. Dr. Cloney and Chef Pehr shared their experiences and participant outcomes of the program.
"One of the things that I enjoy is working with people out in the community and we had so much fun connecting with the parents," said Dr. Cloney. "Over a six-week period we held lessons on balancing meals, how to shop on a budget, how to read food labels and how to choose healthier snacks." The program also included a trip to the grocery store for parents to practice the many concepts learned in class.
Following the morning presentations Millikin alumnus Doug Oberhelman '75, retired chairman and CEO of Caterpillar Inc., returned to his alma mater to deliver a keynote presentation.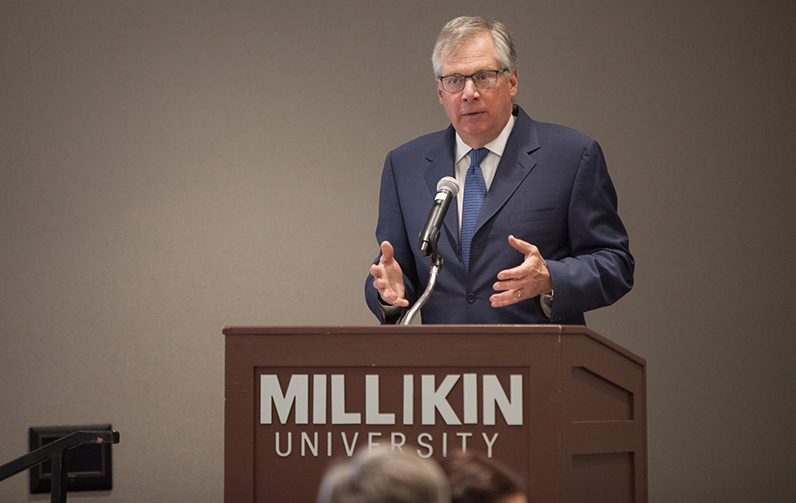 "I had no idea that when I started here in '71 or when I left here in '75 that I would ever become chairman of anything, let alone Caterpillar or Millikin," said Oberhelman.
Oberhelman retired as the chief executive officer of Caterpillar in December 2016 and as executive chairman of the board of directors in March 2017. While Oberhelman was addressing the crowd in the University Commons Banquet Room, he talked about his experiences of being a student at Millikin as well as his journey in the business world after graduation.
Oberhelman served on the Millikin Board of Trustees from 1996-2005. "I cherish my nine years on the board. I value that time because I have used that in some way or another since that time in 2005."
The conference came to a close with a number of afternoon presentations including a look at Performance Learning outcomes in social science from Dr. Laura Dean, assistant professor of political science, and Amber Lusvardi, instructor of political science.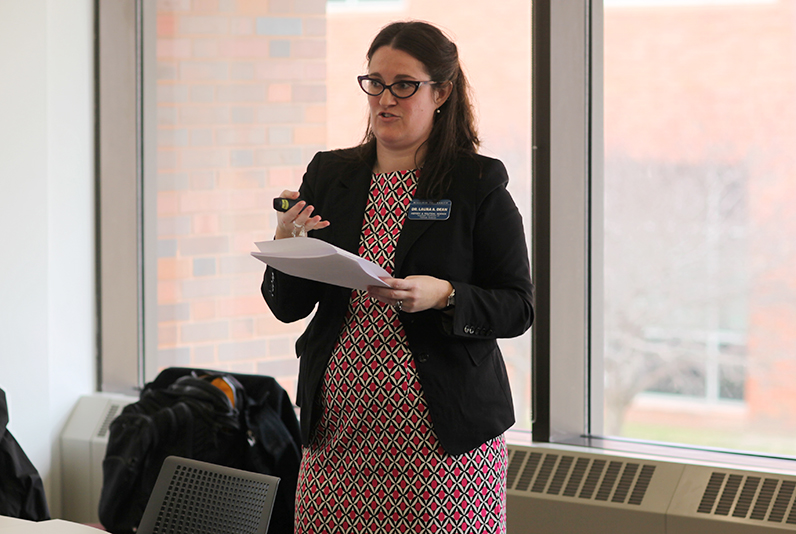 Both professors partnered to explore the different types of Performance Learning opportunities in political science by using observation data and survey data from undergraduate students. The research demonstrates that through Performance Learning opportunities, political science students feel better prepared for the job market and life after graduation. Their research also provides new ways to integrate hands-on learning in political science classes and new methods to measure the learning outcomes.
"Based on our survey, 80 percent of the respondents said that Performance Learning opportunities have improved their college experience," said Dr. Dean. "I think it shows that students at Millikin appreciate different Performance Learning activities no matter what course it is, even if it's outside their major. The positive results from this survey show us that Performance Learning is working."
Dr. Bezdicek says the conference committee received positive feedback from the faculty regarding the overall objective of the conference.
"We were delighted to see the wide variety of presentations for this year's conference and have received positive comments from presenters about our efforts toward a more inclusive approach to the call for presentations," said Dr. Bezdicek.