In a landmark week, Martin Atkins, School of Music Instructor and Coordinator of the Music Business program at Millikin University, has just been inducted as a fellow of In Place Of War by Brian Eno, at a ceremony held in London on November 18, 2022, along with fellow inductees Peter Gabriel (musician, human rights activist, and founder of WOMAD Festival), Igor Cavalera (founder of Sepultura, and Brazilian activist, and DJ, producer, artist and activist Laima Leyton.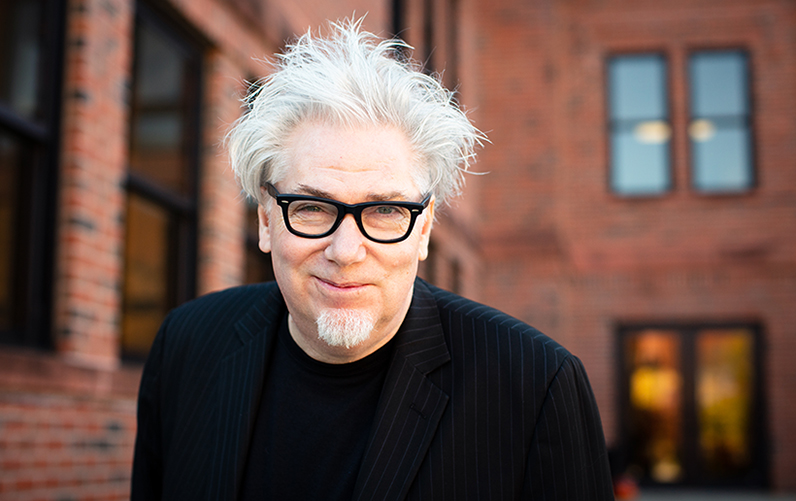 In Place of War is a global organization of partner foundations and artists using creativity in place of conflict as a tool for positive change. Martin has been a continual advocate for the work of In Place of War, supporting it through workshops and presentations around his unique approach to entrepreneurship with other change-makers. He's also helping develop the conversation around taking the 100 Agents of Change program to Chicago.
While in the UK, Martin was invited to speak to students at Abbey Road Institute about diversified skill sets and a production mindset, and at Birmingham Institute Of Modern Music regarding his entrepreneurial approaches to touring. In his 43-year career in the music business, he has headlined several events across the country, playing with such bands as Public Image Limited, Killing Joke, Ministry, Nine Inch Nails, and his own supergroup Pigface, which has been ranked in the top 12 Greatest Supergroups by Revolver Magazine.
Within the last month, Martin has also been chosen as one of 300 speakers at SXSW 2023 (from a pool of 3,500 submissions), where he will talk about touring smartly and how to survive as an artist during the present age where merchandise sales and DIY scrappiness reigns supreme. Brian Justison, Director of the School of Music at Millikin University had this to say about Atkins' career:
"Music Business, like some soft skill areas, is a nebulous concept, but Martin's decades in the business and his continued relevancy as the industry has undergone monumental changes, shows that he has the creative mindset to remain on the bleeding edge. Millikin's students are fortunate to have access to his insights and expertise."
Martin is the advisor to the student-run label and music publishing company, First Step Records, which provides hands-on experience in running an independent music label. During the Spring of 2023, Martin will be teaching record label history & operations, touring 101, legal issues in the arts, a senior seminar on topics in the music business, and overseeing internships in First Step Records and commercial music.
Additional information about In Place of War can be found on their website at inplaceofwar.net.
More about Martin Atkins' appearance at SXSW 2023 can be found at schedule.sxsw.com/2023/events/PP129673.
Information about the School of Music's music business major can be found at millikin.edu/academics/cas/music/areas-study/music-business.

About Martin Atkins
Martin Atkins is an English drummer and session musician, best known for his work in post-punk and industrial groups including Public Image Ltd, Ministry, Nine Inch Nails, Pigface, and Killing Joke. He also works as a consultant, has written books, and is the music business program coordinator at Millikin University in Decatur, IL. Atkins is an honorary board member of the Chicago-based nonprofit organization Rock For Kids and the founder of the Museum of Post Punk and Industrial Music in Chicago, IL. Visit martinatkins.bigcartel.com/about to learn more.
About the Millikin University School of Music
The mission of the School of Music is to "develop the whole musician – artistically, intellectually, technically - through the integration of theory and practice wherein students become active learners through contact with a faculty who themselves continue to grow as artists, scholars, and teachers."
Millikin's nationally recognized School of Music brings relevant, performance-based opportunities to all facets of undergraduate music education. With five distinctive music degree programs and additional certificate options, our students find their path to professional success through a blending of creative, performative, scholarly, and entrepreneurial experiences designed to train the next generation of music professionals. The School of Music also offers multiple opportunities for Millikin students to get involved in over seven ensembles. Students do not need to be a music major or minor to be involved. Visit millikin.edu/som to learn more.
For further information, please contact LJ Pemberton, Marketing and Patron Relations Manager at Kirkland Fine Arts Center at 217.424.3931 or lpemberton@millikin.edu.
###