Celebrating 50 Years of Millikin Women Athletics
To be a student-athlete at Millikin University takes sacrifice and commitment. "Wearing the Blue" is a privilege reserved for individuals willing to do anything to represent Millikin and the Big Blue family.
Millikin University has a long-standing history of women's athletics dating back to 1970 when Harriett Crannell assembled the University's first women's basketball team, marking the beginning of MU's storied history of women's athletics. Now, over 50 years and 10 NCAA teams later, Millikin is celebrating a proud tradition of women wearing the Big Blue who have excelled in competition, who became campus leaders and role models for the next generation of student-athletes.
2020 marked the 50th year of women's athletics at Millikin, and although the University planned to host various events in 2020, the COVID-19 pandemic altered the schedule. However, the University will be welcoming athletes and loyal supporters of women's athletic teams back to campus May 13-15, 2022, for a celebration weekend.
As the campus community gears up for this momentous occasion, we wanted to take the opportunity to share stories from alumni, coaches and current students to learn more about their Big Blue journey and the significance of being an athlete.
Ariel Robinson, Class of 2013, and a Millikin Athletic Hall of Fame inductee in 2020, set many records as a member of the women's track and field program, including indoor records in the 60m and 200m, and outdoor records in the 100m, 200m and 400m. She was a College Conference of Illinois and Wisconsin (CCIW) champion in the 60m (2012) and 55m (2013), and an outdoor champion in the 100m and 200m, both in 2012 and 2013. The supportive atmosphere she received and being a part of a team paid dividends in her life after Millikin.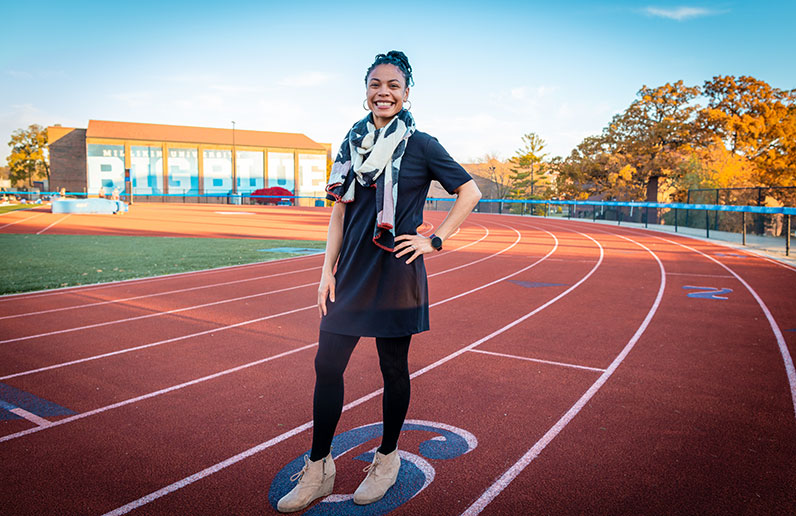 Ariel Robinson
"Track and field has always been a big part of my life … I actually ran my very first race at Millikin because I'm from Decatur [Ill.]. When I was in 6th grade, we had a track meet at Millikin," Robinson said.
Robinson initially began her college career at the University of Illinois at Urbana-Champaign but transferred to Millikin where she found a sense of comfort and purpose on campus after joining the track and field program. "There are people who want you around. I felt part of a community during that time as a student-athlete," Robinson said.
Majoring in athletic training, Robinson was a member of Delta Sigma Theta sorority and was a Long-Vanderburg Scholar. She went on to earn a Master of Science in Higher Education Administration from Florida International University in 2016 and has recently returned to the place "that chose her," Millikin, to serve as an admission counselor.
Reflecting back on her career at Millikin and celebrating women's athletics, Robinson prides herself on being a woman athlete.
"As a woman athlete, you have certain perspectives on life, and I felt I played a balance of being who I wanted to be outside of track and who I needed to be on the track," she says. "My teammates respected that. I'm excited to be a part of Millikin's history and I'm thankful that I can be a part of the conversation."
Current track and field athlete MacKenzie Moyer, a junior nursing major from Carlinville, Ill., can agree –the program has given her a community of people supportive of her athletic and academic careers.
"Being a Millikin student-athlete means having a huge community of people you can rely on, starting from your professors and advisors, to your teammates and coaches," she says. "It also means having a reputation to uphold, so it holds people accountable in their school lives as well as their personal lives."
As a nursing major, Moyer has strengthened her ability to manage her time and energy in efficient ways – an important skill she believes will help her stay organized after graduation. "Millikin celebrating 50 years of sports means that the community of student-athletes is continuing to grow and develop," she noted. "Student-athletes, no matter what sport, can relate to one another, and support each other as you meet people and friends in college. Having a community of people you can relate to is very important as you go through a new stage of your life."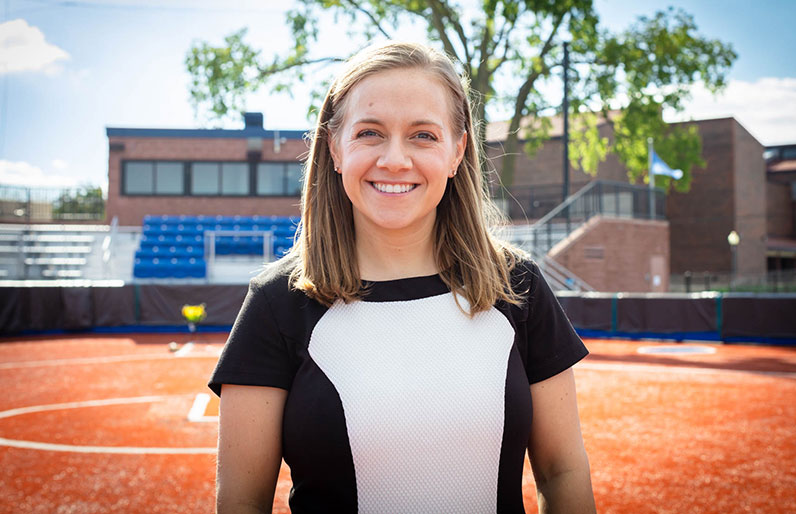 Core Jeffers Herek
Cora Jeffers Herek, Class of 2013, who was also inducted into the Millikin Athletic Hall of Fame in 2020 for her accomplishments in softball, always knew Millikin was on her radar because of music education. But being a part of the softball program was the first time she ever felt that her peers' passion and love of the game matched her own.
"When I came to Millikin, I was ready to become a music teacher. I was burned out from the summer before school was going to start, and I wanted to put all my eggs into one basket and be a music teacher. However, at freshman orientation, I knew I had to start playing softball again," Herek said. "I'm just so glad that I did because if I didn't play softball I knew I would be losing that part of who I am. Even when I look back on those years after my freshman year, my roommates, best friends and the girls in my wedding were all people that I played softball with."
Safe to say the decision worked out – Herek was named Team MVP in 2013, CCIW All-Conference First Team and Capital One Academic All-American Division III Softball Second Team in 2013 and set the Millikin career stolen base record with 82 bases.
Following Millikin, Herek earned a Master of Music in Music Education from Holy Family College and is currently a K-5 general music teacher at Argenta-Oreana Elementary School in Oreana, Ill.
Looking back, Herek appreciates the rarity of having truly dedicated, passionate teammates by her side, and appreciates the proud tradition of women wearing the Big Blue before her. "People like Lori Kerans and Deb Kiick, they had to really work for it and I'm glad that Millikin is telling the story and celebrating the women so we can remember and appreciate everything that they have earned for us and for generations to come," she said.
Like Cora, current softball player Gretchen Gould, a junior elementary education major from Sterling, Ill., is one of many student-athletes who take great pride in representing Millikin through sports.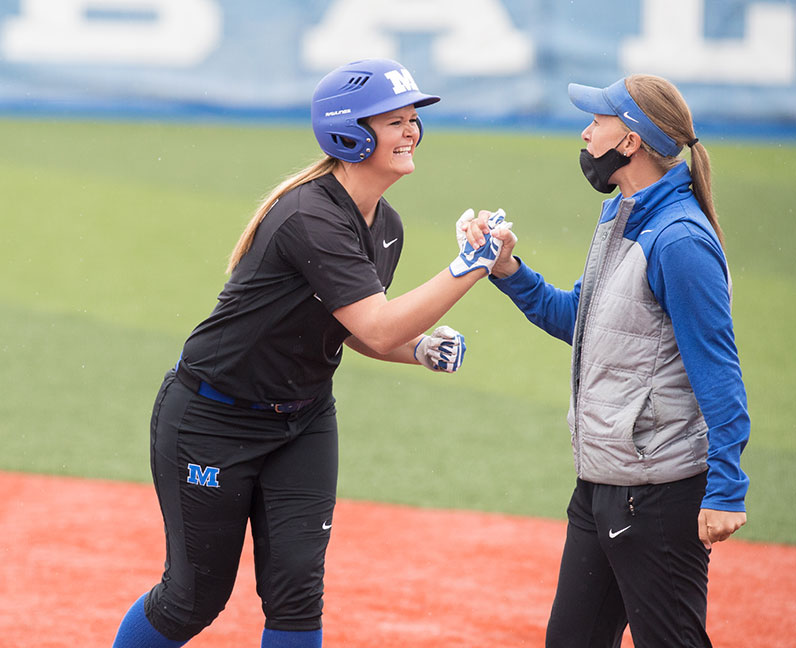 Gretchen Gould (left)
The pride she has for her school and the positive examples set by her teammates have influenced her in areas outside of softball.
"My teammates are very hardworking and that encourages me to be hardworking in everything I do in life. And being on such a large team has taught me a lot about working well with others, which is important as a future educator," Gould said.
Gould understands the full value of teamwork and believes that the softball team's recent success comes directly from their ability to work together effectively. "Our success really comes from our willingness to work together as a team," she said.
The lessons that Gould has learned throughout her time as a Big Blue student-athlete, along with the relationships she's made with her teammates are things she believes will be with her long after graduation … a common theme for Millikin athletes past and present.