Lockharts take on Millikin together
When Brandon and Megan Lockhart decided to go back to school together and pursue their undergraduate degrees at Millikin University, it was with a wealth of experience and foundation of success already under their belts. The husband and wife pair are the founders and previous owners of Lockhart's Barber Shop and Lockhart's Barber College, both successful businesses in Central Illinois, as well as owners of more than 100 rental units.
As members of Millikin's Class of 2022, they are both pursuing degrees in accounting. After graduation, they hope to combine what they've learned at Millikin with their previous business experience to build an even brighter future together.
Brandon and Megan both took classes from Lake Land College in Mattoon, Ill., after which Brandon decided to pursue his interest in entrepreneurship and began looking for opportunities. "After realizing there weren't many barbers in Illinois, I decided to go to barber school, because it allowed me the opportunity to start my own business. I didn't plan on barbering forever, but I knew it could be a great launching pad and learning experience," he said.
Brandon went on to receive his barber license in 2011 and his barber instructor license in 2012 from Illinois Quad Cities Barber & Hairstyling College in Moline, Ill. Later in 2012, Brandon and Megan were preparing to open Lockhart's Barber Shop in Decatur with a small budget and a lot of hard work. "My wife, her family and I handled all the labor to get the shop ready. We walked around town and handed out flyers to anyone who would take one. I would try to pull people in off the street," Brandon said.
Megan was greatly influenced by the challenging work of opening their business and said that she learned a lot from the experience. "Professionally, it taught me a lot of responsibility. We had a lot of people counting on us, and that really caused me to do my best and stay on top of things," Megan said.
She also recalled how watching Brandon work toward his dreams motivated her.
"Without realizing it, he has taught me how to strive for a purposeful life, to find direction and to get out of my comfort zone to reach my goals," Megan said.
By 2014, Brandon had also opened Lockhart's Barber College in Decatur, which saw quick success thanks to his growing reputation and effective marketing strategy. At its peak, Lockhart's Barber Shop featured five locations, including four shops and the barber college, and was the recipient of several notable awards.
Throughout the experience, Brandon said that the lessons he learned about business and personal connections would influence him in future ventures. "I learned the importance of serving my community. I built relationships with so many people. I learned a lot from those connections and grew a lot in the process," Brandon said. "I also learned a lot from the business perspective, as this was the first business I started from scratch. It taught me the fundamentals of business and inspired a further interest in business creation and management," he stated.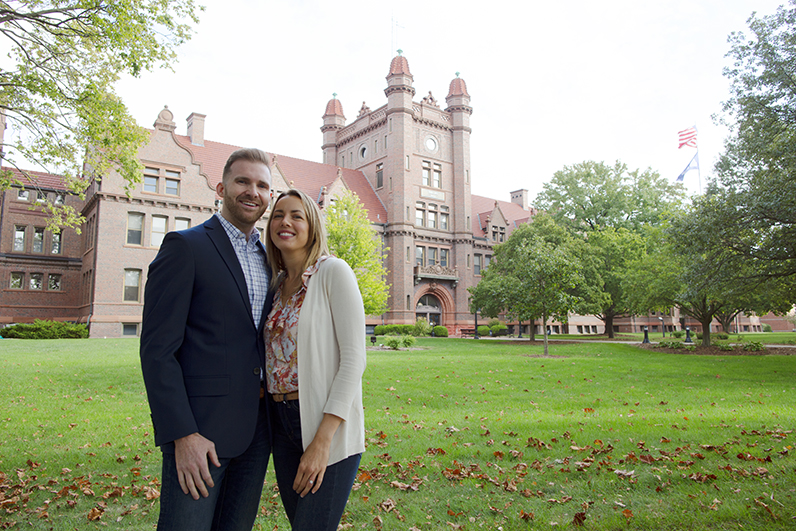 In 2018, Brandon and Megan decided to switch gears by selling their barbering business. Soon after the sale, the pair began taking classes at Millikin University to earn their undergraduate degrees.
Both Brandon and Megan had unique purposes for returning to school, but they were happy to be taking on the challenge together. "After learning so much through watching Brandon, I knew I needed to find something purposeful for myself. Millikin has a great reputation and is right across the street from our house, so it was just the perfect option," Megan said.
"I decided to sell my barbering business and change the direction of my life because I didn't believe I was fulfilling a significant enough purpose," Brandon said, explaining his decision to change paths. "I'm very optimistic that I'm headed in the right direction," he concluded.
For Brandon and Megan, earning their degrees together has enabled them to support one another through the journey's highs and lows. Megan said attending Millikin with her husband has been a great experience.
"Continuing our education has been no easy feat, and it is just so nice having your best friend with you when times get difficult. It's also a great feeling seeing him grow right alongside me," she said.
Brandon expressed similar sentiments about being at Millikin with Megan. "My wife is the most intelligent person I know. She inspires me every day and I learn and grow just by being by her side. Doing this together creates such a strong bond and support system for both of us. I feel so fortunate to have her on this journey with me," he said.
Along with their busy schedules as Millikin seniors, the Lockharts stay busy with their large collection of rental properties. Brandon began investing in real estate in 2014 and is also a licensed real estate broker.
The couple, who recently celebrated their fourth wedding anniversary, enjoy spending time with their two mini-dachshunds, Walter and Henry, and are avid runners in their spare time.