Big Blue begins search for a new President
In February 2019, Millikin University President Dr. Patrick E. White announced plans to retire effective June 30, 2020. Dr. White was elected the 15th president of Millikin University in October 2013. Under the leadership of President White and with the creative collaboration of all of Millikin, the University has made significant progress on many fronts.
In addition to building on its strong tradition of academic excellence and commitment to Performance Learning, Millikin University also completed the Transform MU capital campaign and has continued to mark strong fundraising with record annual fund contributions and growth in endowed scholarships.
The institution has worked to stabilize enrollments and has achieved growth in net tuition revenue and student diversity. The University has changed the face of campus through facilities that serve students and the community in new and exciting ways. Millikin has also risen in the national higher education rankings and earned notice in a number of rankings of specific programs, and so much more.
Consequently, Millikin University's next president will have much to build on and significant forward momentum.
In a recent op-ed from the Herald & Review editorial board, the publication offered thoughts on how this search process will be "an important moment for the school – as well as for Decatur (Ill.)."
"Millikin University is showing how a search for a new leader should be conducted," the Herald & Review writes. "Input is being collected from the Millikin community and the public about what qualities people would like in the to-be-hired 16th president."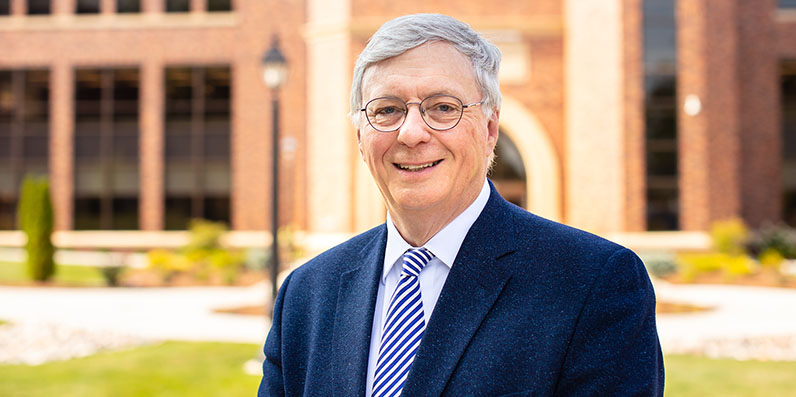 President White shepherded the private institution through a period of remarkable growth since he came in 2013.
"The campus had added the University Commons, among many other projects, and the Center for Theatre and Dance is rising," the Herald & Review writes. "The Workman Family Softball Field is an eye-catching addition, as will the Workman Family Baseball Field be. The Transform MU capital campaign has brought in a new era for the school. The athletics program has grown. And they continue to be committed to academic excellence."
Randell Blackburn '74, chair of the Millikin University Board of Trustees, noted, "At the same time, as a tuition-dependent institution in a competitive environment, we face continuing and significant challenges. With the right leadership, however, Millikin's momentum can be increased and its potential more fully realized. We hope that this search process will help bring the Millikin community together in support of our next president."
"We take special interest in who gets hired because Millikin is a crucial part of the Decatur community," the Herald & Review writes. "It's an employer, an economic generator and a source of creativity where new ideas and solutions bubble up. Students and staff come and stay. There is forward momentum that needs to continue."
The Millikin Board of Trustees has authorized a Presidential Search Committee and has launched a national search for Dr. White's successor. The search committee will be holding listening sessions in September to develop a collective sense of the kind of leader the University seeks.