Millikin University to host Congress to Campus
Millikin University students and central Illinois area residents will have the unique opportunity to learn from two retired members of the United States House of Representatives during a Congress to Campus event on Thursday, Sept. 21, on Millikin's campus. The Campus Congress Program is provided by The United States Association of Former Members of Congress.
Former Congressmen David Minge (D-MN) and Steven Kuykendall (R-CA) will spend the day visiting with Millikin students and providing guest lectures during classes. Representatives Minge and Kuykendall will also be the featured speakers during Millikin's annual Thomas W. Ewing Lecture on Sept. 21 beginning at 7 p.m. in the University Commons, Room 304, Ballroom B. The lecture is free and open to the public.
The Congress to Campus program sends a bipartisan pair of former U.S. representatives to college campuses for visits during which they address classes and meet informally with students. The aim of Congress to Campus is to engage students and provide inspiration that will lead to greater democratic participation.
David Minge (D-MN, 1993-2001)
David Minge has been a long-term resident of rural Minnesota and now lives in St Paul, Minn. Minge graduated from St. Olaf College and the University of Chicago Law School. He was an associate at the Faegre and Benson law firm in Minneapolis and taught at the University of Wyoming College of Law. He moved to Montevideo, Minn., in 1977 and practiced with the law firm of Nelson, Oyen, Torvik, Minge and Gilbertson for 15 years. He was elected to the local school board and in 1992, was narrowly elected to Congress to represent Minnesota's Second District. He held office for four terms (eight years), with major committee assignments being the Budget Committee and the Agriculture Committee.
While in Congress, among other efforts, Minge worked to establish the Minnesota River Conservation Reserve Enhancement Program, was a founding member of the Blue Dog Coalition co-chairing its budget efforts, and was a leader in the US-Japan Legislative Exchange. In 2002, Minge became an appellate judge, serving on the Minnesota Court of Appeals until 2012 when he reached Minnesota's mandatory judicial retirement age. Since 2012, Minge has served as a facilitator for a State-Federal agriculture water quality program, taught a seminar on Agriculture and the Environment at the University of Minnesota Law School, taught Constitutional Law at St. Olaf College, and will be serving as a retired judge.
Other activities include fellowships with the Kellogg Foundation and the Woodrow Wilson Center, serving on the boards of community, conservation, and environmental organizations, and participation in numerous Congress to Campus visits.
Steven Kuykendall (R-CA, 1999-2001)
Steven Kuykendall served in the United States House of Representatives from 1999 to 2001 representing California's 36th Congressional District. Congressman Kuykendall served on the Armed Services, the Science and the Transportation and Infrastructure Committees of the House. In his first year in Congress, Congressman Kuykendall helped craft a plan to pay down the national debt while still providing a tax cut and protecting Social Security. He secured funds to help clean up Santa Monica Bay and dredge the Marina del Rey Harbor entrance. Congressman Kuykendall also authored a provision in the defense authorization bill that allowed active duty military bases to swap surplus land for new structures on the sites they retain, making them better stewards of their assets.
Before his election to Congress, Kuykendall served two terms in the California State Assembly, from 1994 to 1998. During his first term in the state legislature, he served as Republican Whip. He also served on the Banking and Finance, Labor and Employment, Higher Education, and Utilities and Commerce Committees. Kuykendall demanded a full accounting of legislative spending and oversaw the Assembly's first "clean" fiscal audit in 10 years.
In addition, he co-authored California's "Megan's Law" and wrote the "Tyler Jaeger Act" to protect children from abuse and child molesters. Kuykendall began his public service as councilman and mayor of Rancho Palos Verdes. He has also served as president and trustee of the Peninsula Education Foundation, regional commissioner for AYSO Youth Soccer, trustee of the Palos Verdes Peninsula Land Conservancy, chairman of the Palos Verdes Regional Law Enforcement Committee and vice-chairman of the Los Angeles County Emergency Preparedness Commission.
Commissioned as a Marine Corps Second Lieutenant in 1968, Kuykendall served two tours of duty in Vietnam, participating in the effort to stop the North Vietnamese Easter Offensive in 1972. He rose to the rank of Captain and retired in 1973 after a permanent shoulder injury. In 1973, Mr. Kuykendall became a businessman working in the commercial and mortgage-banking field until 1994. During that time, he founded and served as president of Lockheed Mortgage Corporation, a subsidiary of Lockheed Corporation. He was also a principal with David Buxton Financial Corporation from 1984-1994.
Since leaving Congress, he is engaged in local, state and federal government relations and management consulting as proprietor of Steven T. Kuykendall & Associates. In 2013, Kuykendall became the volunteer president and CEO of Fisher House Southern California, Inc., a 501(c)3 charity, dedicated to raising funds for the construction of a Fisher House on the Long Beach Veterans Administration Medical Center campus. Congressman Kuykendall holds a Bachelor of Science in Economics from Oklahoma City University (1968) and a Masters of Business Administration from San Diego State University (1974). He is a member of Veterans of Foreign Wars, First Marine Division Association, Military Officers Association of America, Rotary International and the U.S. Association of Former Members of Congress.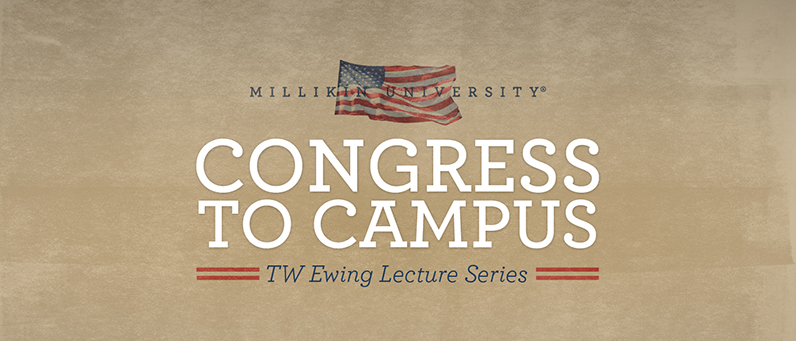 Thomas W. Ewing Lecture
The Thomas W. Ewing Lectureship was created by Millikin University and Congressman Ewing's colleagues in recognition of his many years of public service. Ewing, a 1957 Millikin graduate, retired in 2001 after serving nine years in the U.S. House of Representatives from the 15th District of Illinois. Ewing served 17 years in the Illinois House of Representatives, where he was assistant Republican leader from 1982-1990 and was named deputy minority leader in 1990.
Previous speakers have included Robert F. Kennedy Jr., environmental advocate; Peter Hoekstra, Chairman of the House Permanent Select Committee on Intelligence; and former Congressmen Jack Buechner (R-Mo.) and William Robert Roy (D-Kansas). The lectures focus on public policy and service, and visiting lecturers are selected based on their prominence in those fields as well as their ability to inspire others to serve.
The United States Association of Former Members of Congress
The United States Association of Former Members of Congress (FMC) is a bipartisan, nonprofit, voluntary alliance of former United States Senators and Representatives, standing for America's Constitutional system, which vests authority in the people through their elected representatives. FMC works to strengthen the Congress in the conduct of its Constitutional responsibility through promoting a collaborative approach to policy making. FMC seeks to deepen the understanding of our democratic system, domestically and internationally, and to engage the citizenry through civic education about Congress and public service.