SCORE
Becky Hamilton,
President, SCORE Chapter 296
SCORE Decatur (SCORE was formerly an acronym for Service Corps of Retired Executives) has had a mutually supportive 40+- year relationship with Millikin University. The on-campus SCORE Chapter is comprised of eighteen volunteers forming a network of working and retired business owners, executives, educators, and managers who understand first-hand the challenges and decisions that start-up and existing small business entrepreneurs are facing today. In 2017, through classroom workshops and free confidential mentoring, SCORE Decatur served 49 new business that launched within our local community. The combination of mentoring sessions and workshop attendees summed 865 total chapter service touch points.
---
Millikin Decatur Executive Association
Rob Dixon,
MDEA Chairman & Senior Vice President,
Town & Country Bank
Our goal as the Millikin Decatur Executive Association (MDEA) is to deliver valuable information to our members, which is comprised of local business leaders, and to deepen partnerships within the Millikin and Decatur communities. In 2018 we accomplished this through a variety of speakers, seminars and lunch & learn sessions:
Matt Mayberry, former NFL player and motivational speaker, spoke about obtaining peak performance
Bryce Austin opened our eyes on issues surrounding Cyber Security
Jim Shultz reframed current economic challenges into opportunities for our community
Dr. Tony Liberatore explored habits for success for any level executive
Tom Bayer shared first-hand knowledge and tips on transition and succession planning
---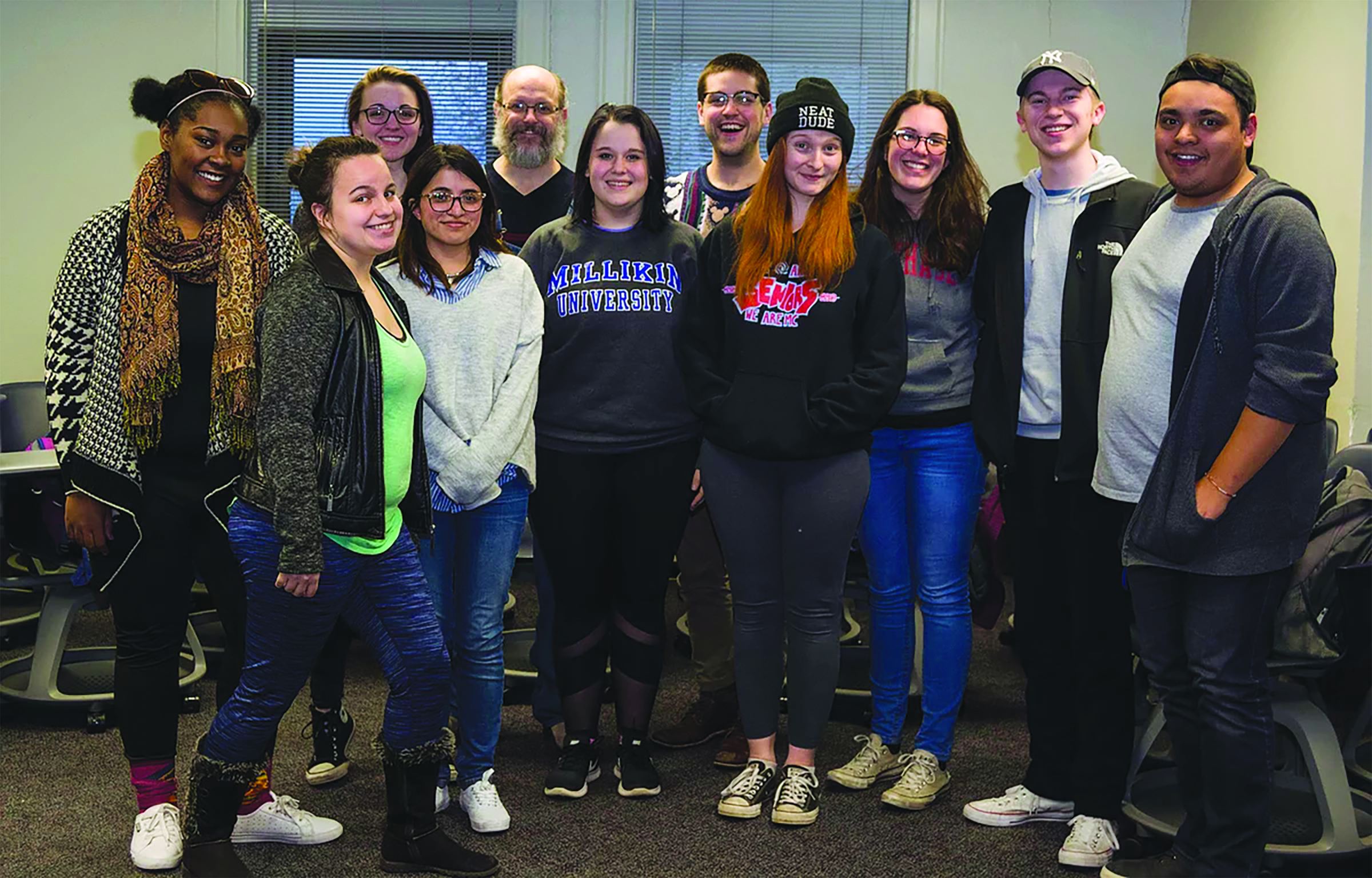 Shakespeare Corrected
Alex Miller,
Associate Professor, School of Theatre & Dance
Shakespeare Corrected's mission is to bring undergraduate students together with incarcerated and disadvantaged populations to collaborate and create a theatrical experience intended to inspire transformation and redemption in students, participants, and their families. Rooted in social entrepreneurship, Shakespeare Corrected is demonstrating with each new season how the arts can literally change lives. In 2018, the Shakespeare Corrected class, 14 Millikin students worked with inmates at Decatur Correctional Center and with clients of local organizations like Boys and Girls Club, Phoenix Academy, Macon Resources, Inc, and Webster-Cantrell Hall to hold performances of Shakespeare's A Midsummer Night's Dream for audiences of friends, family and others. As the faculty who started this project and continues to facilitate it, I have to say it is all the work of the students in the class. They own it. They are thinking beyond themselves and they are helping inmates and clients also think beyond themselves. Our student directors had to modify the play for each cast, since adult inmates can use different skills than special needs populations or after school youth programs, but the outcome is powerful for all involved.