Welcome home, MU!!!!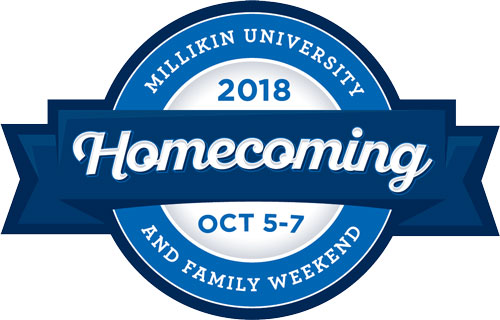 Homecoming is a special time for ALL of our Big Blue family – and the variety of activities taking place this weekend, October 5-7, reflects the wide range of interests among our students, alums, faculty and staff. In other words, it isn't just about football anymore! The College of Fine Arts will feature something for everyone over the weekend, from concerts to theatre productions, gallery exhibitions to comedy, along with a block party featuring Millikin alums, faculty and students providing the entertainment!
In fact, here's a game plan that doesn't necessarily feature a game…
Friday at 5:00, go downtown to the Blue Connection to see an exhibition featuring the paintings of alum Nicole Christison, and enjoy a snack and an adult beverage. Then proceed back to campus to Kirkland for the Alumni Band Performance at 7:30, followed by a reception in the Perkinson Gallery, where you can check out a stunning exhibition celebrating Frank Lloyd Wright's Imperial Hotel in Tokyo. If this is not your kind of stuff (wait, why not?), then chill out on Oakland Avenue from 5:30-midnight with faculty, alums, and friends at the free Oakwood Block Party, featuring country by headliner and alum Eric Burgett and his band, jazz with the Mark Tonelli Trio, and roots and rock and roll with the Illinois Nationals and Sunshine Daydream (Deadheads, this one's for you!). If that is not enough, there will be dancing in the street with MU's Dance Team, the Sapphires, and Physical Graffiti! This thing goes until midnight, so you could catch a little bit of everything earlier, then come out for the street party later.
Saturday (after breakfast in the University Commons?), start the day's fun at 11:00 outside the UC with some great music from the students in Jazz Band I, Blue Bop and the Electric Guitar Ensemble. Grab a snack on your way to the other side of the UC for the Millikin Big Bluegrass Band reunion at 1:00. Then at 2:00, go to either the Perkinson Gallery for an Alumni Reception (with refreshments) hosted by curator Ed Walker who will talk to you more about the Imperial Hotel Exhibition – OR - to Albert Taylor Theatre for the School of Theatre and Dance production of Julius Caesar. Have some dinner at LSB and listen to MU's Faculty Jazz from 4 -6, and then maybe go to the game, or to another showing of Julius Caesar at 7:30 (if you missed it earlier), but remember that Joel Kim Booster, rising comedy star and alum, will be doing his set at at 9PM in Kirkland, followed by yet ANOTHER reception (with Joel!), hosted by the College of Fine Arts Patrons Society and the Alumni and Development office. Then party like there's no tomorrow! But - there IS…
On Sunday, you probably need to go to brunch, but then you need to go to church (yes, in that order). The Central Christian Church, to be precise. At 2:00 the University Choir will perform there with the Alumni Choir (who have rehearsed over the weekend) to honor the late Kay and Dick Hoffland who together established the MU choral programs that would go on to achieve international recognition and continue to receive accolades all over the world. But if you can't make it to church, you could always attend the closing performance of Julius Caesar in Albert Taylor (if you somehow missed it… again).
It's late Sunday afternoon. You've had quite a weekend. You've seen the fabulous new University Commons. You might have wandered by the site formally known as RTUC, which is now a giant hole that will be filled, by 2020, with a new Center for Theatre and Dance! You will surely have come across many friends and teachers, and no doubt the guy with the blue ballcap. You have heard some great music, had some laughs, seen some art, enjoyed some refreshments, and you may (or may not) have even seen a football game! Regardless, here at MU, Homecoming is for everyone.