Wrestling
Senior Bradan Birt, of Epworth, Iowa, capped off his unprecedented run of Millikin wrestling victories by winning the first NCAA Wrestling Championship in school history. Birt took first place in the 165-pound weight class at the 2022 NCAA Division III Wrestling Championships in Cedar Rapids, Iowa, on March 11-12. A sports management major, Birt won the Championship Match by major decision 14-2 over third-seeded Kyle Hatch of Wabash College. Birt finished the season 42-0 and ended his Big Blue career with a 70-match winning streak dating back to 2019. Birt has a career record of 159-13.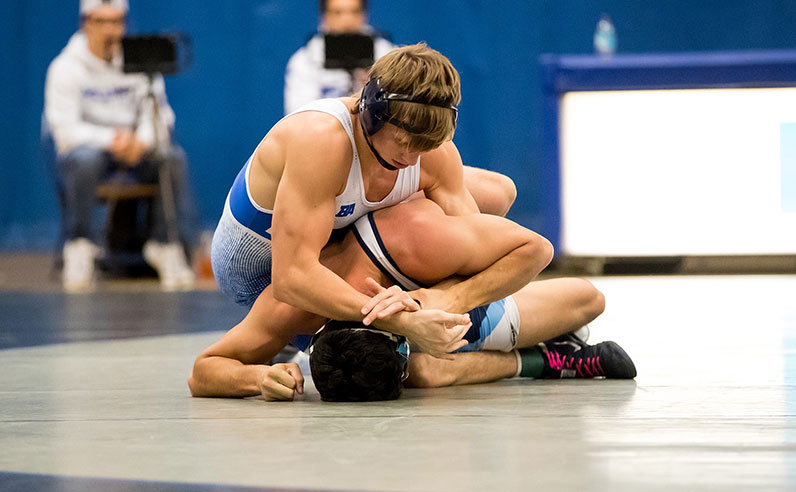 Cheerleading
For the first time in school history, the Millikin University Cheerleading team competed in the 2022 National Cheerleading Association's (NCA) College Cheer Nationals in Daytona, Fla., on April 6-10. Accompanied by their cheer coach and 2017 Millikin graduate Sarah Rapp, the 20 cheerleaders competed in the Division III Coed division, finishing in sixth place with a final score of 82.9306. The team hopes to return to the competition next year.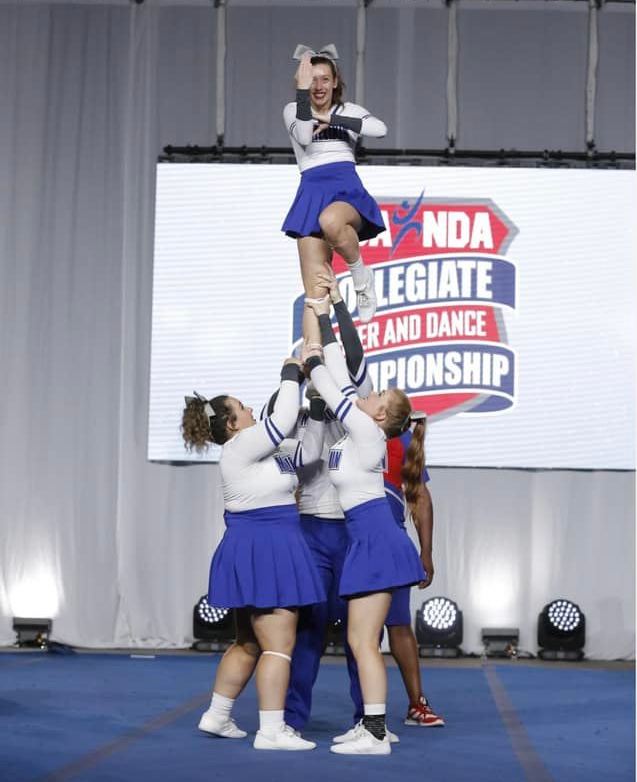 Track & Field
Senior Ben Kuxmann of Bourbonanais, Ill., was named to the 2011-2022 2021-22 Academic All-America® First Team for Men's Track & Field/Cross Country, selected by CoSIDA, recognizing the nation's top student-athletes for their combined performances in athletic competition and in the classroom. Kuxmann's selection comes after he was named to the Academic All-District® in NCAA Division III District 7 in May. This is the second straight season that Kuxmann has earned Academic All-America® honors after being a Second Team selection last year.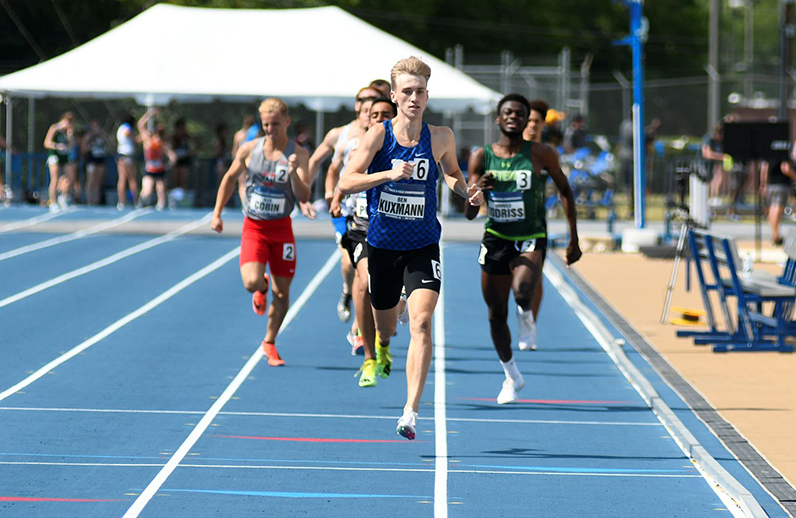 Softball
This spring, Millikin University softball once again celebrated a successful season. In preseason polls, the Big Blue was ranked 21st in National Fastpitch Coaches Association (NFCA) Division III and picked to defend the CCIW title in 2022. The team traveled to Florida for a spring training trip before starting their season.
From Aly Armstrong, senior softball player from Effingham, Ill.
"The reason this team has been so successful is because they show up to play every day for each other. After every practice, workout or team activity, the team closes out by saying "We are Big Blue, forever for each other." This is a reminder for the team, coaches, opponents and fans that everything they do is for each other."
The team won the CCIW Conference title for the second year in a row, and their successful season earned them the top ranking in Division III regional rankings. They advanced to the NCAA Division III tournament, winning the NCAA Regional, held in Decatur at the Workman Family Softball Field. They defeated Wartburg for the first Super Regional victory in Millikin history before falling to Eastern Connecticut State University. They ended their historic 2022 season with a 37-9 record.


Women's Basketball
The 2022 women's basketball team at Millikin University earned a spot in the NCAA Division III tournament for the first time since the Big Blue won the NCAA title in 2005. Though they lost the CCIW Conference title game to Illinois Wesleyan, they were named conference co-regular season champions. They lost in the Round of 16 to Hope College and finished the season 23-7. Sophomore guard Elyce Knudsen and senior forward Jordan were named to the 2021-22 D3hoops.com All-Region Women's Basketball Team.