Millikin students address campus and community food insecurity
Food insecurity impacts a significant percentage of the U.S. population, including children and adults of all ages. Students from elementary school to college are vulnerable to food insecurity as well, and two organizations at Millikin University have made it their mission to address the issue and improve the lives of school-age students and Millikin students alike.
On Millikin's campus, Big Blue Pantry serves as the University's food pantry, where students in-need can go to receive a variety of necessities, including food, hygiene products and school supplies. Marty Brilley, who serves as Millikin's chaplain and director of Big Blue Pantry, describes the organization's mission as "aiding Millikin University in delivering on the promise of education by serving as a center for social services and Performance Learning."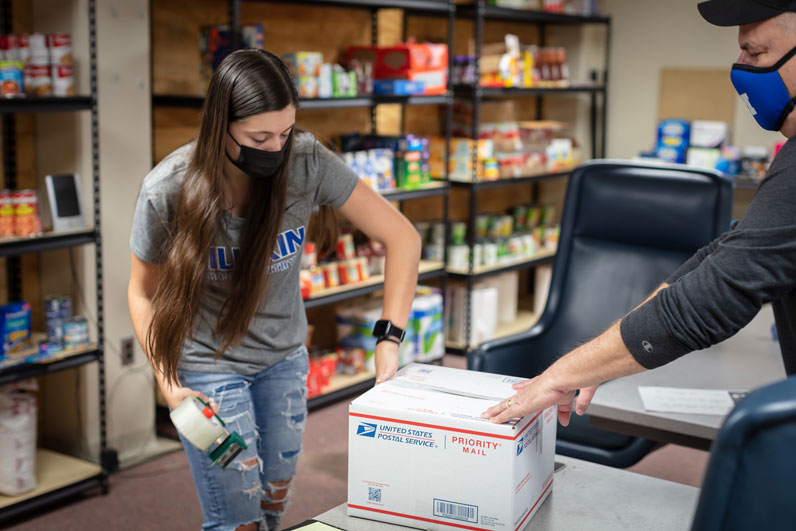 "We estimate that around 10 percent of Millikin's student body experiences food insecurity at one level or another," Brilley said, explaining that students in-need may be waiting on a paycheck or may not have time to eat due to a busy schedule. Students who Big Blue Pantry aims to help may have also lost a job or have maxed out student loans.
"Our hope is to provide a resource to help them thrive with their studies."
Big Blue Pantry functions as a collaboration between student organizations on campus, working closely with Alpha Chi Omega, Millikin's co-ed service fraternity. Tessa Wiegand, Class of 2023, became involved with Big Blue Pantry through Alpha Phi Omega and her close friend, Clare Weirs, Class of 2021, who previously served as the liaison between students and Big Blue Pantry.
Tessa says that she's learned the importance of having a resource like a food pantry at Millikin through her experiences. "It's nice to know that we can help students who may not be willing to ask for help. There are tough times. Groceries get really, really expensive, and on top of books, bills and other things, it can be hard to keep up with everything. I'm glad to know that students are able to come here and get food if they need it."
Protecting the anonymity of students and preventing stigma for those who use Big Blue Pantry are vitally important to the organization. Brilley described that their first location in Pilling Chapel was too small and the lack of privacy caused students to feel inhibited from taking advantage of the offerings.
After finding a larger space to operate inside Blackburn Hall and developing a referral system called "Pantry Pals," the organization was able to protect students' privacy. Tessa says she doesn't know the identities of any students who receive assistance from Big Blue Pantry. "I'm not allowed to know who the students are and who needs help. It's all confidential and we like to keep it that way," she said.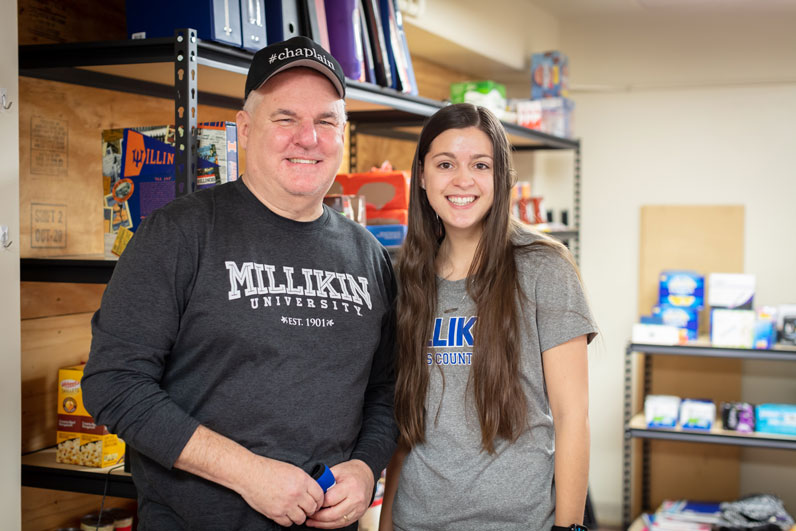 From left to right: Marty Brilley and Tessa Wiegand
Now entering its fourth year in operation, Big Blue Pantry is looking to grow through new partnerships with student organizations and additional community schools, which is precisely the aim of another Millikin organization, Big Blue Backpacks. Specifically, Big Blue Backpacks aims to address food insecurity in the Decatur community and in the lives of children and families.
Hope Roderick, Class of 2022, is closely involved with Big Blue Backpacks and passionate about the organization's mission. "Nobody should ever have to worry about when or where their next meal is going to come from," she stated.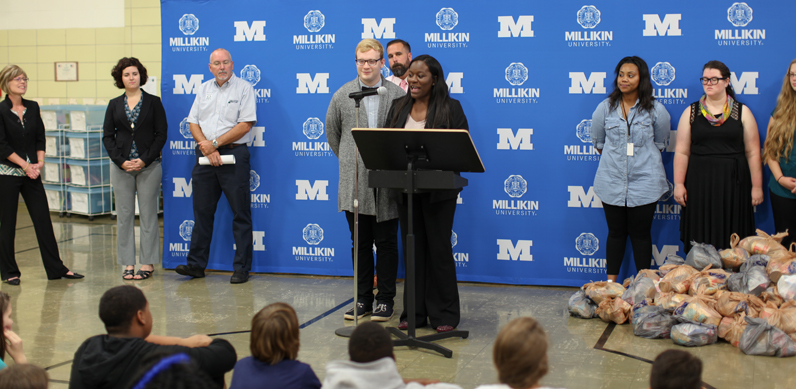 When the organization began in September 2016, it provided bags of food for students in need, and now in its sixth year, they have expanded to help to serve 160 local students. Through a partnership with ALDI, private donors and agencies in the community, Big Blue Backpacks now provides food to two Dennis Lab School campuses and the American Dream STEM Academy, as well as providing a weekly food supply for the "Little Food Pantry," located outside the Dennis Lab School Kaleidoscope campus.
Mary Garrison, professor of social work at Millikin, serves as the team advisor for Big Blue Backpacks, remarked that since the idea was developed, several parties have worked together to make it successful in its aim to help provide food for community children. "Each leadership team since the first has worked tirelessly to continue this program and ensure its sustainability. I am honored to work with such amazing students as their advisor," Garrison said.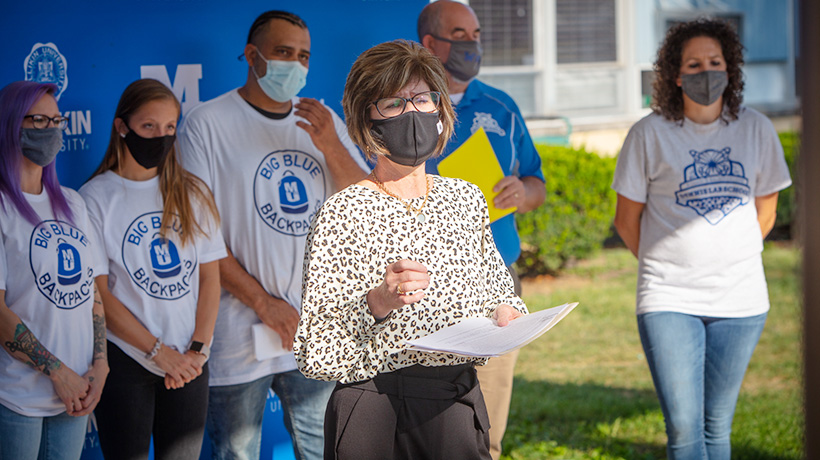 Professor Mary Garrison
Millikin students involved in Big Blue Backpacks expressed that the experience greatly impacted their time at Millikin. Harrison Atkins, Class of 2022, says that when he first started with the organization, he was helping pack bags for kids.
"I certainly noticed that on days when I packed in the morning, I felt more joyful and fulfilled."
Now closing in on graduation, Harrison feels both satisfied having made a positive difference in others' lives and enthusiastic about training the next set of students to continue that work. "This element of passing down the torch and helping Big Blue Backpacks to continue on has felt very meaningful for me," Harrison said.
Hope says that seeing firsthand children struggling with food insecurity through her major in developmental therapy has been eye-opening. "To be able to provide them with food and take just one of the stressors of their backs has been a really rewarding experience," she said, describing the importance of awareness and education about the issue. "We really push to end the stigma of food insecurity, so by providing to local students we are able to give back and educate the community."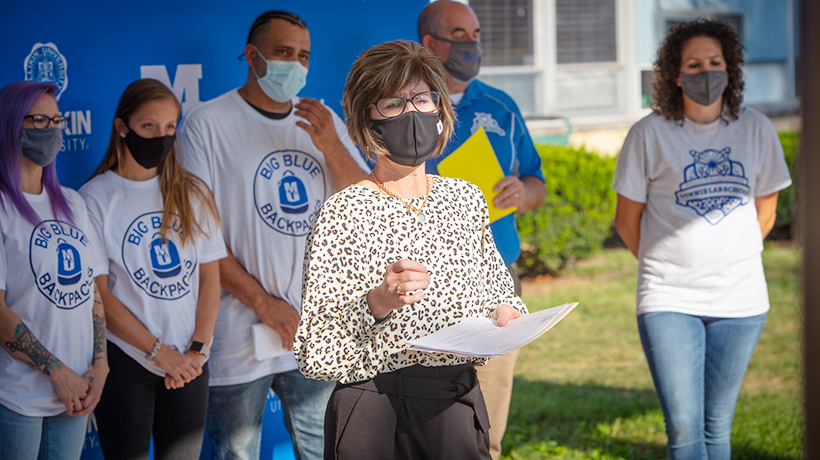 Ongoing fundraising efforts, support from the WSOY Food Drive and partnerships with community organizations such as the Good Samaritan Inn, Decatur Public Schools Foundation and ALDI have allowed Big Blue Backpacks to provide breakfast, lunch, dinner, snacks, as well as over-the-weekend nourishment to local children. "Our community impact is great as students benefit from nutrition that will enhance their academic skills for school success," Garrison noted.
All money raised goes directly to the food that students enrolled in Big Blue Backpacks receive, and the program is free for all families enrolled. There are four sponsorship tiers, ranging from $80 to sponsor one student to $4,000 to sponsor 50 students for an academic year. Any financial donation is helpful to provide students with the resources they need in order to have the chance to succeed.