Decatur native balances home life and graduate nursing program
After earning a degree in healthcare administration from Eastern Illinois University in Charleston, Ill., Jacob Busey soon discovered that a career behind a desk was not for him. As a student in Millikin University's Master's Entry into Nursing Practice (MENP) program, Busey is taking the next step toward a hands-on career on the front lines of healthcare.
For the Decatur-native, both healthcare and helping people were lifelong interests. Being exposed to healthcare from an early age through his father's career as an optometrist, along with his own experiences with doctors influenced his career path. Before attending school in Charleston, Busey obtained EMT certification through Richland Community College in Decatur. "I really wanted to help people and be there for them, even at their worst," Busey said. "I had such anxiety going to the doctor when I was younger, and having a doctor who made me feel like a friend made a huge difference. That's what I want to be for people."
Once Busey decided to pursue nursing, choosing Millikin for a graduate program was simple, and not just because it was close to home.
"Millikin stresses being a lifelong learner, which I believe is important for everyone to be the best person they can be," Busey said.
While the graduate admissions process can appear intimidating to students being out of the university setting for a while, help from Millikin's graduate admissions counselor, Marianne Taylor, and nursing administration made Busey's transition to Millikin simple.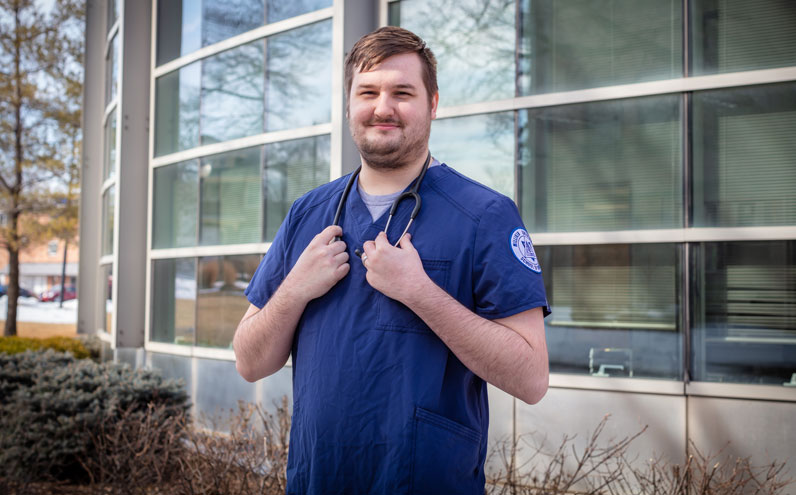 Jacob Busey
When he enrolled in Millikin's MENP program, Busey fully expected to take on a jam-packed schedule and to spend the majority of his time as a student. Millikin's passionate faculty, dedicated support staff and some trial and error have helped show him the importance and given him the skills to make time for life outside of graduate studies.
Busey said that along with keeping up with his demanding graduate nursing program schedule, he strives to make time for his wife, his nearby family and his hobbies. "We have a busy week every week," he said, going on to mention that the hard work has been well worth the challenges. "The most rewarding part is definitely helping patients in clinicals, and I really feel like I'm getting more comfortable in the hospital."
While the hands-on lessons in healthcare and patient-care are crucial to him, Busey describes the lessons in balancing his personal life while earning his master's degree as also being incredibly valuable. "I have to be intentional in making time for important things in my life, because it is easy to get busy with everything else," he said. "I make sure to set time away from school to spend with my wife, Whitney, to talk to my family and just enjoy my time every night."
Though various tests, reading, classes, clinicals and care plans take up most of his schedule, Busey is grateful for the support that Millikin offers its graduate students, particularly those in the MENP program. "Our professors are great at communicating with us about events, scholarships and projects. We have program-specific tutors and a writing center specialist to help us with whatever we need." Busey remarked that this support was crucial in helping him create time for himself and his family, which has helped him succeed as a nursing student and a husband.
Busey and his wife will celebrate their second wedding anniversary at the end of July. They spend their limited time outside of work and class watching television shows like "Squid Games" and movies (they recently completed "The Hunger Games" series) together, and taking care of their 20-year-old cat, Pawpaw.