Big Blue alums and students share how they met their significant others
Ruth McTaggart '66 and Alan Dober '67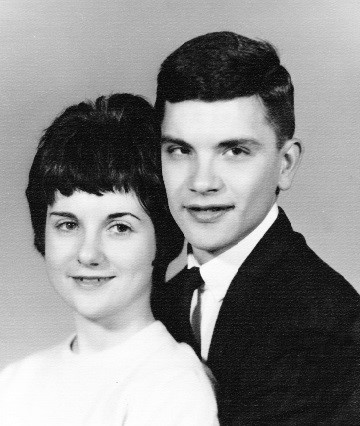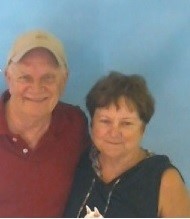 "When Al transferred from Loyola University in 1963, he only knew two people at Millikin, both of them were my ZTA sorority sisters and one, my roommate. Dona kept trying to 'fix us up' but neither of us liked blind dates, so when Homecoming came around, she asked Al to come be part of our 'male help.' We all went out afterwards to the House of Plenty (some of you may remember that old hangout!), we started dating the next day, he soon became one of our Zeta houseboys—the only Kappa Sig along with three Tkes—and the rest is history. One interesting fact is that Al had R.M. Martin's Jewelers in downtown Decatur design a special lavaliere, a vertical MU, just for me for Valentine's Day that first magical year; the store liked the idea so much they actually stocked it in their store for years."
"We were married June 5, 1965, at Millikin in Malone Chapel—at that time, located in Lower Hall. I believe we are the only couple ever married in Malone Chapel, but I could be mistaken. Now, 54 years later, we are still happily married, retired and living in beautiful Amelia Island (Fla.)."
Susan Martell Punzelt '73 and Tom Punzelt '74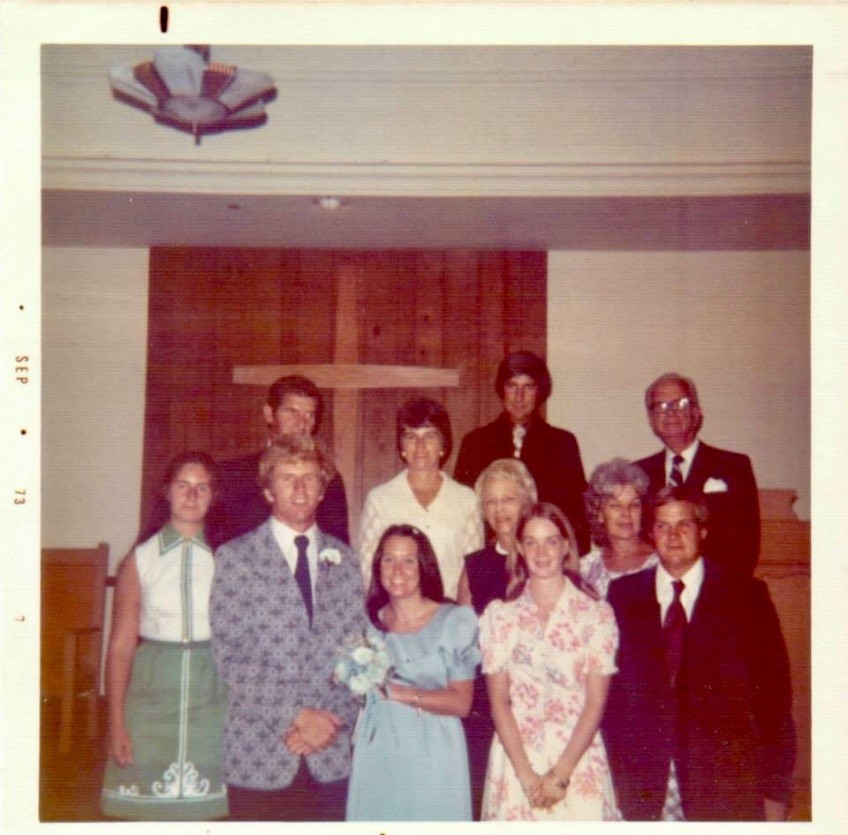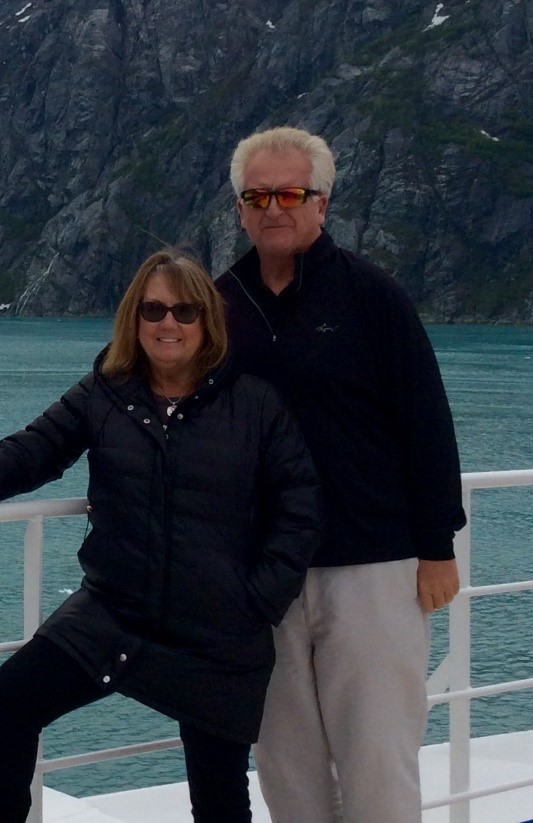 'I was a sophomore and Tom was a freshman basketball player when we met. My roommate was dating a ball player and she set me up on a double date with Tom at the end of the season. Things went okay. LOL. The next year, junior year, I studied in Spain, and didn't see Tom for over a year-and-a-half. When I returned for my senior year (his junior year) we picked up where we left off and the rest is history...47 years later. For his entire career at Paris High School (38 years), Tom taught and coached football, boys basketball, golf (btw, he was a four-year letterman for the MU Big Blue in both golf and b-ball), and coached girls basketball for 22 years. I started my career at the Paris Community YMCA (Ill.) as a program director and finished as a librarian for a middle school in Paris. Nowadays we travel the world and our fondest memories are of Millikin and the great professors we had!"
Chip and Chrissy Hulse '04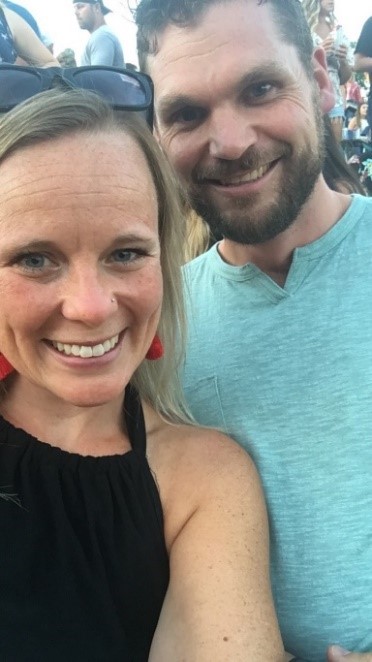 "This Valentine's Day, Chip and I, Chrissy (Hulse), both class of 2004, will celebrate 17 years together! We met at Millikin our junior year, he was a Delta Sig, myself a Tri Delta. After several group fraternity socials and opportunities to spend time together, not to mention a good deal of pressure from our friends, we went on our first date! On Oct. 8, 2005, we got married in the company of so many of our Millikin friends and this fall we brought all three of our kids to Millikin to share our story with them! We are thankful for where our story started and for the friendships that have grown with us over the years!"
Elise Kulik '14 and Vitaliy Kulik '13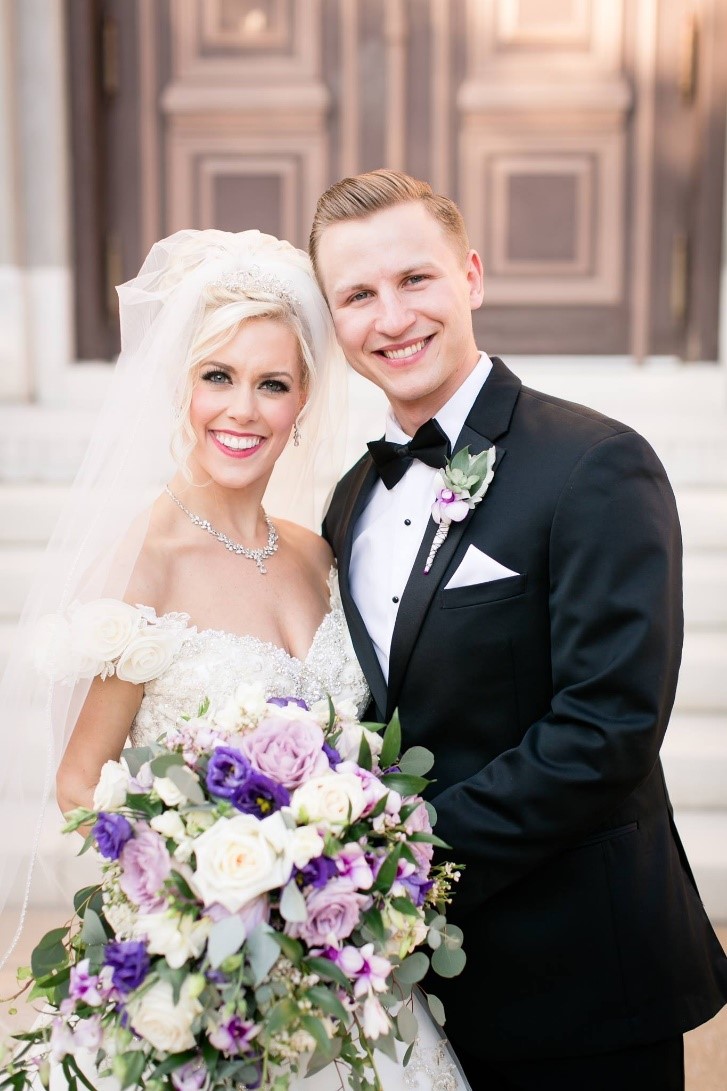 "Hello! I'm Elise Kulik and my husband is Vitaliy Kulik. I was a theatre major and he was a business major at MU. I had Irish history class with two of my best friends and we sat in a row next to Vitaliy on the first day. My friend sat next to him the first day and I told her that I wanted to switch places next class because I thought Vitaliy was cute. We started writing each other notes and then I started seeing him out at parties. After our first kiss at The Woods Apartments he was so happy he ran back to ATO to tell his best friend Manny, and he slipped on some ice and fell on his face! We went on our first date during spring break in Panama City Beach (Fla.). I tricked him into taking me to get sushi by saying no one else wanted to come and we had the best time ever. He took me on a date to the Boathouse and asked me to be his girlfriend on March 20, 2010, the first day of spring! After graduating, I got a hired as a dancer with Holland America Cruise Lines and we had a nine month long distance relationship. It was so difficult being away but it made our relationship stronger. When I got back, he proposed on a beach in St. Bart's! We had the most beautiful fairytale wedding in St. Louis (Mo.). Our wedding party was mostly Millikin friends and lots of Milli guests! We have been happily married for three years now, bought an adorable house and we are ready to start a family. I am so thankful that Millikin brought us together."
Cole Burdick '19 and Katherine Viviano '18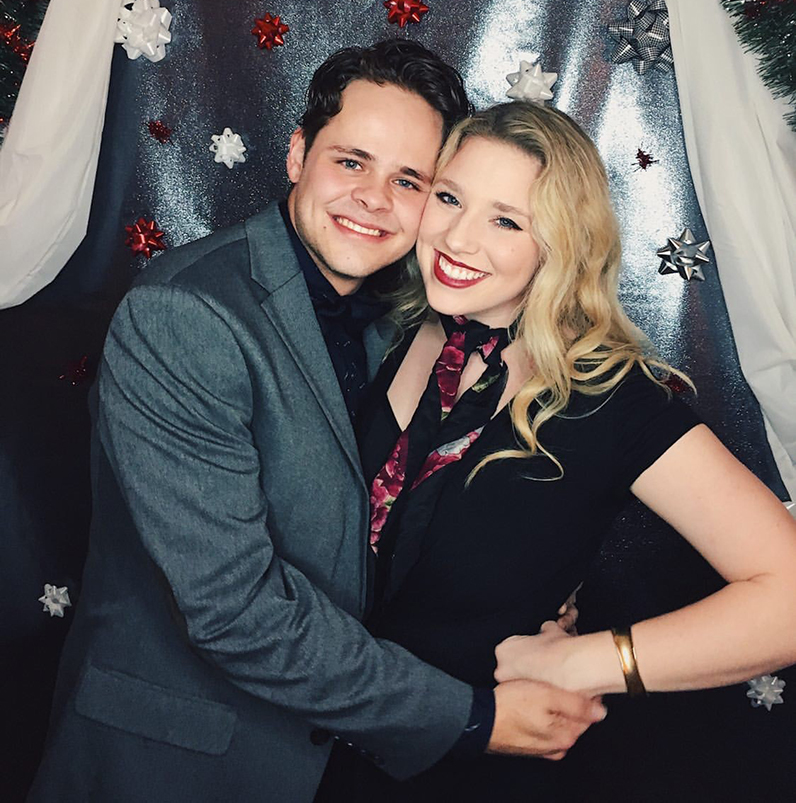 (Cole's Story)
"Viv and I met my freshman year, but we didn't talk much or hang out until winter break my sophomore year. I was hanging out at my friend Spencer's house, and then all of a sudden Viv walked up the stairs to his room. We had a warm greeting, hugs and hellos, but nothing special (yet). I would have never guessed that one simple hug was the first of thousands and the beginning of a beautiful relationship. From that day on, we were talking or texting every single day and getting closer and closer until we both realized that we had something special. Viv and I have been dating for 3 years now, and it's truly been the best 3 years of my life! I'm completely and utterly in love and have Millikin University to thank for it. So, thank you Millikin for bringing us together!"
(Katherine's Story)
"It was freshly 2017. I had pretty much sworn off men. I had just returned to campus for the new musicals immersion after a semester spent in London. I was walking up the stairs in an old wood street house to reunite with my pals, and there he was – awaiting with a huge hug. His name was Cole Burdick. Before I went abroad, we were acquaintances I would say, always chatted a little at parties, and we saw each other around SAE. After I came back though, it was different. After we hugged on that first day back in the old wood street attic, we talked everyday thereafter, to this day. We quickly became best friends and soon realized it was really something special. March 7 will be our three-year anniversary of dating. Cole Burdick is the love of my life, and I'm forever indebted to Millikin for bringing us together. ️"
Cody Gray and Patricia Bales '19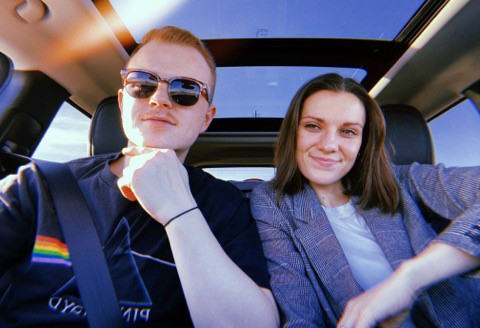 "When I met Patricia, I didn't know that I was meeting such an important person. We met one evening at a small get together with mutual friends. We had never met before and to my knowledge, we had never heard of each other before that night. It was an instant connection, we didn't stop talking with each other for the rest of the night. We exchanged phone numbers and snapchats, and talked nonstop. We made sure to see each other every day. I was a resident assistant in Aston Hall and my residents were fascinated by us, always asking, "DUDE. Are you going to date her or am I going to have to?" They we're probably asking me about my soon-to-be because they had seen us every evening together. We would sit on the floor of my dorm room, talk about music and family, and our futures. If we weren't having four-hour conversations about music or our goals, odds were we were driving around Lake Decatur, eating Taco Bell, or eating at the Bistro. We clicked; about everything. It became obvious Patricia was exactly what I wanted (and needed), so we put a title on it! Flash forward to August 2019, and I put a ring on it!!!!!!! Patricia graduated in May 2019 with her bachelor's in musical theatre and I graduated in December 2019 with my bachelor's in nursing. We were there for each other, we held one another when things got hard, we laughed, joked and danced. Then, just a pretty girl at a party, she quickly became the most important person to me at Millikin. Now, we are engaged and planning a wedding, and our lives and future together in New York City."
Abigail Gawart '20 and Chris Cunningham '19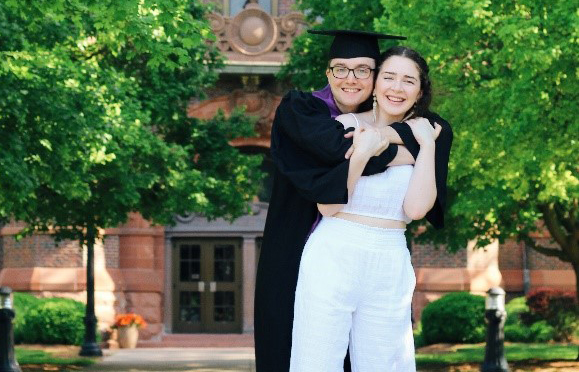 "I've had a crush on Chris since we were cast mates in the 2016 production of 'Nice Work If You Can Get It,' him as the fiercely talented lead and me as the awkward freshman in the ensemble, doing extra dance tricks and cracking subpar jokes during breaks to get his attention. Eventually, I landed a date and here we are years later. Millikin has been the ultimate setting for our love story. When I think about Chris, I think about long walks in Fairview (Park), late night study dates in Scovill, and spending sunny days on the porch of Sigma Alpha Epsilon (where I am now an honorary brother.) I think about the wood working project we screwed up together in the scene shop and watching him play baseball in the quad. I have so many memories I've collected on this campus that will continue to mean everything to me when I look over my shoulder at our time together. I am so grateful the Big Blue gave me Chris!"
Annelise Salazar '20 and Emily Shultz '18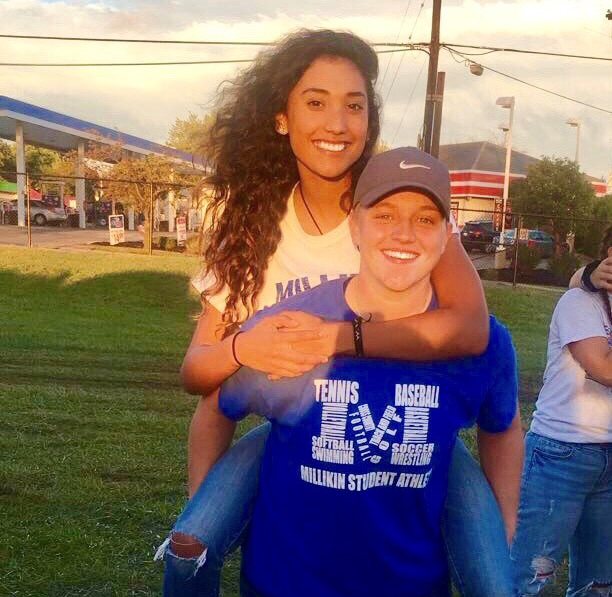 "We met each other through mutual friends and hung around the same people. I played softball and Emily played basketball. She majored in athletic training and I in theatre design and production. She is an alum of 2018, and I will be graduating this spring 2020. Although our backgrounds are different and we are from opposite regions of the country, our mutual interests and goals in life brought us together. We enjoy sporting events and theatre productions here on campus. We also enjoy exploring the little hidden gems of Decatur— taking small dates to the cute coffee shops and antique malls. We spent a lot of our down time at Millikin together and we quickly became each other's person. It's funny now that we've been dating for more than three-and-a-half years because a lot of the coaches and professors ask me about Emily since I'm still on campus and she's off at Illinois State University getting her master's degree. It is nice to know that we have support from campus. We are grateful every day to have met my first week here at Millikin – it's something really special! We balance each other out in a way we both never knew we needed!"
Adam Hayes and Avery Fisher: Current Students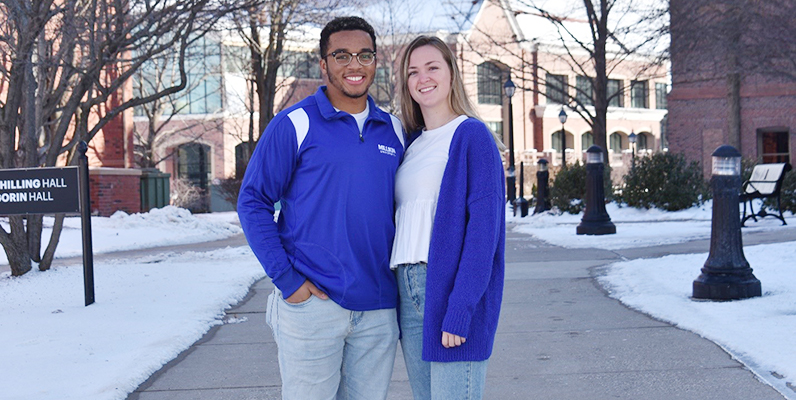 "The way I met Avery was a little unconventional to say the least. At the time, I was a sophomore nursing major and she was freshman nursing major. I played football and she was on the swim team. With the both of us being involved in similar things and sharing mutual friends we were bound to cross paths at some point. Funny enough, this happened three weeks before the end of school. To make it more interesting, she was from Phoenix (Ariz.) while I was from two hours north of Millikin. We became best friends in a couple of weeks and then summer came. I was working a camp in Colorado and we ended up talking about once every couple weeks. When we got back to school in August, we picked up right where we left off. We started dating on Oct. 11, 2019 and we continue to make memories every day! Among all the opportunities that Millikin has to offer, meeting Avery was one I didn't expect … but I couldn't be more thankful."