Tips for making sure the only blues you get, are the Millikin Big Blues
The start of the academic year is underway and many first-year students are getting started with their Big Blue experience.
To help us learn a little more about how to best engage in the Millikin community, we caught up with Molly Berry, director of the Office of Inclusion and Student Engagement, who provided some great transition tips.
---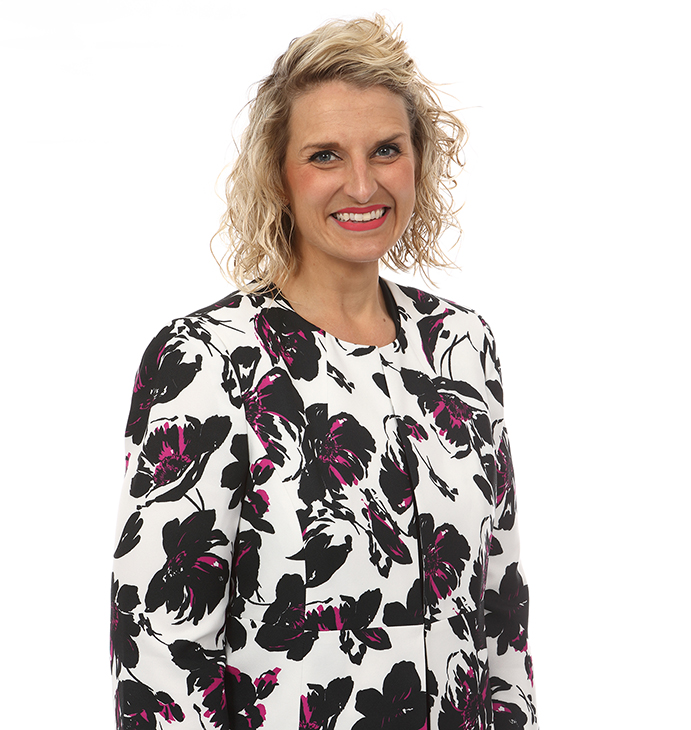 It is my favorite time of the year! Millikin is buzzing with activity as students find their way to campus with the excitement that can only be found in new textbooks, mini-fridges, and keys dangling from lanyards around the neck of new students. Ahh, the end of August is here! As I start my 12th year as an employee at Millikin, and my sixth year in the Office of Inclusion and Student Engagement, I have witnessed many students jump into the life of campus and thrive in our campus community.
When a student allows themselves to embrace college for its full value, they become a better version of themselves they couldn't imagine was possible.
Although homesickness is real, here is my list of tips to help the transition to Millikin go as smooth as possible!
Lower your defenses, and ENJOY New Student Welcome Week!
Welcome Week is designed to help new students engage with the campus community prior to the start of their full class schedule. They will befriend student leaders who are trained to help them transition to campus smoothly, meet faculty, serve the community, and socialize with their fellow students. Welcome Week is the most fun, for students participate in every opportunity!
Paint your face, and go to an athletic game!
Students get into all Millikin home games for free! I love watching students get a group of their floor mates, or sorority & fraternity members together to attend a home game a cheer on the Big Blue. The excitement is contagious. So, dress up, go early, make signs, and be part of our winning culture at MU. And, it really doesn't stop with athletics…we want you to go to fine arts events, lectures, service opportunities, and student events. Just show up and go all in!
Eat pizza in your floor lobby
Pizza and residence halls are as synonymous as peanut butter and jelly. There is a constant delivery car in front of the residence halls at all hours of the night. The students who eat their pizza with friends and their resident assistant in the lobby, versus eating alone in their rooms, are going to make memories and inside jokes that last long after college graduation. My favorite aspect of working in Residence Life was walking by a lobby full of students hanging out, watching TV, and trying to study.
Join one thing
Just one! Millikin has over 70 student organizations that range from academic honorary, interest based, service, religious, dance, improv comedy, and 12 Inter/National Fraternities and Sororities! Students who join at least one organization are most likely to create community with others, and find a deeper connection to campus. Besides, our fraternity and sorority members have the highest cumulative GPA on campus and are the pipeline for student leadership! Students have the opportunity to explore all of these opportunities to find their best fit to create a legacy of leadership on campus.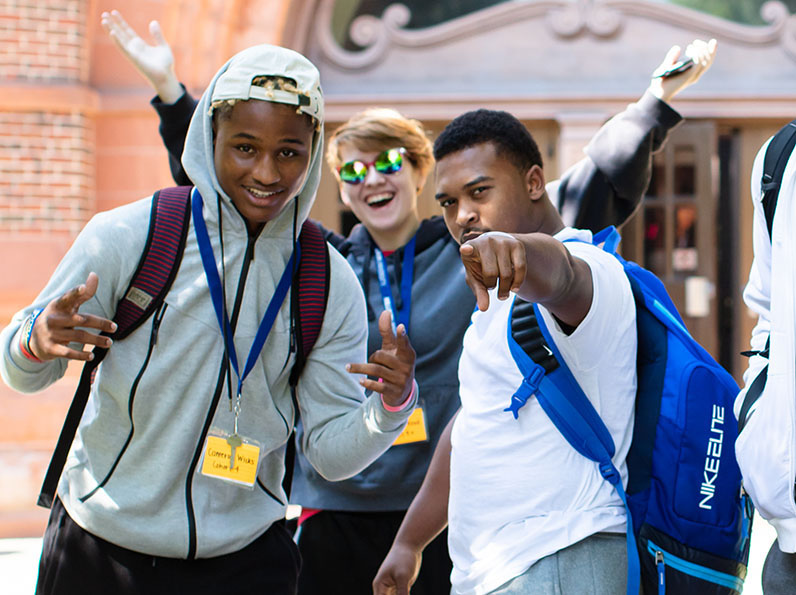 "Family Dinners" in the dining hall
One aspect of home that I really missed when I moved to college was eating dinner with my family at the end of the day. It quickly became my favorite tradition with the women on my floor. Every night we would gather together and walk to dinner, our two commuter friends joined us once a week and "Family Dinner" became a weekly tradition that lasted all through college! So, grab your friends from your seminar class and start your own tradition of Family Dinner. You especially don't want to miss the annual Thanksgiving Dinner in November when President White carves the turkey!
Get out of the country!
It may sound counterproductive to tell a student that to build a great connection to Millikin they need to leave, but that is EXACTLY what you should do! We want you to stare up at the Eiffel Tower, walk the streets of Florence, hike to Machu Picchu, and climb the steps of the Great Wall of China. Millikin is dedicated to providing global opportunities for students through our short-term and long-term study abroad options. Get out of the country. Your life will never be the same.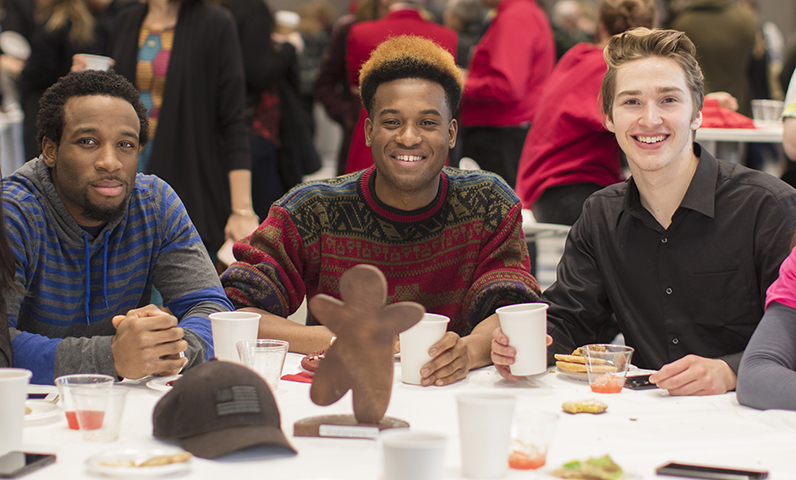 Don't miss the Cookie Party
Put it in your calendar now. 2-4 p.m. First Wednesday in December. That's all you need to know.
Visit your professors
All professors have office hours that are outside of the structured in class instruction time. Write them down. Go visit. Get to know them. Bond over a cup of tea, or a coffee from Einstein Brother's Bagels. Professors want to invest in your educational and personal development. They want to serve as strong references for your first job, and they can only do that if you invest the time to see them beyond the classroom.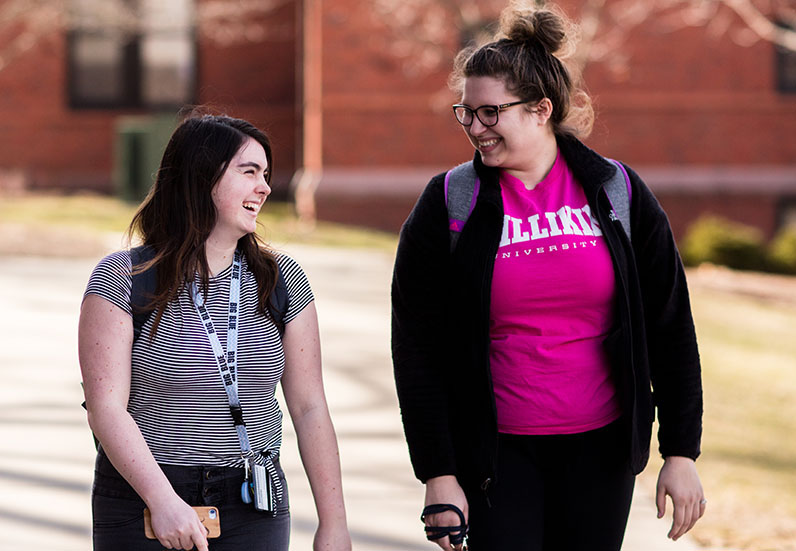 Find your favorite location to study
Get outside of your room, and find "your table" in the Staley Library at the University Commons where you can concentrate and accomplish your homework. You will love the change of environment, and be steps away from a library staff member who can assist you in refining your research and helping find new material. More of a social person? Bring a friend or two to help you stay on task and motivated! The University Commons will provide the perfect location for serious homework, with a coffee break built in!
Say yes
New opportunities? Say yes. Never watched a live theatre event? Say yes. Consider joining a Fraternity? Say yes. A professor asks you to be a Teaching Assistant? Say yes. A professor encourages you to add a new minor? Say yes. Millikin will challenge you to be more than you thought possible. Approach these 4 years with open arms, and say yes.
We are ready for all of the ways you will add to our great community. Be sure to come and visit the Office of Inclusion and Student Engagement on the 3rd floor of the University Commons!
Can't wait to see you.