Millikin student-athlete offers exercise tips for Big Blue Community
Millikin University sophomore Madelynn Wood is making sure she is getting the exercise she needs while she is staying home during the COVID-19 pandemic. The St. Charles, Mo., native, who is majoring in psychology and minoring in health and wellness coaching, always has other people's best interests in mind.
Wood wants to help others reach their optimal performance and keep a positive well-being, which might be difficult during our current global situation. Here are a few words of encouragement and suggestions she offered to encourage the Big Blue community to get some exercise and stay healthy while quarantined.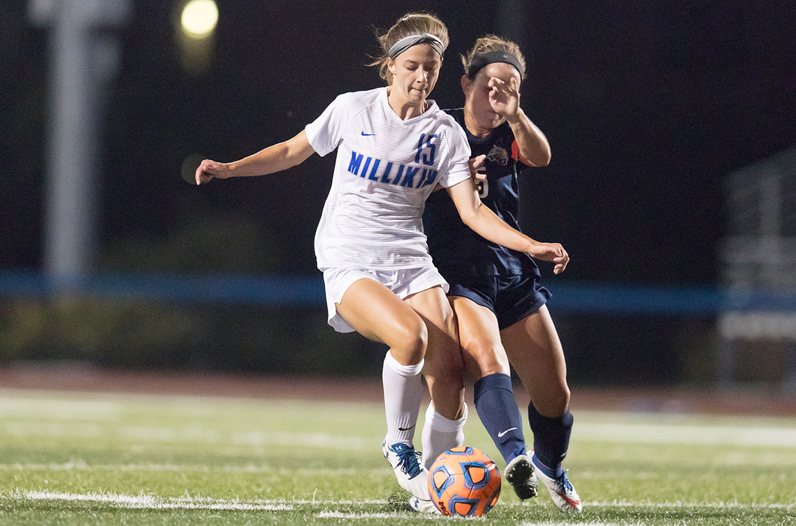 With all the craziness going on right now, it is very common to go through some form of anxiety and depression. You feel as if you do not have control and you are stuck in your home sitting around a lot. Therefore, I try to get a workout of some type in almost every day to keep myself moving and happy.
It is well known that exercise helps with physical health, but not as many people know it helps with mental health too. Many studies have shown exercise can help reduce levels of anxiety and depression. It also can be a mood booster and improve self-esteem.
When we think of exercise a lot of people think of lifting heavy weights or running miles, but these are not the only forms of exercise. You can reap these benefits from simply taking a walk around your neighborhood or starting your morning with some stretching. No one is the same and not every form of exercise works for them. Below I have created 10 different types of exercise that you can try during these times.
Remember to push yourself, but never too hard. Take care of yourself physically and mentally as well. You are important and loved!
1. Walk, Run or Jog
If it is nice outside, go and catch some fresh air. Do what level is comfortable for you. Perhaps take your dog, listen to a podcast or simply jam out to your favorite tunes.
2. Yoga
There are plenty of apps that you can download on their phone to do yoga with. Even YouTube has plenty of options. As a soccer player, I do soccer ball yoga which combines yoga practice and the game of soccer.
3. Stretching
As simple as it sounds, stretching can be beneficial to your body. It decreases tension and increases blood circulation.
4. Participate in a fitness challenge
We all are in this together so why not make a little fun out of your fitness? Fitness challenges have been going around on various social media platforms. These tasks are usually not too challenging and make fitness fun! I did the pushup challenge on my Instagram and challenged some of my friends.
5. Practice a sport you love
Athletes or not, sports are for everyone. I am a soccer player, so I practice soccer in my front yard. Even if it's just picking up an old baseball and throwing it around or playing frisbee with your pet, these can help get your body moving and your mental health up.
6. Core workout
Ab workouts are not for everyone, but it is one of my personal favorites. If they are something you enjoy check out different routines online.
7. Leg workout
Maybe leg work is more of your thing and you want to feel a burn. I have a great workout from Ben Clawson, one of Millikin's athletic trainers. It is a leg burner, so don't feel pressure to have to complete everything just as planned. Do things at your comfort and your speed. Your workout is about you!
Squat jumps: 10 sets 20 seconds each
Reverse lunge: 10 sets 20 seconds each
Wall sits: 10 sets 20 seconds each
Walking lunge: 10 sets 20 seconds each
Split squat jump: 10 sets 20 seconds each
Planks: 2 sets of a minute
Side planks: 2 sets of a minute
8. Arm workout
I am not an arms day type of gal, however, below is a routine that Millikin sophomore baseball player Aaron Klar has created to get a great at home arm day in.
*Do all these steps three times through
Backpack bicep curls: (choose how much weight is placed in the bag) 12-15 reps
Tricep dips: (Body weight) 15-20 reps
Backpack hammer curls: 12-15 reps
Triangle push-ups: 5-20 reps
9. Dance party
Working out is not supposed to be something you dread doing. So maybe you want to be active, but just not someone who enjoys the typical routine style of working out. Dancing is a great option. It gets your heart pumping, your body moving and you sweating. So, put on some jams and rock out! Or maybe try some Tik Toks.
10. Try one of your favorite celebrities' workouts
If what I have provided is not your forte, maybe try one of your favorite celebrities' routines. The internet is full of different workouts you can try. Who knows, you might find something you really like.