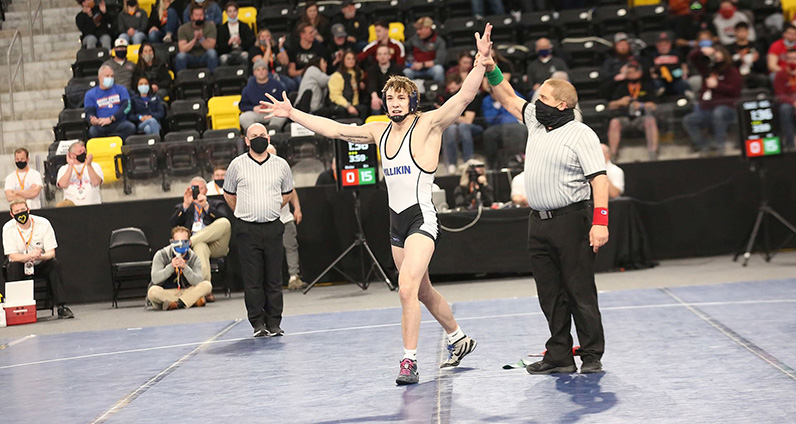 Despite the many challenges during the 2020-21 academic year brought on by the pandemic, two Millikin University student-athletes excelled in the classroom and in athletic competition. Senior Bradan Birt and junior Ben Kuxmann were named to the Academic All-America® Team, selected by College Sports Information Directors of America (CoSIDA), recognizing the nation's top student-athletes for their combined performances on the field and in the classroom.
Birt was named to the 2020-21 Academic All-America® Men's At-Large Second Team becoming the first wrestler in school history to earn the honor. The men's At- Large program covers student-athletes competing in fencing, golf, gymnastics, ice hockey, lacrosse, rifle, skiing, swimming, tennis, volleyball, water polo and wrestling.
Kuxmann was selected to the Academic All-America® Men's Track & Field/Cross Country Second Team and was the fourth track and field athlete in school history to earn the honor and the 79th Millikin student-athlete to be selected for the prestigious program.
Birt, a sports management major, was the 2021 National Champion at 165 pounds at the National Wrestling Coaches Association (NWCA) DIII National Championships where he was named the event's Most Outstanding Wrestler. Birt won his fourth College Conference of Illinois and Wisconsin (CCIW) individual title and finished the season with a 15-0 record. Birt has a career record of 118-13. He has earned NWCA All-American honors four times.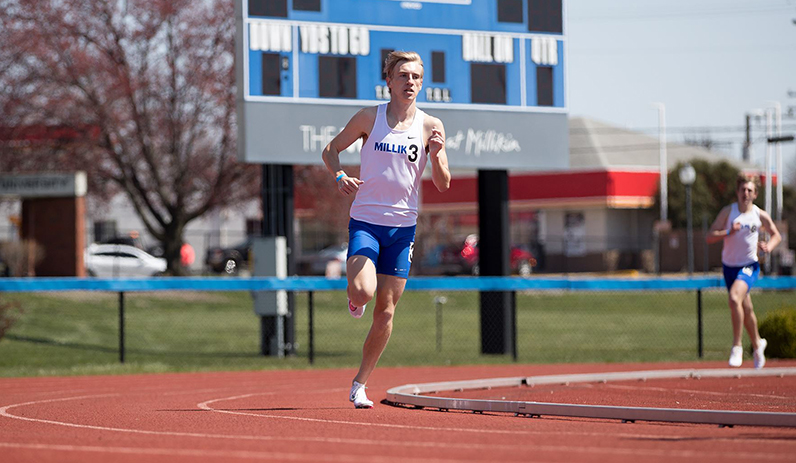 Kuxmann, an English major, has a near perfect grade point average and finished in third-place in the 800 Meters at the NCAA Division III Outdoor Track National Championships in May. Kuxmann was the CCIW 800 Meters winner and finished in second place
in the 400 Meters at the 2021 CCIW Outdoor Track and Field Championships. Kuxmann set a new school record in the 800 Meters (1.50.12) and ran Millikin's third all-time fastest 400 Meters (48.75 seconds) during the season. He was a member of a school record setting 4x400 Relay Team as well.
The CoSIDA Academic All-America® program separately recognizes honorees in four divisions — NCAA Division I, NCAA Division II, NCAA Division III and NAIA.
Millikin has a long history in the Academic All-America® program dating back to 1960 when football player Ryan Jorstad was Millikin's first honoree. Twenty-five Big Blue football players have received the honor along with 17
in women's softball and 15 in men's basketball. Eight women's basketball players have been selected along with five baseball players, four track and field athletes,twowomen'svolleyballplayers and one student-athlete in wrestling, women's tennis and men's golf.
Thanks to an NCAA season of eligibility wavier for 2020-21, both Birt and Kuxmann will be back to compete for the Big Blue this season.