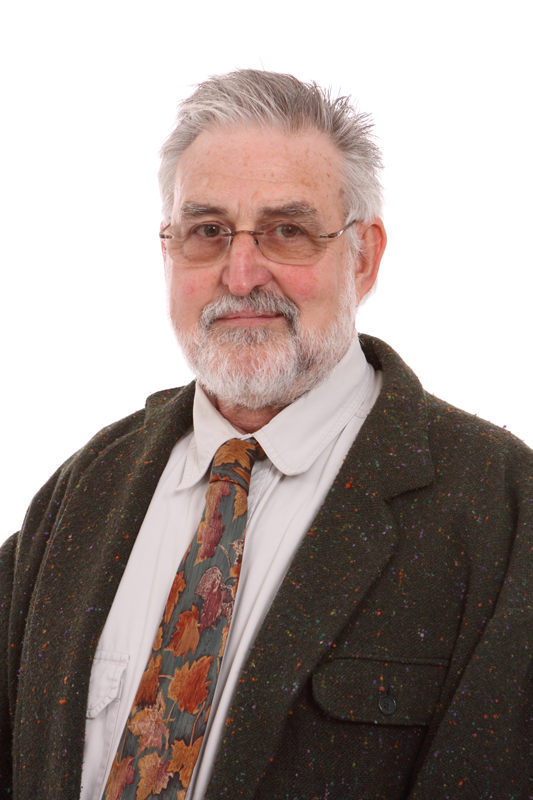 Some excellent advice from his father led art professor Jim Schietinger to a lifelong career in the arts.
"I knew I didn't want a 9 to 5 every day kind of job," says Schietinger. "That just didn't seem like me. So my Dad said, 'find what you love and just do it really well.'"
His desire for a flexible career originally led Schietinger to pursue a degree in marine biology at Florida Presbyterian College (now Eckerd College). But just one art class with an influential art professor at FPC convinced Schietinger to follow his father's advice and pursue his true talent and passion for art. So he changed his major and his life when he transferred to the University of South Florida, where they had a much larger art program. After earning a bachelor's degree in art at USF, he went on to complete a master's in ceramics and cinematography.
After teaching several art classes as a graduate assistant, Schietinger opted to further explore the world of teaching, first taking a position with Florida Atlantic University in Boca Raton, then returning to the University of South Florida as the ceramics studio tech in conjunction with Graphicstudio, an affiliate of USF's Institute for Research in Art. At USF, he had the opportunity to create sculptures in collaboration with several famous visiting artists. "It was quite an honor to be asked to work with them," he says. "Awesome, actually!"
Later deciding to make his living as a professional artist, Schietinger moved to the Green Mountains near Ludlow, Vt., to begin creating porcelain pottery at the studio he started, Black River Pottery. There he produced wheel-thrown porcelain pottery that was sold and exhibited all over the country through craft shops and galleries. One of his best customers was J.D. Salinger, author of "The Catcher in the Rye," who became an avid collector of Schietinger's porcelain. While maintaining his pottery business, Schietinger stepped back into teaching by accepting a temporary position at the University of Vermont, covering for an instructor on sabbatical. Although he remained passionate about creating art, the position reminded Schietinger of his love for teaching and how much he missed it.
It was a chance meeting that brought Schietinger to Millikin for what would become a 40-year career. In 1978, he journeyed from Vermont to the University of Illinois for a national ceramics conference. There he met Marvin Klaven, professor emeritus of art and long-time chair of the art department at MU, who had come to the conference in search of a ceramics instructor.
"He offered me the job on the spot," Schietinger says. "I liked him and the art program he'd started at Millikin, so I took the job." And with that decision, Schietinger packed up and moved to a new life, nearly 900 miles away.
The art department at Millikin has added several new areas of study since he started, including photography, art therapy, art management, graphic design and sculpture. In fact, Schietinger started the photography and sculpture programs from the ground up.
"At Millikin, I reconnected to my love of photography, wrote a grant for a large format camera, constructed a darkroom in the basement of Kirkland, and began our photography program," says Schietinger.
He was inspired to start MU's sculpture program when the welding engineering program was discontinued, "so that all that great equipment could be put to good use."
Schietinger's retrospective show held in February and March in Kirkland's Perkinson Art Gallery spanned a wide selection of his art, created during his tenure at MU over the past 40 years. Included in the show were ceramics, ceramic sculpture done in collaboration with world renowned sculptors, and photography, many pieces inspired by trips taken with his art students.
"Over the years, I've been fortunate enough to travel and make art with my students," he says. "We've photographed in remote canyons in the desert southwest, blown glass in Venice, wandered the streets of Florence and stood atop the Duomo, explored the acropolis in Athens, and admired the Boschs and Goyas in the Prado Museum — to name just a few of the wonderful places and experiences I've shared with my students."
And it's his interactions with his students and colleagues that Schietinger cherishes the most when reflecting on his time at Millikin.
"I've been fortunate to work with wonderful students," Schietinger says. "Many of them are now art teachers, potters, and art therapists; some are past and current teachers at Millikin. And I would be remiss if I did not thank my friends and colleagues in the art department, past and present. They were the reason I came to Millikin, and they, along with the students, were the reason I've stayed so long."
In recognition of his 40 years of teaching, scholarship, leadership and service, plans are underway to grant Schietinger the status of Professor Emeritus of Art upon his retirement. His post-Millikin plans include travel and creating art in his new home studio in Mt. Auburn, Ill.