Millikin nursing professor brings together music and art therapy
Community members of Decatur [Ill.] are seeing several colorfully constructed pianos at various locations around the city that serve a therapeutic purpose, both musically and artistically.
The items are part of the Public Painted Pianos Project in Macon County — an initiative started by Dr. Gail Fyke, an assistant professor of nursing at Millikin University, in the fall of 2020. Fyke was inspired to create the project after her son, Austin, successfully recovered from brain surgery at a New York area hospital two years ago.
Fyke's son went through many complementary therapies during the summer of 2020 as part of his surgical recovery process, including music therapy. After visiting the health care team in New York, Fyke took a trip on the subway and saw a poster with the words "Sing for Hope."
The poster was promoting the Sing for Hope initiative — one of New York City's largest public art projects, bringing artist-painted pianos to parks and public spaces of the city for public enjoyment each June. The Sing for Hope pianos are donated to schools, health care facilities and community centers, enriching lives for years to come. For Fyke … inspiration struck.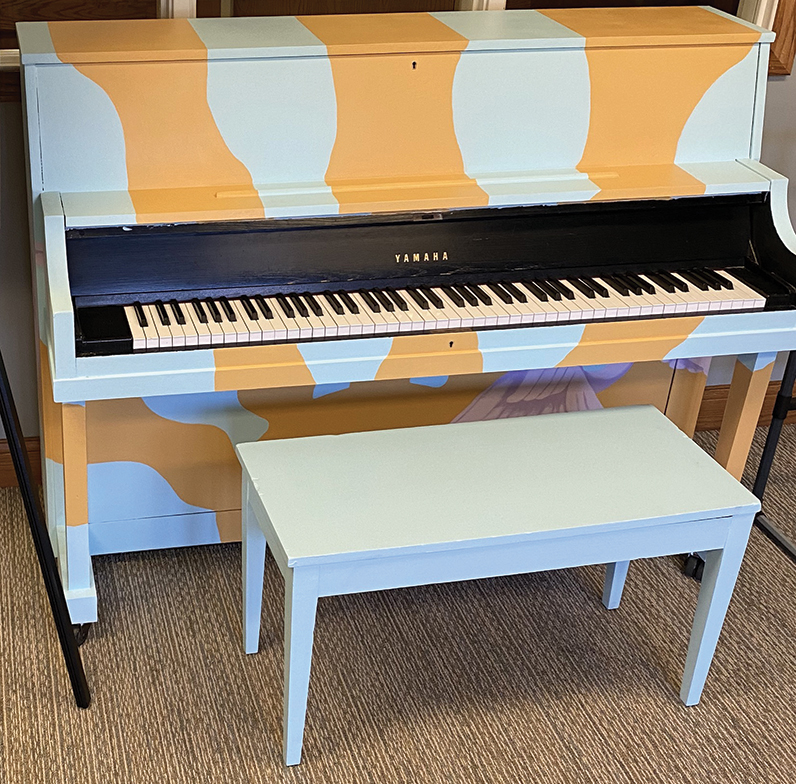 With the help of Millikin music professor Dr. Neal Smith, Fyke launched the Public Painted Pianos Project in Macon County in the fall of 2020. Local artists paint pianos that have been donated and Fyke finds places in the community to adopt the pianos for public use.
Richland Community College was one of the most recent places to receive a piano, which was created by Millikin art major Lindsay Thompson.
"I was asked to volunteer my time to donate and spread music and art and joy," Thompson said in an interview with the Herald & Review. "I pick a color scheme that I want to go with. I just started painting. It's a lot more precise. There's a lot more curves on a piano."
Fyke had viewed Thompson's work and asked her to paint one of the donated pianos. Fyke has convinced 11 other artists to join the project. Some of the places displaying their work are the Children's Museum of Illinois, Hope Academy, Boys and Girls Club, Webster Cantrell Hall, Decatur Family YMCA, McGaughey Elementary School and Dolson Hall on Millikin University's campus. There are several pianos in the planning stages, including a future piece at the Salvation Army and Macon Resources Inc.
When she put the word out about the project and finding pianos, Fyke says they were overwhelmed with the response they received, especially from local artists in Macon County. "They are falling out of the sky," she said. "I've had 300 offers and I've only taken 12."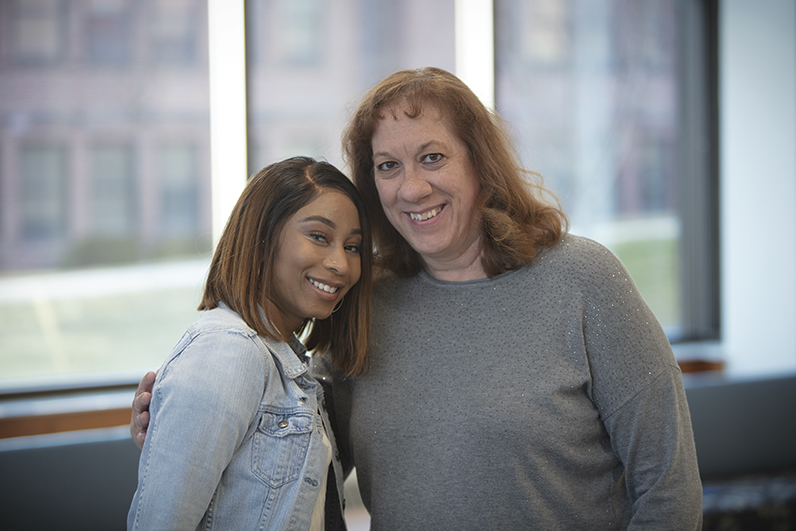 From left to right: Millikin student Zakari Briggs and Dr. Gail Fyke
Also among the places to receive a piano was a local assisted living center in Decatur where Fyke, along with undergraduate fellows from the Millikin School of Nursing, are conducting research on the response to music and art therapy in senior citizens who have dementia.
During the research study, Millikin graduate Jessica Reynolds, who earned a Bachelor of Science in Nursing in 2020, helped collect data for Fyke from October to November 2020. Reynolds would conduct 15-minute sessions with the residents over the course of five weeks. Each resident was given five sessions to be shown the piano. During those sessions they are asked scripted questions, listen to two simple songs, and are given a chance to touch the piano and see what it does.
Fyke says the combination of art therapy and music therapy studies is a rare entity. "There have been music therapy studies and art therapy studies, but there have been no combinations as far as I know. This is my first research study and I'm looking forward to building on it," she says.