Millikin jazz faculty members, students invited to prestigious conference
To be invited to the Jazz Educator Network Conference (JEN) is one of the highest achievements for any jazz musician. Thousands of members come together to celebrate the incredible artform that is jazz by engaging in performance resources and promoting educational outreach. It is the largest performance/educational conference to the global jazz community, and a number of Millikin University School of Music faculty members and students have been invited to perform.
Dr. Mark Tonelli, assistant professor of music and guitar studies coordinator; David Moore, instructor of music; and Ben Hawkinson, associate director of choir programs and area director of vocal jazz, will be traveling to Dallas (Texas) for the 2022 Jazz Educator Network Conference taking place Jan. 5-8.
Also joining the faculty will be OneVoice, the flagship ensemble of the vocal jazz program at Millikin.
"Jazz Education Network is the professional organization for jazz and jazz education. It is essentially the largest gathering of jazz educators and musicians in the world, and its annual conference draws about 4,000 people," Tonelli said. "Those people are drawn from the ranks of the music and education across the world."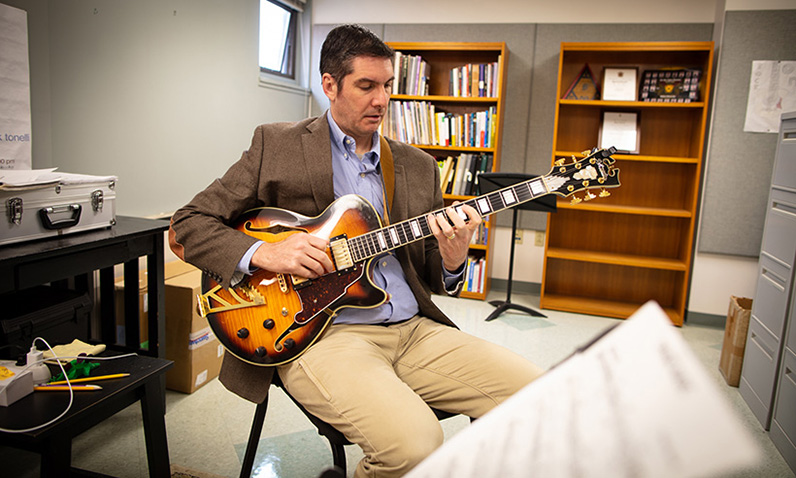 Mark Tonelli
Hawkinson noted that being asked to perform at the conference is a "feat in and of itself." For three faculty members and an ensemble to be invited is unique.
"What makes it unique is that we do not have a jazz degree at Millikin … we have a jazz program where students can take jazz courses and earn a certificate," Tonelli noted.
As the director of OneVoice, Hawkinson will be taking the 13-member group to the conference to perform. Established in 1986, OneVoice has been invited to perform at various educational conferences and collegiate jazz festivals in the United States, including the American Choral Director's Association (ACDA) international convention (2008), Jazz Educator's Network (2012 & 2016), ACDA Central Division Conference (2002 & 2012), IAJE international convention in New York City (2001) and San Diego (1989), and six times at the Illinois State Music Educator's Association state conference in Peoria, Ill.
OneVoice
OneVoice has traveled and performed in the Dominican Republic four times, in Santiago, Chile, as well as Buenos Aires, Argentina, for a series of concerts at the Universidad de Lanus. Over the years, OneVoice has consistently been recognized as one of the premier collegiate vocal jazz groups in the United States.
"OneVoice has become an institution in the vocal jazz world. Some of their performances were formative in my own education of what vocal jazz is and what it should sound like. Being a part of it today is just fantastic," Hawkinson said.
Tonelli says one of the strengths of the Millikin School of Music is the faculty's ability to practice what they preach. "We continue to grow that way and pass that growth and knowledge on to our students," he said.
For David Moore, it's a privilege to see the progress of his students week by week. "To set goals and see them achieve those goals, that equates to a bump in their confidence and that leads to them being happier and more passionate about the music they are doing … I love to see that," Moore noted.
David Moore
The community-oriented aspect of the music culture is what drives the success of the Millikin School of Music, and it's that foundation that has helped the program rise in terms of performance.
"These are students that genuinely like each other, genuinely care about each other and support one another, and put in the long hours to find excellence. They do that as an individual performing a part within a collective," Hawkinson said.