"We want students to be prepared to compete for the best jobs and stories in that evolving field."
To help students prepare for the evolving field of multimedia communication, Millikin University has launched a new student-run venture in the fall of 2021 called WJMU Productions.
Rooted in the established WJMU brand, the new student-run venture serves as a professional audio media services firm and is an opportunity for student creators to immerse themselves in audio media formats outside of traditional broadcasting.
"The venture was born out of conversations with Professor Jessa Wilcoxen, as well as other College of Fine Arts faculty and administration," said Sam Meister, instructor of communication and WJMU station manager at Millikin. "One thing that was obvious to all of us was that there were many more ways to use the resources of WJMU than just broadcasting. As the corporate world, the public at large, and academia have now all moved into the world of multimedia messaging, we all felt that moving beyond teaching only traditional media formats was a must."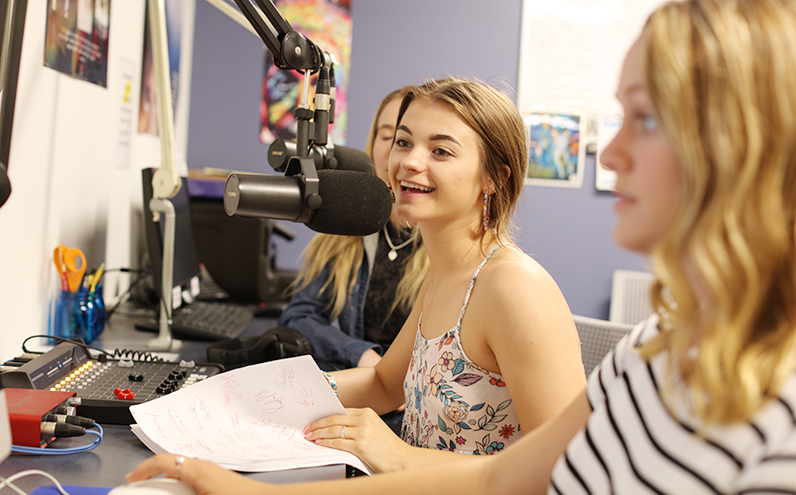 WJMU Productions offers several services, including podcasts, audio/visual marketing, consulting, recording and voiceover talent. The new student-run business is open to majors from across campus and is particularly poised to serve students interested in multimedia, communication studies, technology and business.
"Just about every media industry study released in recent years has made it clear that audio content/formats are now more popular than ever. The issue becomes how to tap into that audience, especially as they are fragmented across an ever-growing set of platforms," Meister said. "It's pretty clear that the future of media will be one in which those who disseminate their message across more platforms will be those who reach the greatest audience. Even dyed-in-the-wool traditional media hosts have begun to diversify."
Meister added, "We want the MU student who graduates with a degree in multimedia communication to be prepared to compete for the best jobs and stories in that evolving field."
Students in WJMU Productions will serve as storytellers, recording engineers, advertisers and artists working collaboratively towards the creation of engaging audio content. Projects from introspective long-form narratives to unforgettable promotional blurbs can all be brought to realization by the students of WJMU Productions.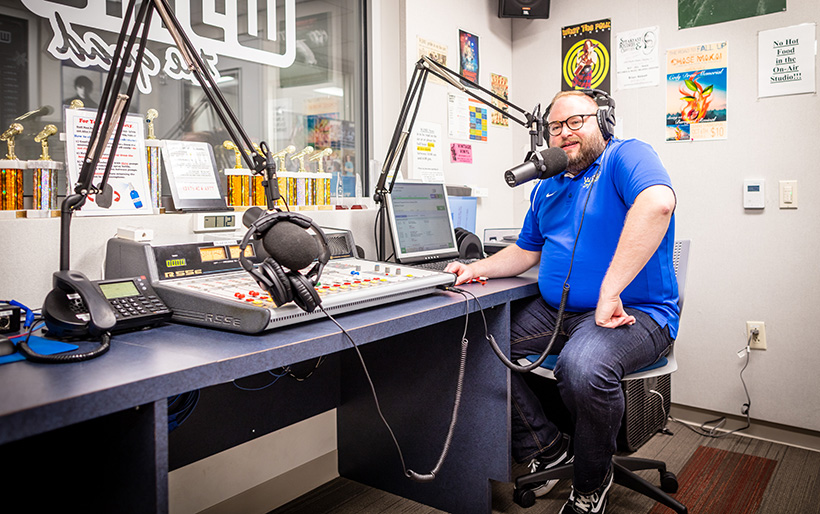 Sam Meister
The fall 2021 semester is serving as a pilot semester for the venture where the firm is developing and gauging the parameters of the services they will be providing and the area they will be covering.
"What's fantastic about multi-platform distribution software is that we aren't really limited in our potential audience in any way," Meister said. "For right now, students are mostly creating content that centers around campus and their personal interests. What we hope to do is create programming of a high quality that shows stakeholders, both on and off campus, the potential that MU students have for great storytelling and audio information/entertainment. The goal is to build our reputation and our client base in the coming semesters."
If you are needing help starting a podcast; looking for announcer commentary to add some excitement to your team's highlight video; or you want to digitize your vinyl collection – WJMU Productions provides all of these opportunities and more at competitive rates. For more information, contact faculty advisor Sam Meister at smeister@millikin.edu to get your project started.