New Musicals Workshop: A True Experience – Takes 2 and 3
Musical theatre majors who decide to embark on their academic journeys to Millikin University are immersed in a variety of hands-on learning opportunities once they arrive on campus, from performances to behind-the-scenes work. Among those opportunities that take place in the early goings of the spring semester is an innovative program that often leads to "real-world" outcomes called the New Musicals Workshop.
Established in 2007, the New Musicals Workshop is exactly how it sounds … it's a workshop for musicals. But it's more than that – it's a collaborative experience. Students work with actual professional writing teams to develop new musicals intended for commercial production.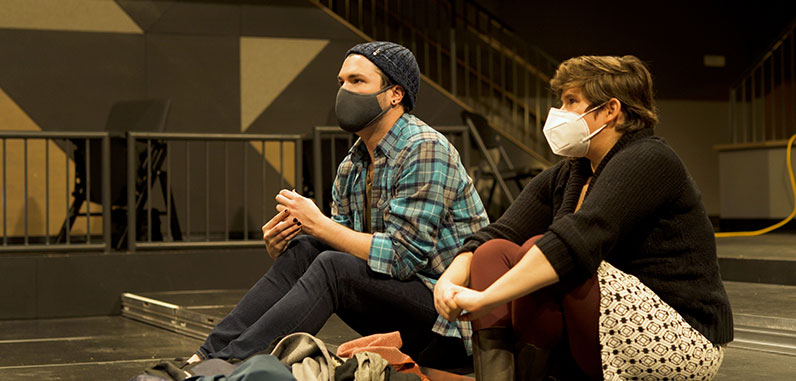 Left to right: Brandon James Gwinn and EllaRose Chary
Millikin's School of Theatre & Dance is one of only a few institutions around the country to have a program such as this, and it's become no secret. The program has been recognized by the Broadway community as an opportunity for established writers to develop new musicals destined for Broadway and beyond.
Over the years, we've recapped some of the latest workshops to get an idea of what the program is all about. However, this past January (2022), we took a new approach to tell the New Musicals Workshop story with a series of "takes" from the faculty, the writers and the students as they see it.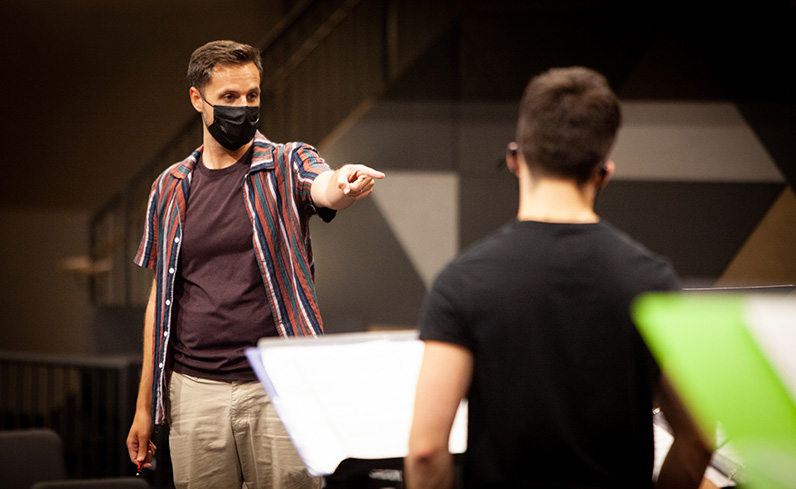 Matthew Webster
This January, New York writers Brandon James Gwinn, EllaRose Chary, Taylor Ferrera and Matthew Webster were welcomed to campus to work with students on their new musical concepts.
Take 2: Writers EllaRose Chary and Brandon James Gwinn
EllaRose Chary (she/her) and Brandon James Gwinn (he/they) are an award-winning writing team specializing in stories that take a fresh look at the LGBTQ+ community with cutting-edge music.
Chary's work has been recognized as a Kleban Award Finalist, NYFA Fellowship Finalist, Kernodle New Play Award Finalist, Great Plains Theatre Conference's PlayLab playwright and an artist in residence at Harvard College (where she was also a guest lecturer).
James Gwinn is also known for his work as a music producer. He produced and performed on the albums "Two Birds" and "One Stone" by Trixie Mattel (winner of RuPaul's Drag Race All-Stars 3), which debuted at No.1 on the iTunes Top Albums and Billboard Heatseekers Albums charts. He also directs and produces music for Alexis Michelle (Drag Race Season 9) and produced her debut album "Love Fool" for Broadway Records.
While working with the students at Millikin University, Chary and Gwinn's project title was "The Spell of Red River," an "intergenerational witch story" as Gwinn describes it.
"As the lyricist, I don't hear the music in my head like Brandon does … when we write a group number, and to hear that from 10 voices is incredibility unique and usually something that happens much later in the process," Chary said. More on Chary and James Gwinn can be found at brandonandella.com.
Take 3: Writers Taylor Ferrera and Matthew Webster
Matthew Webster is no stranger to Millikin University. In commemoration of the 20th anniversary of the 9/11 terrorist attacks, Millikin University's School of Theatre & Dance performed an original musical, "Kingdom Come," written by Webster. The production, which Webster describes as a "vignette musical," encompasses several small, interconnected stories about different characters and memories regarding the events of Sept. 11, 2001.
Webster visited Millikin back in Sept. 2021 to workshop "Kingdom Come" alongside Millikin students. Witnessing the production performed by the students was a personal and emotional experience for him.
Webster's relationship with Millikin goes back even further to January 2020 with a show that he and Taylor Ferrera wrote called "Propaganda! The Musical" which was developed during Millikin's New Musicals Workshop and later released as a podcast musical.
"I'm very thankful to Lori (Bales) and Kevin (Long), they have created a wonderful program and it's an amazing experience to watch these young people put sound to what we have created, it's pretty remarkable," Webster said.
Webster says "it's not the norm" in college programs to develop new musicals. "Most college programs want to do box office hits and they want to appease their audiences and community with shows they already know. But Millikin has led the charge on challenging their community to accept new musicals and that is really the future of musical theatre," he says.
Webster noted, "I'm honored that Millikin is doing this work and they are letting us be a part of it."
Webster is an award-winning actor and writer. He has performed all across North America and was named Best Actor in 2018 on BroadwayWorld.com. His plays and musicals have been seen in New York, at regional theatres and internationally in Europe. Webster is currently a faculty member at the New York Film Academy where he is a resident playwright and teaches acting.
Taylor Ferrera is a writer, performer and educator. Her satirical songs on YouTube have over a million views and have been featured in the Huffington Post, on NBC and for Stephen Sondheim at the New York City Center (The Lobby Project). Her writing credits include "Broadway Does Mother's Day," "Smocks," "Cinderella," "Democracy, Day 1," "County Fair – A Country Hits Musical," "Questionable Choices," "Community Theater: Seinfeld the Musical" and "Propaganda! The Musical."
Take 4 of New Musicals Workshop: A True Experience coming soon.