Albert Taylor Theatre Series opens with "Wanda's Monster"
Millikin University's School of Theatre & Dance is launching an eclectic series of performances and events in a facility both old and new - Albert Taylor Theatre located in Shilling Hall.
Albert Taylor Theatre previously served as the mainstage for the School of Theatre & Dance, but with the completion of the Virginia Rogers Theatre in the Center for Theatre & Dance, the space is now open for a wider variety of artists, both student and professional, to entertain and delight.
The Albert Taylor Theatre Series is kicking off its 2021-22 season with the children's musical "Wanda's Monster" on Sept. 18 and 19. Families will be grouped together in the audience and will wear masks throughout the show.
This warm-hearted musical tells the story of an imaginative little girl named Wanda and her unexpected bond with a fuzzy, purple monster as she learns acceptance and friendship. Based on the award-winning children's book by Eileen Spinelli, "Wanda's Monster" features music and lyrics by singer, songwriter and superstar children's recording artist Laurie Berkner, including fan favorites "Monster Boogie" and "Wanda, Whatcha Wanna Do?" and a book by Barbara Zinn Krieger.
Millikin University senior Crystal Claros, a musical theatre major from Ashburn, Va., plays five-year-old Wanda. "In a time that's so unpredictable and scary, a story about a little girl and monster in her closet is something we all need," Claros said in a recent interview with the Herald & Review. "It's something simple, something fun and we can all relate to."
The family story is filled with humor and lessons, according to the cast. Live music and colorful props add to the interactive play, encouraging children to take part in the production. "It's really groovy and fun," said Madeline Curtin, co-director and choreographer, and a theatre major from Chicago.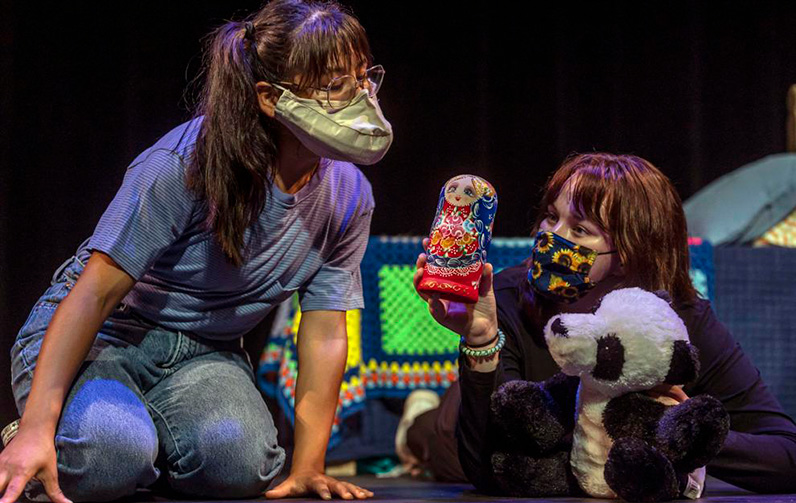 Photo courtesy of the Herald & Review (Clay Jackson)
"The entire play takes place in Wanda's bedroom," Claros said. "It's going to be colorful, it's going to be popping."
The cast began auditions and rehearsals days after the academic year began. Although the Millikin main stage productions begin early in the school year, "Wanda's Monster" came together earlier than most shows. "It's a very fast turnaround," Curtin said. "But you can expect that in professional theatre."
The opportunity to be on stage is exciting and nerve-wracking, Curtin said. With the cancellation of several Millikin productions in the past year, Curtin is anxious about the future of the show. "The entire world can change in an hour," she said. "And all of our hard work could be for nothing."
The cast is ready for an audience filled with families and children.
"All of our hard work goes towards making the kids in this community happy and that's my number one goal with this production," Curtin said.
Curtin noted, "We've had to become better actors. We've had to anticipate more. We've had to read each other's eyes instead of waiting to hear the lines."