School of Theatre & Dance Studio Series features original musical workshop
On Sunday, Sept. 11, 2021, the world observed the 20th anniversary of the 9/11 terrorist attacks. In commemoration of this occasion, Millikin University's School of Theatre & Dance performed an original musical, "Kingdom Come," written by Matthew Webster.
The production, which the writer describes as a "vignette musical," encompasses several small, interconnected stories about different characters and memories regarding the events of Sept. 11, 2001.
"The musical strives to take the audience back to where they were, and challenges them to look into the future," Webster said, describing his work.

Matthew Webster
For the Millikin students involved with this production, the experience was eye-opening and greatly impacted their perceptions of the tragedy. "I was one year old when it happened," said Brigham Williams, a senior theatre major from Paducah, Ky. "It's always been something I've read about or heard about. Friends and parents have stories about it, like where they were when it happened," he said.
A common theme throughout the cast was that while the 9/11 terrorist attacks occurred during their lifetimes, they often viewed the tragedy as a "history book event," that they felt disconnected from. "We were so young, and we only heard stories and watched documentaries in class each year," recalled Meghan Hayes, a senior musical theatre major from Rosemount, Minn.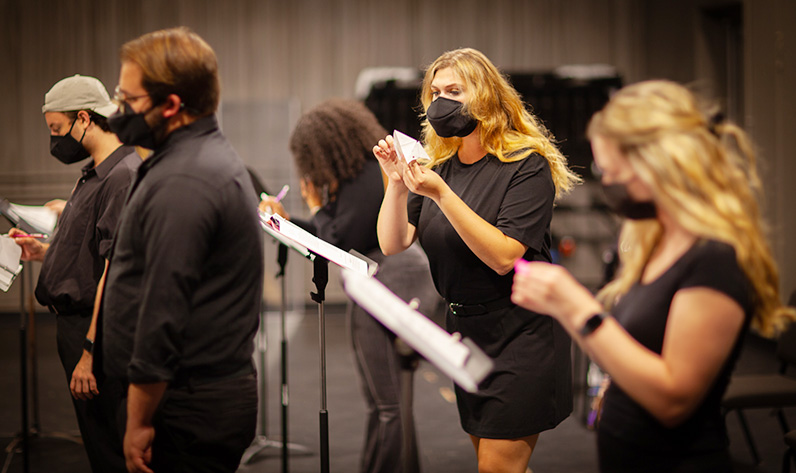 Being involved in "Kingdom Come" helped the students further understand the full scope and wide reach of the tragedy and how the world changed after Sept. 11, 2001. Webster's story, which includes a wide variety of accounts as the events unfolded, gave the cast members several different experiences in which they could consider and empathize.
"Hearing Matt's [Webster] stories about how this work came to fruition based on personal experiences and other real experiences helped me connect with the whole incident more," said Bryce Bayer, who plays three characters within the musical. "My last character is Greg, who is about to graduate and go off to college, and his story reflects some of Matt's story," Bayer said, a senior musical theatre major from Brillion, Wis.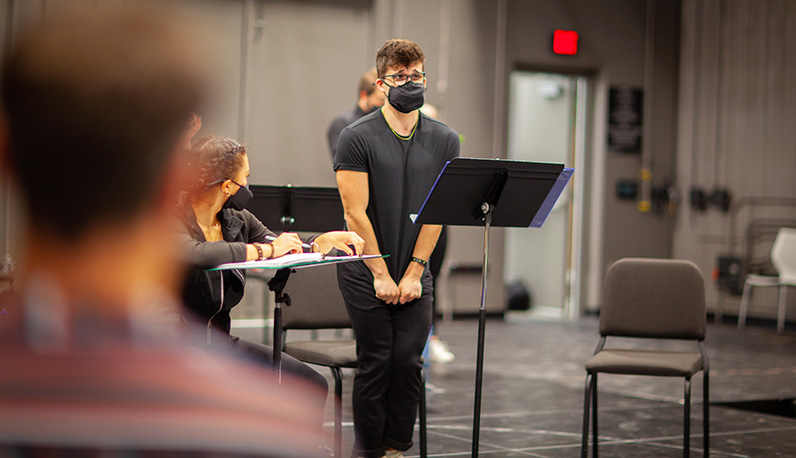 Webster, who wrote the story, lyrics and music for "Kingdom Come" said that witnessing the production performed by Millikin students was a personal and emotional experience for him.
"A lot of the characters in the musical are kind of like amalgamations of me and my experiences, along with the people I knew and their paths in life at that time. So it is a deeply personal show for me," Webster said.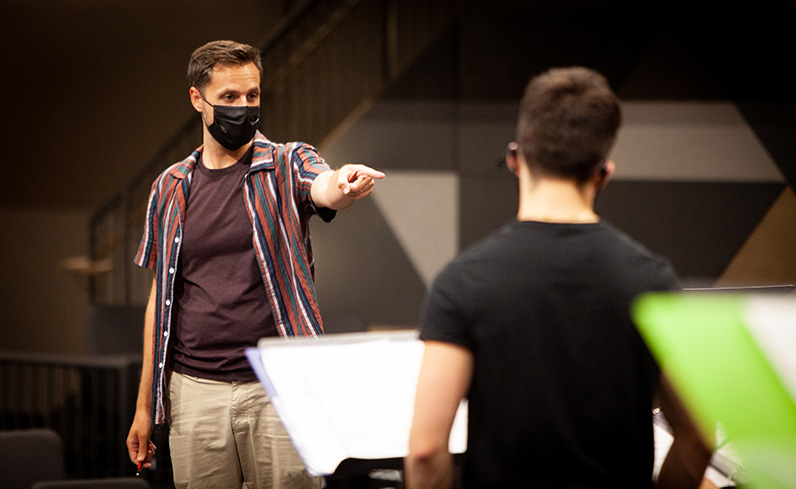 Webster, who completed the musical as a junior in college, wrote his own "where were you on 9/11" story as the first scene of "Kingdom Come."
"I was 12 years old in seventh grade. I wanted to go home. I was scared. I was confused about what was happening, but my teacher told me I should stay and face what was happening because it was history in the making," Webster explained. "She challenged me to face this historic event and to not run away from it, in a sense," he said.
Holly Bender, a senior musical theatre major from Algonquin, Ill., who is also pursuing a minor in dance, found performing in the show and learning about her characters to be a growth experience. "Everyone who has lived through this has given me something to connect to and hold onto. It has been a unique and beautiful experience to be able to connect to everyone's shared emotions about the attacks. Bringing that to the show and to my life gave me a deeper appreciation and understanding for the event," she said.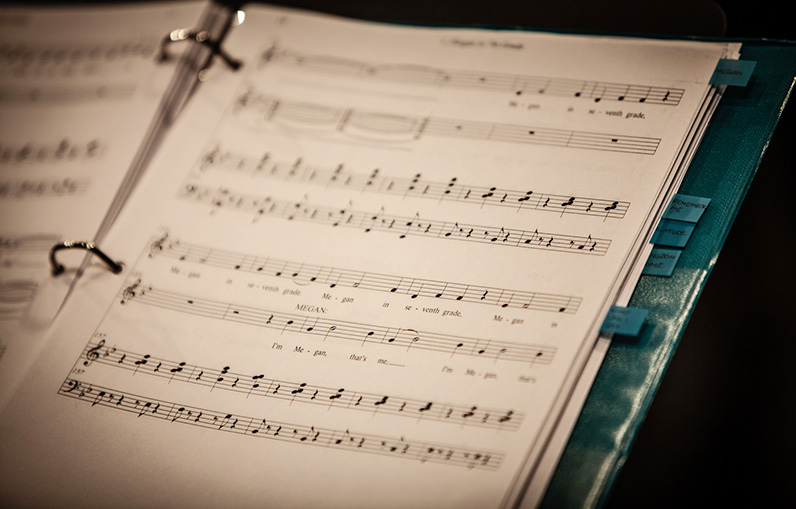 Matthew Webster was born in Martins Ferry, Ohio, and moved to New York City after receiving the top honor of Outstanding Graduate from the College of Creative Arts at West Virginia University, where he received a Bachelor of Fine Arts in Acting.
Webster is an award-winning actor and writer. He has performed all across North America and was named Best Actor in 2018 on BroadwayWorld.com. His plays and musicals have been seen in New York, at regional theatres and internationally in Europe. Webster is currently a faculty member at the New York Film Academy where he is a resident playwright and teaches acting.
The Millikin University School of Theatre & Dance production of "Kingdom Come" premiered on Saturday, Sept. 11 at the Virginia Rogers Theatre inside the Center for Theatre & Dance with the author in attendance.