Theatre student puts on her own work this fall
Maya Gomez says her favorite thing about Millikin University is that the university is very open to giving students the opportunity to create their own projects. Gomez, a sophomore theatre and performance major from Galesburg, Ill., is one of these students who gets to put on her own work this semester.
Gomez was recently featured on BroadwayWorld.com sharing details about her work as director and writer of the production "Whereverland." This fall semester, Millikin University's School of Theatre & Dance gave Gomez the opportunity to showcase the musical she crafted.
Gomez started to write the musical in March of 2020. She typically writes poetry, but something told her that she needed to write music which turned out to be a very therapeutic experience. "I don't always want art to be therapeutic, you know, because I want to be objective about it, this was more of a passion project, something that was very personal," she said.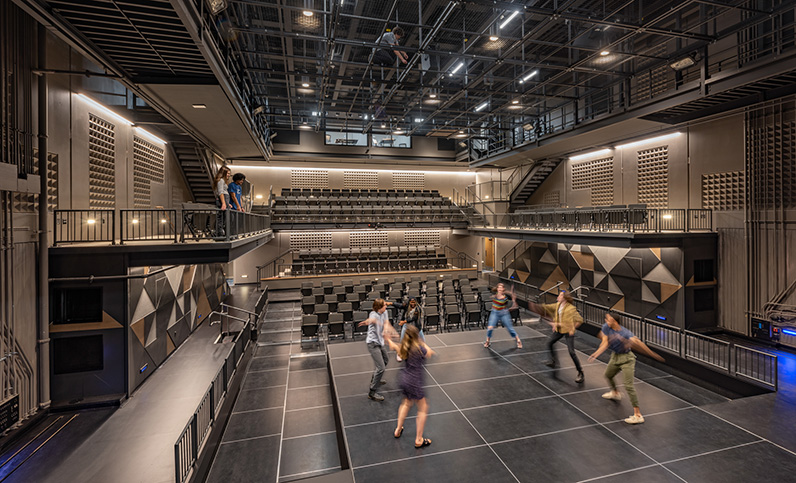 Gomez described her writing process as very spontaneous. The writing process for "Whereverland" was a way to help her vent and discuss her feelings … she eventually realized that she needed to see the musical performed.
Along with writing the musical, Gomez has also had the opportunity to direct her work. This is her first time ever directing anything. However, she says that "getting to watch people make something that was entirely in your head come to life is one of the most beautiful experiences I've ever had. It's surreal."
"Whereverland" tells the story of Monica, who has obsessive-compulsive disorder and spends the entire musical in a bathroom. She falls in love with James, but her best friend does not think she is good for him. According to Gomez, "the musical is really about her discovering that he's not the person that he says he is and regaining the sense of I can be on my own and I can take care of myself."
Gomez says she has two favorite portions of the musical. The first is the act one finale which is a duet between Monica and James, the two leads of the musical. "I haven't written out all the harmonies, so we've been able to tailor them to the two actors playing those roles." Her other favorite is the musical's title song.
Gomez hopes that "people can go away from the show with a better understanding of obsessive-compulsive disorder, a better understanding of toxic relationships and a better understanding of what it's like to be a woman with a mental illness."
The performance of "Whereverland" will take place on Friday, Oct. 29, at 7:30 p.m. in Kaeuper Hall located inside Perkinson Music Center on Millikin's campus. Admission is free, but any donations will be accepted toward Heritage Behavioral Health Center in Decatur, Ill.