"You have to teach it by experience."
Professional percussion entertainment group STOMP is making a stop at Millikin University's Kirkland Fine Arts Center on Feb. 26. Featuring matchboxes, brooms, garbage cans, Zippo lighters and more, STOMP fills the stage with an energizing performance that blends dance, music and theatricals into one electrifying rhythm.
The group provides an explosive, provocative, sophisticated, utterly unique program that has been playing to sold-out audiences of all ages for 25 years. "It's a real fun show for the whole family," said Jordan Brooks, STOMP performer and rehearsal director. "There's no speaking in the show. We make music out of everyday objects. It's very organic, developing on stage."
Brooks added, "We perform multiple roles, each character has their own personality that they bring to the show. The way that they dance, the way that they move, the way that they interact with the others on the stage is apparent to the audience."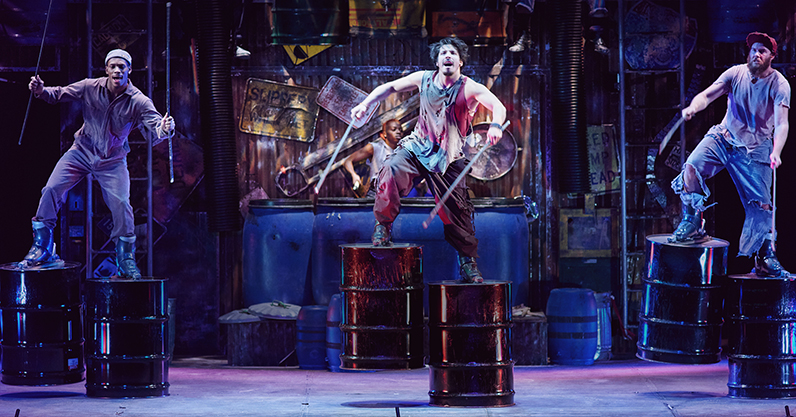 In addition to the explosive performance on stage, Millikin theatre and design production students will be gaining first-hand knowledge by working with the STOMP production crew. STOMP travels with their own stage crew, which includes a carpenter, an electrician, a props manager, a lighting designer and a sound designer. Although the professionals have their team to help them set up the elaborate performance, they will also utilize the experiences of the Millikin students.
"STOMP required a union crew," said Matt Albrecht, lighting director and faculty lighting designer at Millikin. "I wanted to give these students an opportunity to work on a cool project like this."
Millikin student Hunter IntVeld, of Blue Grass, Iowa, has worked on Millikin productions with scenic elements as well as unloading trucks. "We have a lot of performance learning opportunities," she said in a recent interview with the Herald & Review. "It's such a great opportunity to have. It's not something everyone gets to do."
Tobi Osibodu, of Oswego, Ill., is scheduled to work as an electrician when STOMP comes to Millikin's campus. His focus while at the university has been working with music and the sound system. "I'll be working in the lighting department," he said. "It's going to be a great learning experience."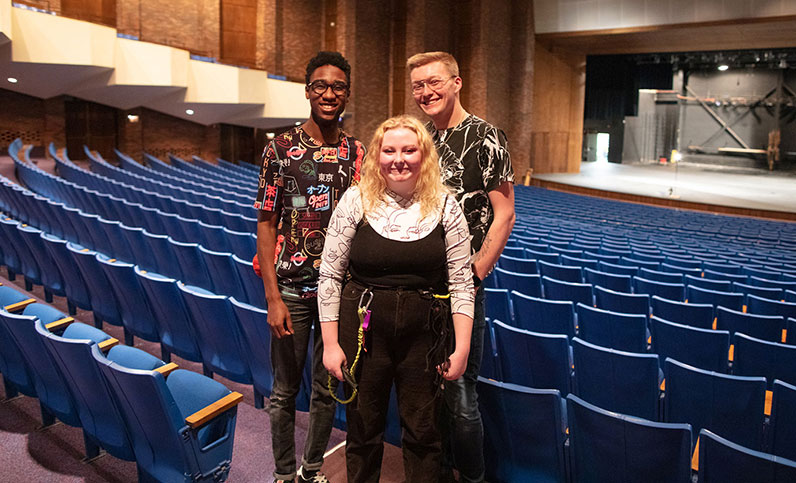 From left to right: Tobi Osibodu, Hunter IntVeld and Kyle Jordan
It will also be the first union job for Kyle Jordan, a junior from Champaign, Ill. Jordan will work with other professionals, including carpenters, sound crew and a lighting team. "We'll bring it up, and get what needs to get done before the show happens," he said.
Millikin University's Theatre Design and Production program prepares students to begin working as soon as they graduate. The program focuses on lighting and sound as well as costume design, scenic and technical direction or props.
"We give them the theory, the course work, but the students design shows in their work," Albrecht said. "We're trying to give students skills needed to be successful on day one when they get out of here."
The students appreciate the hands-on experiences. "It's super important for people like us, so that we're not just thrown to the wolves as soon as we graduate," IntVeld said.
The students are familiar with the equipment that STOMP will use for the production, however, it will all arrive in semi-trucks, filled by the previous show's crew. "There's no way to teach that in a classroom setting," Albrecht said. "You have to teach it by experience."