Student's three-panel mural shows generosity of Macon County
Millikin University art education major Shannon Cook describes her work as "kind of all over the place," which is why being a collage artist works so well for her.
A senior from Decatur, Ill., Cook paints and draws all sorts of subject matter while still having a direction. She recently had the opportunity to further develop her artwork last summer while serving as the Robert Harrison Crowder Artist-in-Residence at Blue Connection, Millikin's student-run retail art gallery.
Cook used her residency to work on paintings that collage together to portray a certain location or region. This November, Cook unveiled a painting she created in tribute to the generosity of Macon County [Ill.] donors and the value that nonprofit organizations bring to the central Illinois region.
Cook's three-panel mural, "Love with Impact," was completed at the end of her residency. The artwork, done at the request of The Community Foundation of Macon County (CFMC), depicts a collage of local businesses and icons, as well as a sampling of the work done by local nonprofits to help the local community thrive.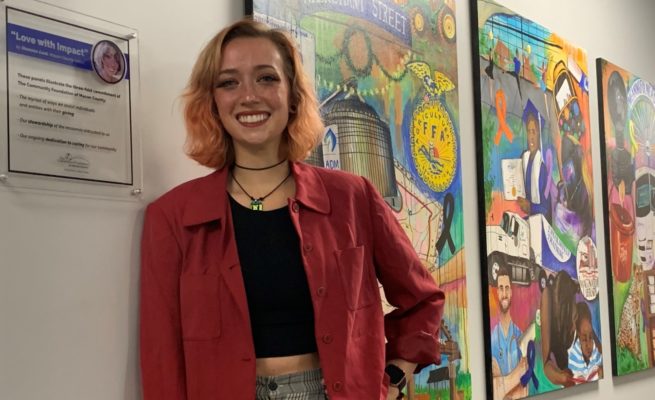 Shannon Cook / photo courtesy of NowDecatur.com
In an interview with NowDecatur.com, Cook said the experience was eye-opening.
"Art allows you to say something that you can't with words," Cook said. "I learned how far-reaching donors' generosity is in the community around me and just how incredible is the work of our local nonprofits. Doing this project gave me a lot of insight."
Each panel of the completed artwork is approximately 4' wide by 6' high. The mural fills the hall of the offices of The Community Foundation of Macon County in downtown Decatur.
"These three panels illustrate the three-fold commitment of The Community Foundation of Macon County," says Natalie Beck, CFMC president and CEO. "We are steadfast in the myriad of ways we assist individuals and entities with their giving; our faithful stewardship of the resources entrusted to us; and our ongoing dedication to caring for our community."
Cook works under the guidance of Professor Lyle Salmi, chair of the Art Department, and Ed Walker, associate professor of art, who teaches the Blue Connection course at Millikin.
Under Lyle Salmi's guidance, Cook has improved in creating a composition and having a direction with her artwork. "Since I arrived, I have been pushed to combine subject matter and layer my media to create far more interesting art that I was making before coming to Millikin," she said.
Cook says her paintings do not have hidden meanings, but they create moods with the combination of random subjects. "I hope viewers feel a certain way when they look at each of my paintings/drawings … what way is up to the person," she said when asked about what she hopes viewers will take from her artwork.