Dr. David Cook and Dr. Jennifer Schroeder honored for academic achievements and goals
Dr. David Cook, assistant professor of clarinet and chair of instrumental performance studies, and Dr. Jennifer Schroeder, associate professor of biology and director of academic effectiveness at Millikin University, have each been awarded a Love of Learning Award worth $500 from The Honor Society of Phi Kappa Phi, the nation's oldest and most selective collegiate honor society for all academic disciplines.
Cook and Schroeder are two of 200 recipients to receive the award.
Love of Learning Awards are designed to help fund post-baccalaureate professional development for active Phi Kappa Phi members including graduate or professional studies, doctoral dissertations, continuing education, travel related to teaching and research, career development and more.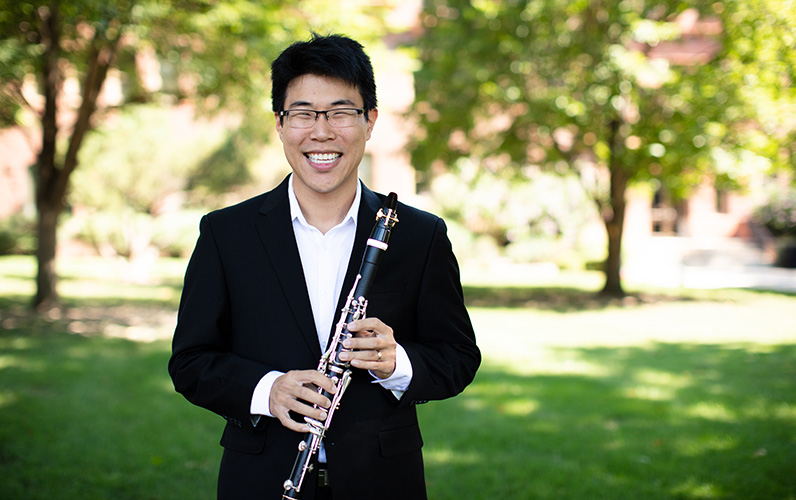 Dr. David Cook
Dr. Cook will be using the funds to explore and acquire new teaching materials, including pieces for concert performance as well as pedagogical methods.
"I am particularly invested in becoming more aware of contributions by women and people of color and diversifying my clarinet curriculum," Cook said. "It's important that the methods and repertoire we teach reflect the diverse backgrounds of our students here at Millikin and in our global community."
Principal Clarinet of the Millikin-Decatur Symphony Orchestra (MDSO) and clarinetist for the Appian Duo and the Greyline Duo, Dr. Cook teaches applied clarinet, chamber music, clarinet pedagogy and clarinet methods.
Dr. Cook has been a prizewinner at numerous competitions, including Second Prize in The American Prize for Instrumental Performance, Finalist status in the Cynthia Woods Mitchell Young Artist Competition, First Prize in the Oklahoma Community Orchestra Young Artist Competition and Third Prize in the White Lake Chamber Music Festival Solo Competition. His research has been published in The Clarinet, the NACWPI Journal and The Instrumentalist.
Dr. Jennifer Schroeder will use funds from the Love of Learning Award to support cancer research examining the effects of potential chemotherapeutics on rhabdomyosarcoma. Dr. Schroeder was the recipient of the Love of Learning Award in 2019, using the funding to expand her research that examines the potential effects of herbicides on human cells and how it relates to the growing rate of reproductive cancers in rural areas.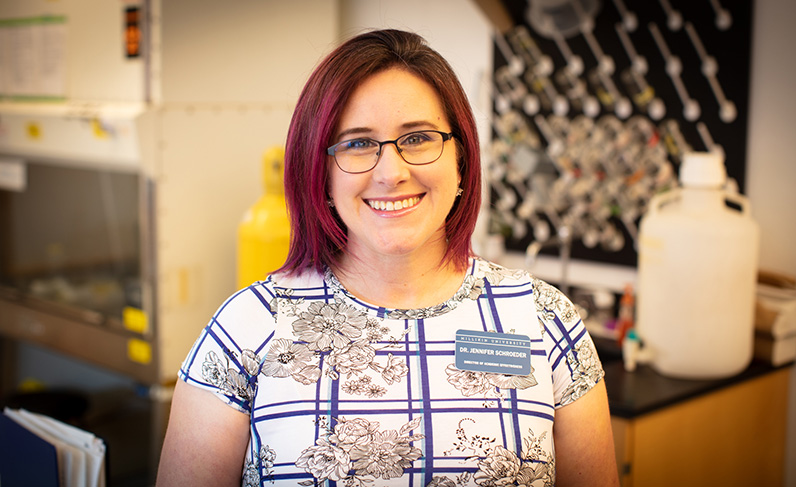 Dr. Jennifer Schroeder
Dr. Schroeder's research interests span all areas of cancer, endocrinology and reproductive biology. She utilizes breast cancer cells as a model system for testing toxicity and is interested in the ability of pesticides to function as endocrine disruptors. She currently teaches introductory biology courses for non-majors in the traditional and Flexible Learning programs, and an IN350 course with a focus on global healthcare. Within the biology major, she teaches the spring freshman-level biology course as well as upper-level courses in physiology and developmental biology. She also teaches physiology and pathophysiology within the Doctor of Nursing Practice Nurse Anesthesia track through the Millikin School of Nursing. Dr. Schroeder has been recognized internationally for promoting academic integrity and was awarded the Teaching Excellence and Campus Leadership Award in 2015 and Teaching Excellence Award in 2018.
Beyond her role in the classroom, Dr. Schroeder serves as the director of academic effectiveness, assisting faculty and programs campus-wide with assessment. She is also the institution's accreditation liaison officer to the Higher Learning Commission.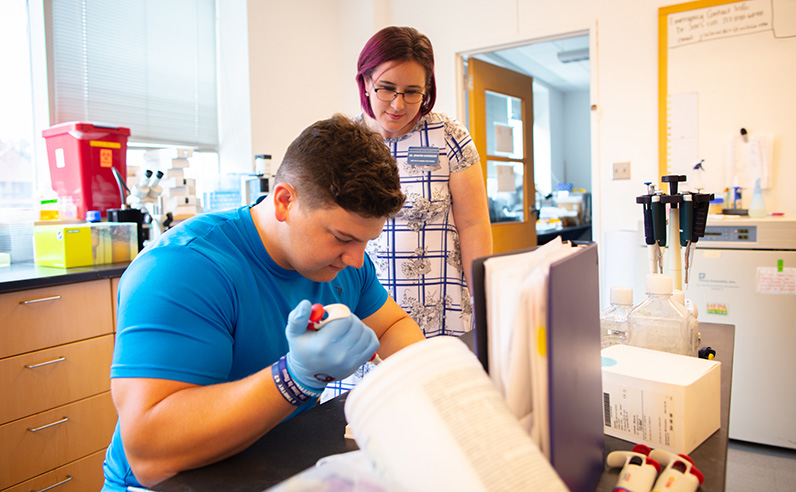 Established in 2007, the Love of Learning Program gives 200 awards annually. The selection process for a Love of Learning Award is based on the applicant's academic achievement, campus and community service, intended use of award funds as it relates to academic and career goals, and a personal statement.
Since 1932, Phi Kappa Phi's awards program has recognized members and students on its chapter campuses for outstanding academic achievement. In addition to the Love of Learning Program, Phi Kappa Phi awards graduate and dissertation fellowships, study abroad grants, and grants for local, national and international literacy initiatives. More than $1 million is awarded each year through the program that last year recognized more than 350 individuals.
Phi Kappa Phi
Founded in 1897, Phi Kappa Phi is the nation's oldest and most selective collegiate honor society for all academic disciplines. Phi Kappa Phi inducts approximately 25,000 students, faculty, professional staff and alumni annually. The Society has chapters on more than 325 select colleges and universities in the United States, its territories and the Philippines. Membership is by invitation only to the top 10 percent of seniors and graduate students and 7.5 percent of juniors. Faculty, professional staff and alumni who have achieved scholarly distinction also qualify. The Society's mission is "To recognize and promote academic excellence in all fields of higher education and to engage the community of scholars in service to others."