Millikin duo pilot mental health app for managing anxiety
Part of Millikin University's mission of Performance Learning is centered on collaboration, whether that's working alongside third-party stakeholders in the community or faculty/student projects such as the Summer Undergraduate Research Fellowship or Leighty Scholars programs.
Jessa Wilcoxen, associate professor of arts technology and administration at Millikin, is taking the collaboration process a step further, specifically in the field of ehealth communication, with a study that is currently in progress.
Wilcoxen and Kade Nylen, a senior arts technology student research fellow from Naperville, Ill., spent last summer working with Dr. Yuri Quintana, who serves as chief of the Division of Clinical Informatics at Beth Israel Deaconess Medical Center and assistant professor of medicine at the Harvard Medical School, as well as members from the Homewood Research Institute, on a project focused on designing an interactive mobile mental wellness application.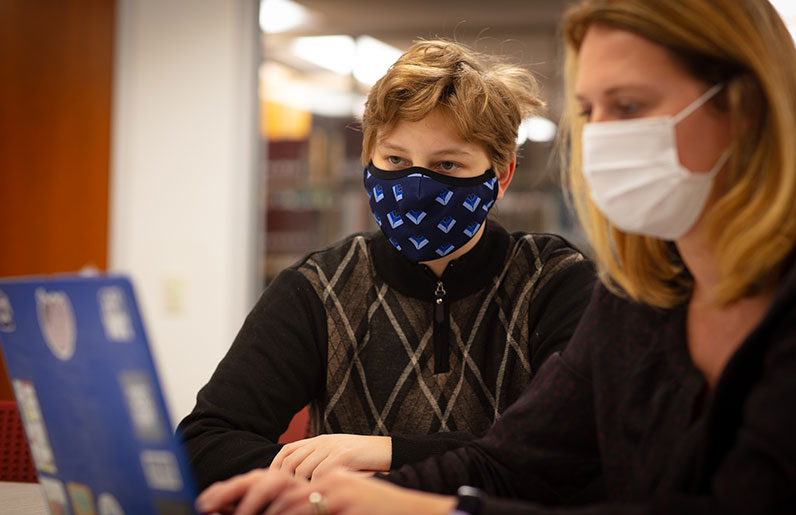 Kade Nylen
As part of the project, Wilcoxen led a series of three focus groups with the Homewood Research Institute involving youth in Canada through intensive design thinking explorations on app design in the mental health space. Wilcoxen and Nylen co-designed, with the youth, four different interactive mobile prototypes for a mental wellness mobile app.
The project engaged youth between the ages of 12 and 29 who served as partners in the design process and piloting a prototype for an evidence-based mental health app for managing anxiety in the COVID-19 era.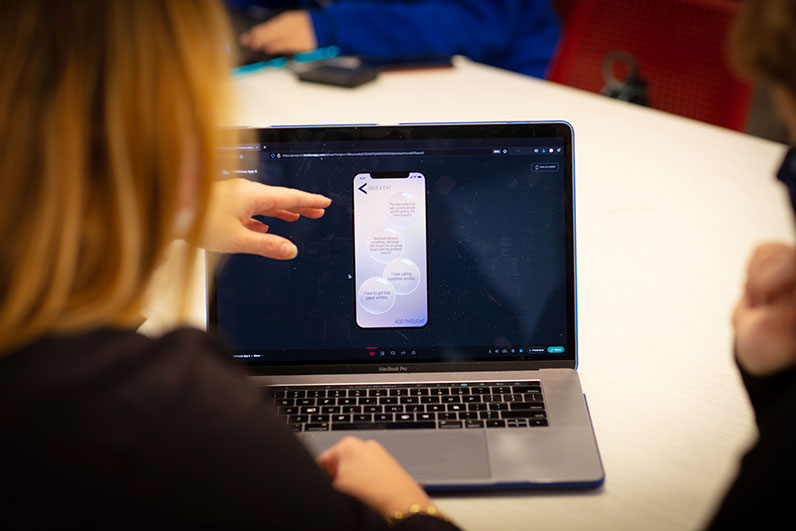 The overall goal was to develop a prototype design that meaningfully engages youth in the ideation process. The duo used Adobe Photoshop for the layout and design of the visual elements and used the program InVision to develop the interactive elements of the mobile prototype. InVision is a platform for inclusive collaboration within digital product design and development.
"Dr. Quintana is a client that I have worked with for over 10 years. He and the Homewood Research Institute had previously published a study where they had a framework to analyze apps properly. Before that study, there was no official academic framework on what makes a good app," Wilcoxen said. "He received a grant focused more on the mental health space, and he wanted to use the process of co-designing with the target market. He brought me on as a design consultant and to lead design thinking exercises."
Their services were paid for by a grant from the Ontario Trillium Foundation collaborating with the Homewood Research Institute in Canada and Dr. Quintana.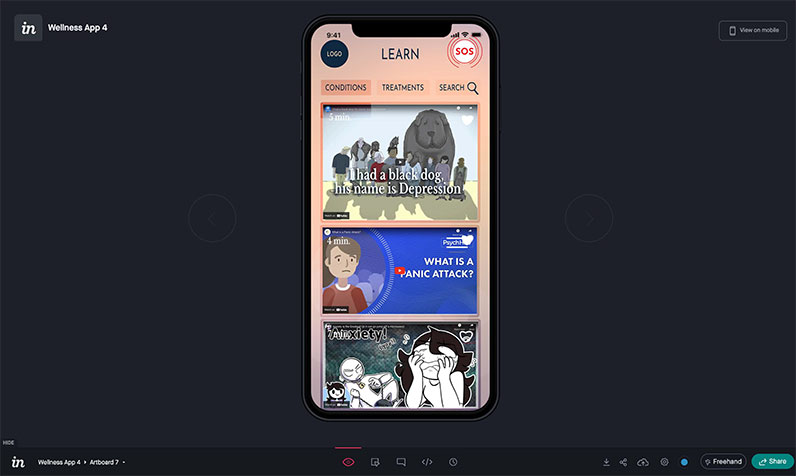 The youth members worked with Wilcoxen and Nylen to identify features and functions that best meet the needs and preferences of its intended audience. The youth members that participated came from the Integrated Youth Services Network (IYSN), a partnership of more than 30 organizations working to build a new standard of care, support and services for youth in Wellington County and Guelph, Ontario.
What made the project unique was the co-design process with youth members. Every user interface and user experience design decision that Wilcoxen and Nylen made was based upon feedback from the youth.
"We came up with the framework of the questions and how we would interact with the youth. Kade and I together designed versions of how we felt this app should be laid out based on our questions with the youth," Wilcoxen said. "Each meeting, we would show an interactive prototype. We let their ideas lead what we were trying to make."
After their first session with the youth members, Nylen said they got a good idea of what type of apps they normally use and the features of apps that make them come back to them.
"It was everything from where there might be a 'help' feature … how prominent it should be and how many pages it should show up on," Nylen said. "We explored how it would look to interact with a virtual counselor and the idea of having or not having a chatbot."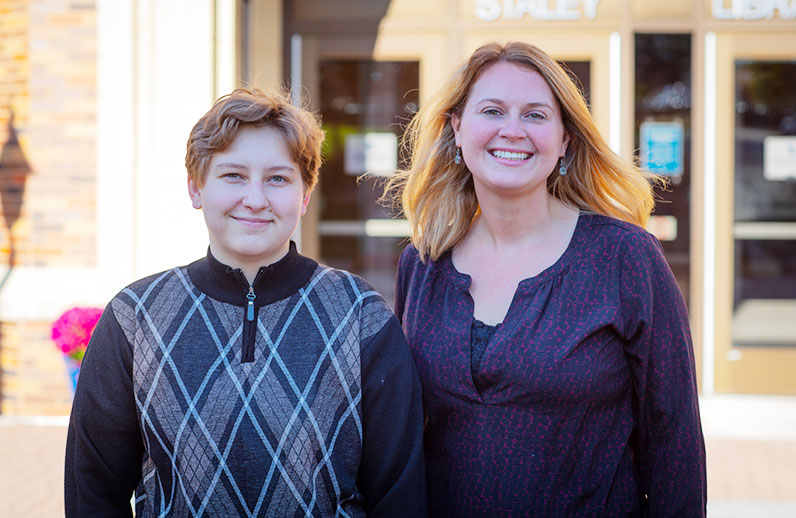 From left to right: Nylen and Jessa Wilcoxen
The duo included an interactive journal in the app that prompted the youth to reflect on their day and identify high points or low points. That would then lead into an interactive game that Nylen co-designed with Wilcoxen where the youth could take those thoughts and decide which ones to keep (positive or negative) – the thoughts would turn into bubbles that the youth could "pop."
"It's a visual metaphor for seeing the bubble go away … getting rid of that thought," Wilcoxen said. "It was very popular. We also added more traditional things such as meditations, soothing music sounds and an education section."
For Nylen, it was a unique experience being able to work with the target audience during the design process. "I've always liked user experience design and interface work. In the future, I want to work on projects similar to this," Nylen said.
"We were delighted to work with Jessa and Nylen to co-design an app with innovative features. They were able to bring innovative ideas and facilitate discussions that led to a highly functional and aesthetically pleasing interface that everyone was thrilled with," Dr. Quintana said.
Going forward, Wilcoxen will work with Dr. Quintana's team to pursue opportunities for publication and presentations for this piece and other projects in the ehealth space.