"Our students were gaining new skills in dance filmmaking."
Millikin University dance students are gaining new skills in dance filmmaking thanks to the School of Theatre & Dance's first Dance Film Festival which premiered for viewing on Friday, April 22.
Led by Anna Corvera, assistant professor of dance at Millikin, the film festival includes work from students, alumni, faculty and student groups on campus, aiming to celebrate the thriving dance community and many different dance styles happening at Millikin.
"The idea for the Millikin Dance Film Festival came to me last year when we had a virtual dance concert during the height of COVID," Corvera said. "Our students were gaining new skills in dance filmmaking, and our alumni were involved as performers/choreographers in a dance film I created to celebrate the new Center for Theatre & Dance. Alumni were also involved as audience members, even though they could not visit campus, they viewed the concert online."
Corvera decided to offer an online dance event each year so that students could continue creating short dance films–a very different experience than creating choreography for the concert dance stage. The online dance event also offered an opportunity for alumni to be involved by submitting to the festival or watching the festival from home.
"I also realized there is so much dance happening on campus, for example, there are multiple registered student organizations dedicated exclusively to dance and others that enjoy performing even though it is not their primary function," Corvera said. "I hope the Millikin Dance Film Festival can be the place where all the dance happening on campus can come together."
This year, the Millikin Cheerleading squad and Burlesque Underground submitted works, and the choreographer for the Physical Graffiti hip-hop crew also submitted solos. "I hope these groups and more will submit their work in future years," Corvera said.
Students, faculty, alumni and student groups were invited to submit short dance films to a judging panel of four faculty and staff members for possible inclusion in the festival.
"Some films are new works, and some films were created in the past when Millikin did not have an event of this type to share the works publicly," Corvera noted.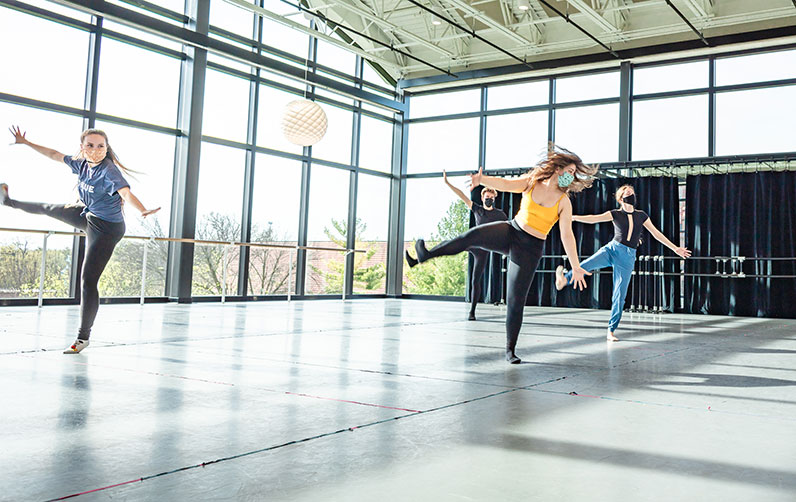 A few of the films are collaborations with faculty and students from Millikin's School of Theatre & Dance, School of Music, and Arts Technology & Administration Department which include dancers, musicians and an entire film crew. Other films were created by a single artist and filmed on a cell phone. One film merges animation and choreography.
The festival also includes three featured alumni artists: Fabricio Seraphin, Class of 2017; Darius Aushay Lee, Class of 2018; and Taylor Lindemann, Class of 2018.
"It was wonderful to reconnect with them, to hear their excitement and support for this new event, and to share their work which was created and filmed in New York City, London and Istanbul," Corvera said.
The Millikin Dance Film Festival is online and available for viewing until Sunday, May 8, 2022.