Millikin Clarinet Choir to perform four musical selections at conference
The Millikin University Clarinet Choir has been invited to perform at ClarinetFest® 2022 June 29-July 3 at the Peppermill Resort in Reno, Nev. ClarinetFest® is an annual conference hosted by the International Clarinet Association that features a diverse and comprehensive program centered around the theme of "Connecting People, Ideas and Cultures."
ClarinetFest® 2022 will feature performances by the Reno Philharmonic Orchestra as well as emerging and established artists in solo and ensemble settings.
The Millikin Clarinet Choir will perform four pieces at the conference. Three of these pieces were commissioned by or composed for the Millikin Clarinet Choir, including a piece by senior clarinet performance major Kody Myhra.
The Millikin University Clarinet Choir performs regularly on campus as well as throughout the central Illinois community. The ensemble includes students studying clarinet in the Bachelor of Music in Performance, Music Education and Commercial Music degree programs as well as Bachelor of Arts degree, and the Music Minor and Music Certificate programs.
Under the direction of Dr. David Cook, assistant professor of clarinet and chair of Instrumental Performance Studies at Millikin, the Millikin University Clarinet Choir performs a wide range of repertoire including familiar works for clarinets, transcriptions of orchestral and vocal music, and newly commissioned pieces.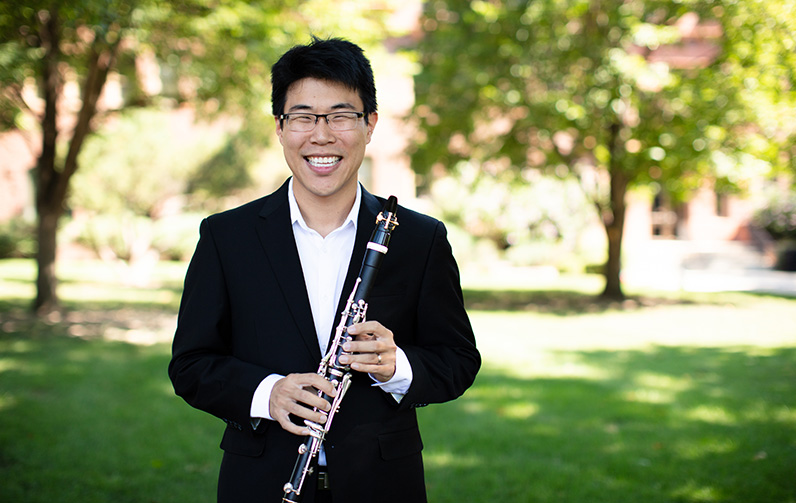 Dr. David Cook
"It is an enormous honor for the Millikin University Clarinet Choir to be accepted for a performance at ClarinetFest®, the annual conference of the International Clarinet Association. I am especially excited to share three pieces that were written for the Millikin University Clarinet Choir, including the new piece 'Eccentric Shades' by Bachelor of Music in Clarinet Performance student Kody Myhra," said Cook.
Cook added, "This is a rare opportunity for our students to perform at a highly attended event in the clarinet community and a natural outcome of their diligent study and pursuit of artistic excellence over the past several years."
Kody Myhra noted, "It is such an honor to be able to premiere my piece 'Eccentric Shades' at ClarinetFest this year. I had taken a liking to composition quite recently and wanted to try and tackle writing for a larger chamber ensemble, which was when Dr. David Cook gave me the opportunity to write this for my colleagues to play. 'Eccentric Shades' has been in the works for a majority of 2021, and was finished in December of last year. The premise of the piece is to portray colors that we don't normally see or talk about in our everyday lives through musical interpretation. I am so grateful to have these opportunities and cannot wait for everyone to hear what I've been working on."
The International Clarinet Association is a community of clarinetists and clarinet enthusiasts that supports projects that benefit clarinet performance; provides opportunities for the exchange of ideas, materials and information among its members; fosters the composition, publication, recording and distribution of music for the clarinet; encourages the research and manufacture of a more definitive clarinet; encourages communication and cooperation among clarinetists and the music industry; and encourages and promotes the performance and teaching of a wide variety of repertoire for the clarinet.