Millikin animators and filmmakers to showcase skills at festival
Millikin University's Arts Technology & Administration Department will present the Images in Motion Film Festival on Thursday, April 28, 2022, from 6 – 9 p.m. at the Lincoln Theatre located at 141 N. Main St. in Downtown Decatur, Ill.
Millikin's Images in Motion Film Festival is an exciting community event designed to showcase the skills of Millikin animators and filmmakers. Guest judges with professional backgrounds in film and animation will select winners in a variety of categories and present awards, including the coveted Images in Motion Best in Show Award.
1901 Productions
Student creators at the festival will have the opportunity to discuss their work with the audience and guests will also enjoy a sneak peek at upcoming projects from 1901 Productions, a Millikin student-run film company.
The Images in Motion Film Festival guest judges include actor and writer Emmanuel Carter, and Millikin Instructor of Communication Sam Meister.
Meister has been instructing communication courses at Millikin since fall 2010. He also serves as the faculty advisor and general manager of WJMU "The Quad," the radio broadcasting service of Millikin University. Meister's courses cover topics on mass media, including the radio industry, broadcast production and performance, mass media writing and film study. As an advisor to the campus radio station, he works with his student executive board to facilitate a 24-hour-a-day programming schedule that includes a contemporary and classic alternative rock format, student-produced specialty programming and the broadcast production of Millikin University Athletics.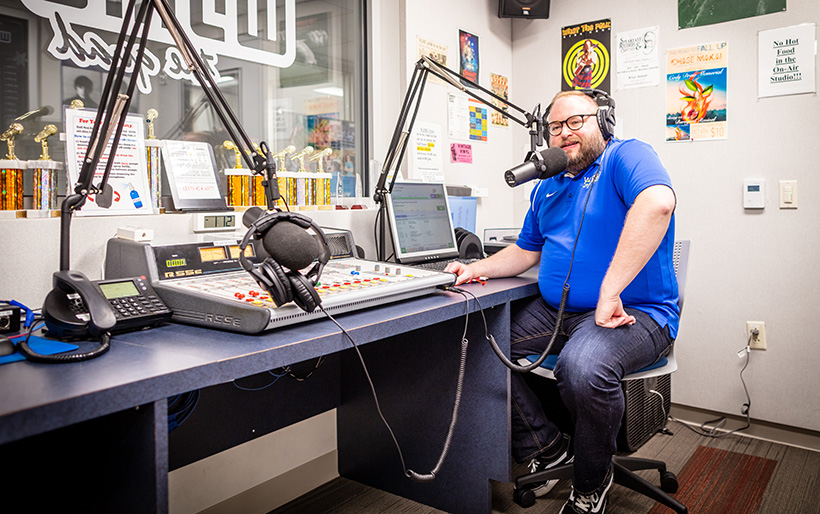 Sam Meister
Emmanuel Carter is the fun-loving host of Noggin Knows, a new educational variety show on Nickelodeon's interactive learning channel, Noggin. Each episode has a themed lesson as Carter, who uses dancing and singing to get preschoolers up and moving, teaches them in a classroom that includes some of their favorite animated characters like Molly from Bubble Guppies, Rubble and Skye from PAW Patrol, and Santiago from Santiago of the Seas.
A lifelong resident of Indiana, Carter started his acting career in 2016, making it a full-time pursuit in 2017 thanks to the support of his family. Choosing to pursue a different path than many actors, Carter stayed true to his dream of acting and filmmaking in Indiana. In addition to hosting Noggin Knows, Carter appeared in a reality dance competition series, and you can see him in the Netflix series Soundtrack, as well as appearances on TV One's Fatal Attraction and For My Man, Investigation Discovery's Murder Chose Me, and The CW's Case Files: Chicago, numerous television commercials, and even a couple of print ads.
Carter won an Emmy for his work with (Re)Start With Art and has been nominated for two Cynopsis awards for Noggin Knows - one for Best Host in a Web Series or Channel, and one for Best Web Series.
In addition to acting, Carter is a dancer, singer, writer, director, producer and most importantly, a devoted family man. Carter has persevered in his journey and even outside his Noggin Knows classroom, he is teaching everyone to close their eyes and ears to the negativity that tells them something cannot be done, and instead to believe in themselves and not give up on their dreams no matter the obstacles, because you never know when an unexpected opportunity will turn those dreams into reality.