Millikin art students craft ceramic artisan bowls to help local families
Each fall, students from Millikin University's Art Department come together to handcraft chili bowls that are sold to support the programs of the Good Samaritan Inn, a local not-for-profit organization in Decatur, Ill.
In previous years, Millikin has played host to the "Empty Chili Bowl" event to help feed hungry children and families in Macon County, however, this year, the Good Samaritan Inn played host on Nov. 10 in partnership with the Millikin Art Department and Macon Resources, Inc. (MRI).
The Millikin art students sold their ceramic artisan bowls for $10 a piece with proceeds feeding hungry children and families. "Our students spend countless hours crafting these bowls because they are passionate about helping others," said Jennifer Holt, assistant professor of ceramics & sculpture at Millikin. "Students not only further develop their craft, but also learn how to use their artistic skills to positively impact the community."
Holt added, "It's rewarding to know that our students are putting out great work and strong craftsmanship. They are definitely 'makers.' They work with their hands and they pay attention to detail."
Caitlin Eckhart, volunteer and nursing instructor at Millikin, moved to Decatur just about a month ago and decided to work with the Good Samaritan Inn as a way to start connecting with the community and developing relationships.
Being her first Empty Bowl event, Eckhart said the organization allows for people to work and volunteer but it also gives them a "link out in the community."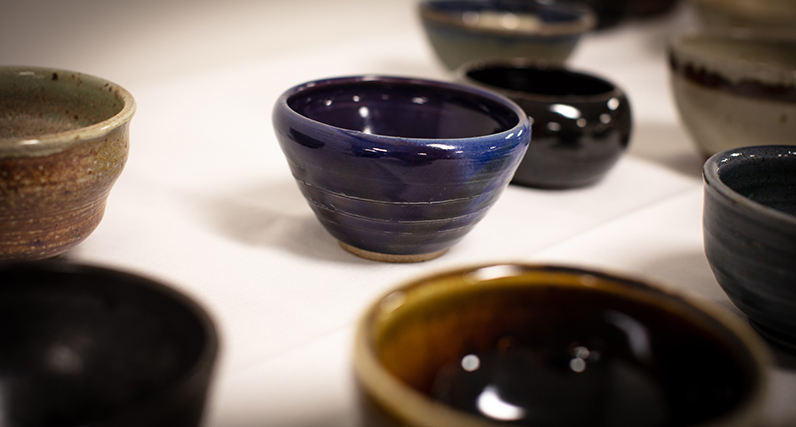 "I'm going to be delivering these meals to businesses in the community and just talking with different members of the community," Eckhart said in an interview with the Herald & Review. "It lets them know that Good Samaritan is here and it allows businesses in the community to be able to support a good cause and have a hot meal."
Event attendees could purchase a $5 meal and dine-in or take it to-go for the whole family. The menu featured 2021 Culinary Cookoff winner LP's BBQ Pit's "Smoked Piggy Mac" as well as last year's crowd-favorite Southwest Braised Turkey & White Bean Chili by Good Samaritan Inn Chef Nate Brohard.
"It is truly a community event," said Good Samaritan Inn Executive Director Nicky Besser. "Every year new partners emerge to make it the most fun and successful event to-date. Of course, we are most grateful for the Macon County community that has supported us for almost 40 years. Every bowl counts."
For more than 35 years, the Good Samaritan Inn has been serving the greater Decatur community by improving the lives of economically disadvantaged neighbors through daily nourishment, life skills education and job training programs.