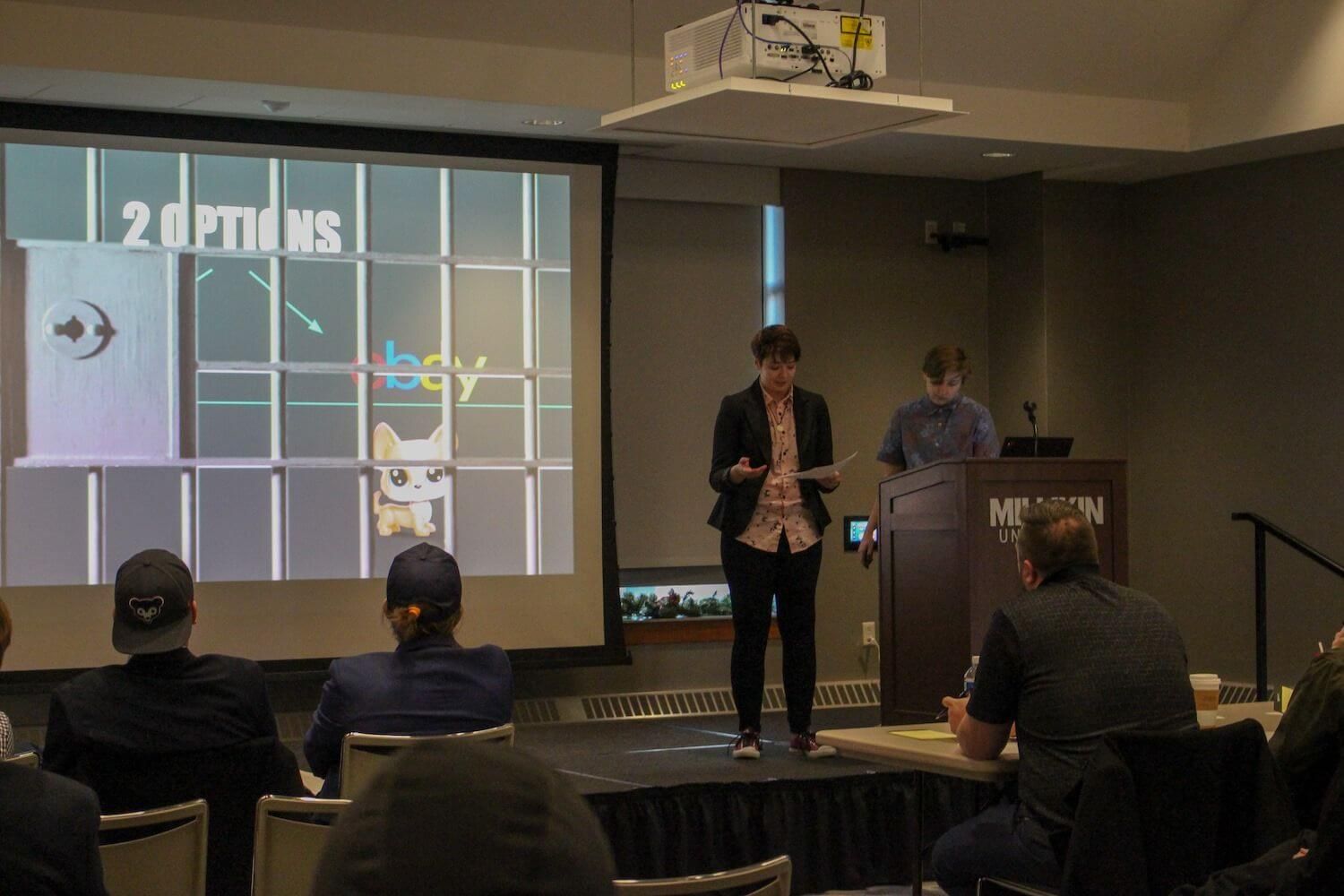 Congrats to Kade Nylen who won a $2,000 prize while competing in the Shortcut to Startup which was hosted by Millikin University's Center for Entrepreneurship. We interviewed Kade and this is what he had to say:
1. What was the main objective of your pitch?
The idea behind our startup, RETROGRADE (yes, it has to be in all caps, brand recognition), was to create an online marketplace for collectors and sellers of antiques, specifically Pokemon cards, to meet, be informed, and sell. The trade is sorely lacking a place online that caters to both newcomers looking to sell the cards sitting in their basement from their childhood and those looking for a reliable marketplace to expand their collection. Our proposed site would supply these two groups with information on how to go about grading cards or when one should, and an engaging interface that provides security in its transactions, respectively. Our pitch's goal was to display an understanding of the market and a clear financial plan in a professional manner- or as professional as it can get in a weekend of work.
2. What were your roles on the project?
Mat, my partner, came into the weekend with his business idea already, so while I helped him flesh out the inner workings of the business model and website, my main contribution was creating a visual identity for the brand and making the powerpoint an interesting visual addition to the verbal pitch. Not trying to brag but rather offer advice to future contestants, but I think the effort we put into the visuals were likely a big reason we won, as people underestimate the power good design can have in presentations.
3. Did you imagine you would win $2,000?
Since there was a $4,000 pool the judges had to spilt between the teams and more teams (eight) than they'd ever had before, I expected they would end up splitting the money evenly between many teams as all of the pitches seemed very solid to me. I was very surprised at how the judges decided to distribute it, but I still feel the competition was close as they spent a while mulling over the decision.
4. Now that you have seed funding, can your explain the first big step toward a launch if you move forward with this idea?
To get RETROGRADE started, we'd put the money towards getting the website developed and then up on servers, purchasing insurance, and getting our name out to potential users.
5. How did your coursework/experiences at Millikin University prepare you for this competition?
My Arts Tech courses gave me the knowledge of visual appeal to enhance the PowerPoint and experience with Adobe products to quickly create a logo and an alt in time. Mat also used his knowledge of the brokerage business model that he learned from Foundations of Entrepreneurship and the confidence from theater courses to sell the verbal pitch.