Millikin Nursing Alum Makes Big Impact on Little Patient
Following six-year-old Shoni Anderson's diagnosis of leukemia in February 2021, her family has seen an outpouring of support from the Decatur (Ill.) community, which has helped them find comfort and positivity amidst the challenges of their daughter's illness and treatments.
Shoni's mother, Becky Clayton Anderson, graduated from Millikin University in 1995, and found a shared Millikin bond and a bright spot in one of her daughter's nurses at St. John's Children's Hospital in Springfield, Ill. Fellow Millikin alumna Darrah Hulva Ramos, Class of 2014, provided treatment in Shoni's fight against leukemia.
Anderson has been touched to see how her daughter and Ramos bonded during her treatment and is grateful for the level of care that Ramos showed Shoni, both personally and medically.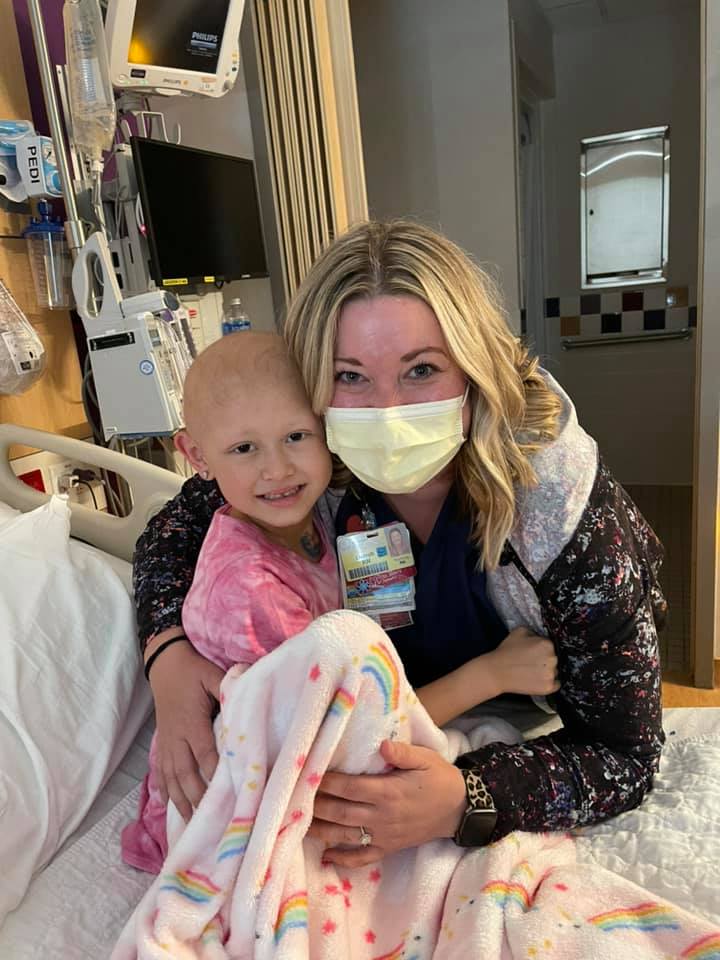 "It means a lot to me as her mom," Becky said, describing how Ramos has become a source of comfort during Shoni's hospitalizations and treatments. "To see Darrah work so hard to make her smile is heartwarming," she said. Ramos' work as a pediatric oncology nurse presents a unique set of challenges in communicating and caring for her young patients. She credits Millikin for her preparation.
"My degree in communication helped me be able to have the hard conversations that you are forced to have with patients and their families," Ramos explained. She earned a degree in communication, and then later a degree in nursing from Millikin.
Despite the challenging details of working in pediatric oncology, Ramos is also able to find great joy in caring for her young patients and in forming special bonds with the children and their families. The bond shared between her and Shoni is especially meaningful to both nurse and patient. Both Ramos and Shoni are larger than life, sharing big personalities and great senses of humor.
Ramos' ability to connect closely with Shoni personally has been key in helping make treatments easier for the little girl. "Sometimes you have to play by their rules, and they just want to know what is going on," said Ramos, who used Shoni's American Girl Doll® to explain Shoni's own IV placement. Ramos frequently uses the familiar and comforting objects around her young patients to explain procedures or treatments that the child is about to receive.
Building trust with her pediatric patients is a top priority for Ramos when she is helping them through cancer treatments. She puts in extra effort to ensure that her patients have a good experience.
Shoni's big personality continues to shine throughout her cancer treatments, and her family continues to find faith and positivity through the Millikin and Decatur communities who are consistently rallying for Shoni in her fight against leukemia.
For fundraisers, events or more information about the Anderson family's fight for their daughter, search the following hashtags on Facebook: #godsgotthis #teamshoni #leukemiwho #imnotscared.