Alumni Legacy Spotlight: Meg & Olivia Marquardt
Though much has changed since her mother attended Millikin University, Olivia Marquardt, Class of 2023, and her mother, Meg, share a timeless bond — competing as part of the Big Blue athletics program.
From lifelong friendships with their teammates to learning how to tackle difficulties commonly faced by female athletes, Olivia and Meg's involvement with Millikin athletics has helped shape their futures.
As a junior biology (pre-physician's assistant) major and an accomplished member of Millikin's women's swim team, Olivia works hard to balance her schedule.
Though Olivia recalled initially not wanting to attend the same university as her mother, the passionate faculty in the biology department and the opportunities on the swim team helped sway her decision toward Millikin.
When asked why she chose to join the women's swim team during her first year on campus, Olivia said she was influenced by the atmosphere surrounding the team and the potential of her recruitment class.
She was also excited by the determination from Millikin's Director of Swimming, Dr. Molly Duesterhaus. "Coach Duesterhaus was excited to get Millikin swimming back to where it used to be," Olivia said.
The diverse range of opportunities offered at Millikin have helped Olivia develop both in the classroom and in competition.
"I've had the opportunity to do so many things outside my comfort zone here," Olivia noted.
Olivia mentioned how she has gotten the chance to study ballet this semester also.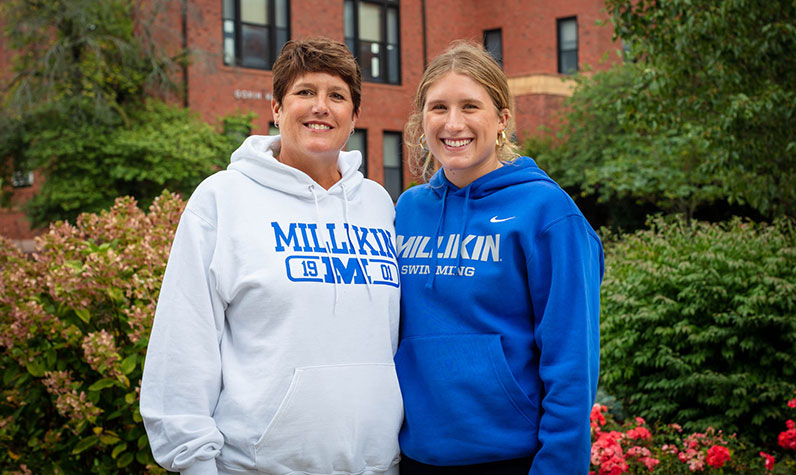 Meg and Olivia Marquardt
Olivia's mother, Meg Marquardt, took advantage of several Big Blue sports opportunities before graduating in 1989 with a degree in psychology. While at Millikin, Meg competed in women's basketball, women's tennis and softball.
The demands of being a multi-sport student-athlete taught her the skills to be successful in a variety of areas.
"In order to be my best, I had to be disciplined and put forth my best effort both in the game and the classroom," Meg recalled.
Participating in women's athletics at Millikin encouraged the mother daughter duo to recognize and overcome the difficulties faced by amateur and professional female athletes alike. Olivia explains that those obstacles further motivate her.
"There is always adversity surrounding women in athletics, whether people are overlooking your accomplishments or undermining your athletic ability. This is simply a reason to work harder," Olivia said.
Sharing in her daughter's sentiment, Meg said that role models at Millikin inspired her with a similar approach toward overcoming hardship and adversity as a female athlete.
"My professors and coaches instilled the attitude to give one hundred percent, and with that, you can achieve your goals and overcome the adversity of being a woman in athletics," Meg stated.
Both mother and daughter went on to express how the relationships with their teammates and the lessons they learned about teamwork proved invaluable to them.
Olivia and Meg each formed strong friendships with teammates through countless practices, competitions and time spent together as a team. "Millikin taught me to invest in my teammates," Olivia explained.
"I have definitely gained lifelong memories and friends from my time on the swim team," she said.
This year, Millikin University celebrates 50 years of Women in Athletics. During this celebration, Millikin recognizes the pioneering efforts of women who paved the way for future generations of female student-athletes to compete in Big Blue athletics and honors the legacy of all Millikin women who have worn the Big Blue with pride.