Dear Millikin Friends,

This fall, campus feels closer to normal. While we are still masked and abiding by state regulations, students and faculty are meeting more in-person and events are happening on campus. Students and faculty continue to approach their respective roles with resilience despite the apparent obstacles.
This fall brought about changes in the Tabor School of Business as well. In August, I transitioned from my role as chair and associate professor of information systems to interim dean. On November 18, President Jim Reynolds appointed me as the permanent dean of the Tabor School of Business. I'm grateful for the confidence and trust both President Reynolds and Provost Mary Black have in my ability to keep Tabor moving forward. As many of you know, Millikin and Tabor hold a special place in my heart as a loyal alum. My goal is to continue the tradition of preparing Tabor graduates for professional success through our unique blend of theory and real-world practice.
We have also welcomed two new faculty to Tabor. Dr. Marcos Hashimoto joins us as the director for the Center for Entrepreneurship. Dr. Hashimoto brings a wealth of knowledge and experience to Millikin. Marcos has started and directed entrepreneurship centers at other institutions. He brings a diverse and global perspective to the institution, and he is engaged with high quality research in the field. His vision for Millikin's Center for Entrepreneurship continues to infuse the entrepreneurial mindset into non-business disciplines, engage with the community, mentor students on their business ideas and support our hallmark student-run ventures.
We also welcome Dr. Amita Bhadauria as assistant professor of marketing. Amita previously taught at Bradley University and has industry experience from her work at Google and AT&T. Amita's primary area of research is consumer behavior, with a current focus on the topic of binge-watching. She explores multiple areas such as scale development, cross-cultural studies, and experiments to examine this novel and exciting topic. Her prior areas of research include aesthetics and moral judgment and the cruise industry.
Millikin hosted an in-person Homecoming after being away in 2020. With over 500 alumni in attendance, the campus was alive with activity and alumni seeing how the campus had changed since their last visit. Tabor hosted an alumni and faculty reunion that was well attended. Retired Tabor faculty were in attendance including: former President and Tabor Dean Doug Zemke, Dr. Jim Dahl, Dr. Susan Kruml, Dr. Jim Watson, Sharon Alpi, Julie Shields and Dennis Schwieger.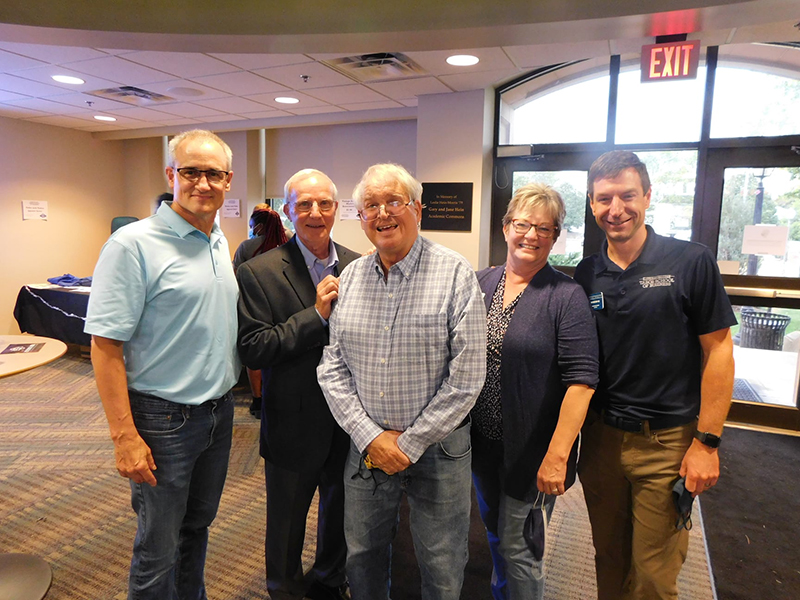 In addition to Homecoming, I've had the opportunity to speak with many Tabor alumni and hear of not only their affinity to Millikin and Tabor, but also their willingness to help. From the survey completed in the spring, over 80 alumni and friends have volunteered to be part of our new MentorConnect program, which is being administered by Bethany Gotts, program coordinator, Center for Entrepreneurship. The program launched this fall and mentors have been paired with students to help them start their business ventures. The MentorConnect list will be leveraged in the future for, but not limited to: guest speaking, mock interviews and recruiting. If you're not part of MentorConnect, reach out and let us know how you'd like to engage.
Students continue to do amazing performance learning work in the classroom. The Tabor Investment Portfolio eclipsed $500,000 in September, freshmen are engaged in building business plans as part of business creation, MIS majors are upgrading the Millikin organizational chart web application, and seniors are consulting and developing a strategic plan for a hospitality group.
Tabor continues to be a place for students to build their resumes while in school; providing them opportunities to perform and compete, early and often, to build their chance for success. We are continually exploring ways to ensure the curricula are consistent with employer needs and find opportunities for new programs while remaining true to our mission. The result of this work was also reflected in a recent announcement: The United States Association for Small Business and Entrepreneurship (USASBE) has named Millikin University a finalist for the Model Program Award as part of the 2022 USASBE Entrepreneurship Education Awards. This award recognizes colleges and universities that provide comprehensive, bold, high-quality educational programs that train future generations of entrepreneurs.
Our alumni are a key partner in assisting in these efforts through your feedback, your engagement and your financial support. Thank you for your continued engagement and financial gifts. Your support provides scholarships for a more affordable education and provides funds to improve the quality of teaching and learning. As part of our annual support for scholarships for Tabor students, I'm launching a challenge to raise $10,000. Mandi Landacre Podeschi '02 and I are pledging the first $1,000 of this campaign, and we invite you to take part in this challenge, no matter how large or small your contribution. Making an online gift designated to the Tabor School of Business is easy and every dollar counts. If you haven't developed a habit of giving annually, I encourage you do so to keep Tabor moving forward and support our students' financial need.
Personally, I wish you good health and a bright future.
Yours in Millikin,
RJ Podeschi '02, M.S., MBA
Dean, Tabor School of Business