Contrast our current age of digital photography with the time of Millikin University's founding, when photographic images were captured as negatives on glass. The University Archives owns many prints made from these plates, but understandably only three small sets of the original — and very fragile — glass negatives.
Though not considered particularly rare or valuable, glass plate negatives — which first came into widespread use around 1880 and helped popularize photography as a hobby — suffer from many common condition issues. First, they are thin and often large pieces of glass that break easily. Second, their gelatin coating can separate, flake off the glass or suffer scratches. Coming into contact with dirt and oil from the skin can also damage the plates. And the silver particles in the gelatin can oxidize over time, which may cause fading or a shiny metallic appearance known as "mirroring."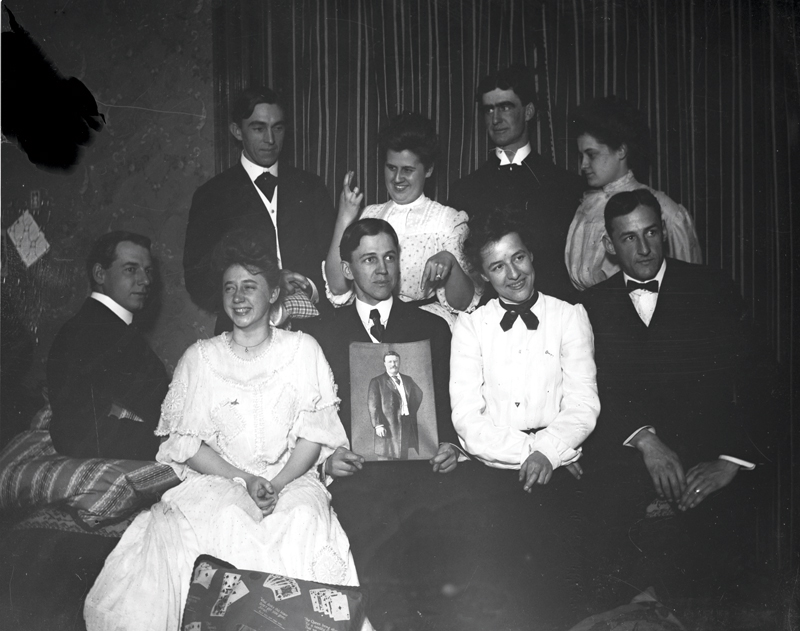 Our first glass plate image (above), from about 1903, shows Eugenia Allin (woman in back row, center), Millikin's first librarian. She is pictured with a group of faculty and students who are playfully displaying a photograph of President Theodore Roosevelt, one of the speakers at Millikin's dedication. In contrast to more formal portraits typical of the time period, these pictures show that our predecessors definitely knew how to let loose and have some fun.
The second image above is from a collection of unknown photographers and includes images of Liberal Arts Hall – today known as Shilling Hall – under construction (above, right), fraternity and sporting events, and what may be a parade. Some of the plates in this group are as large as 11-by-14 inches.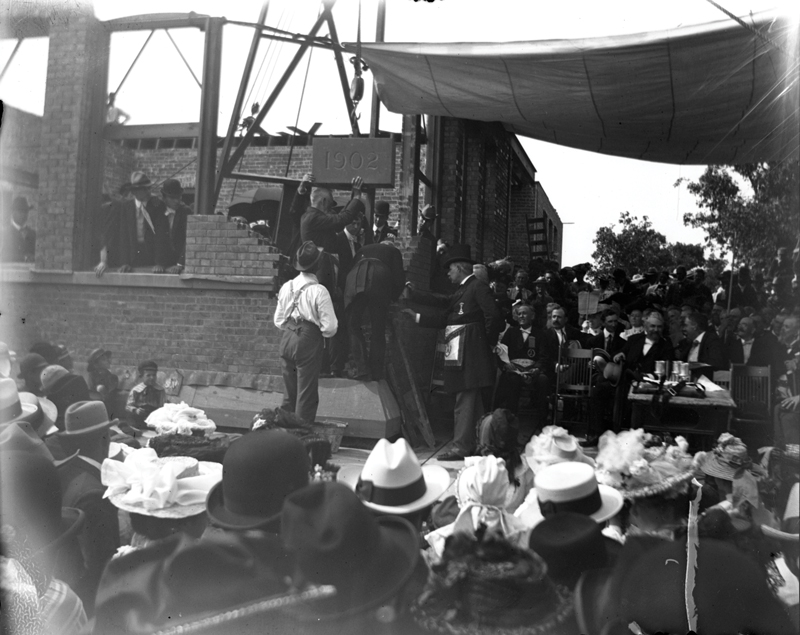 The third set of negatives was donated by Mr. and Mrs. Robert M. McCreary of Decatur in 1983 and includes images of the 1902 cornerstone ceremony for Liberal Arts Hall. The photos were taken by John B. Robinson, a professional photographer and former owner of the McCrearys' home. The above image shows the cornerstone being lowered into place as the crowd looks on. Members of the Masonic Fraternity of Illinois supervise. Learn more about the Liberal Arts Hall cornerstone.
Glass plate negatives became less popular in the 1920s as paper- and film-based negatives came into use for amateur photographers. Nevertheless, the process was still used by scientists for astronomical measurements late into the 20th century. This collection not only provides fascinating images from Millikin's history, but insight into the challenges posed by early photography.
---
Amanda Pippitt is Millikin's access services coordinator, archivist and research instruction librarian. She has worked at MU since 2004. Pippitt earned her master's degree in library and information science from the University of Illinois at Urbana-Champaign and also holds bachelor's and master's degrees in anthropology.