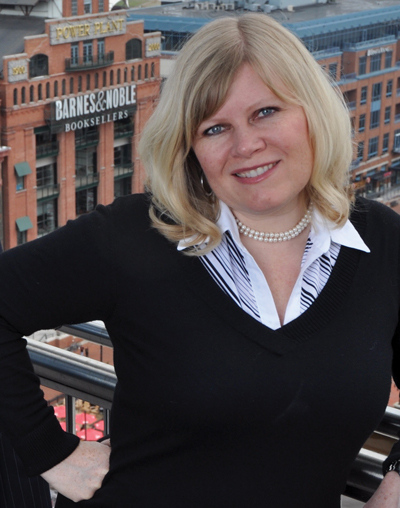 Terri Harrington '85 of Baltimore has combined a career in commercial real estate with a passion for her community. In 2015, she was named one of Maryland's Top 100 Women. Nominated for the award twice before, she says the competition is steep: "The third time's a charm!"
Maryland's Top 100 Women are chosen from among 400 nominees who act as strong mentors and dedicate themselves to the betterment of their community. "Mentoring other women and community involvement are critical factors in receiving this award," says Harrington. One of her goals is to pave the way for women in commercial real estate. She is currently senior vice president at MacKenzie Real Estate Services in Baltimore, and she earned her master's degree in business from Loyola University Maryland in 2004.
Working in commercial real estate since 1993, Harrington says she is pleased to have made a name for herself in the Baltimore area while working in a male-dominated profession. She has been named a CoStar Power Broker multiple times over the past several years, an industry recognition for top producing brokers in the market. Harrington says one of her goals is to educate women who are seeking a career in commercial real estate by providing information about the business and how to make a place for themselves in it. She says that, in her experience, very few people — and even fewer women — know how to succeed in the industry. "Many people do not know there is a whole profession built around commercial real estate," she says.
Harrington's career is closely tied to economic development. In fact, she brokered the transaction that brought the first supermarket to downtown Baltimore's Central Business District and has been involved with some of the more notable transactions and development projects in the city. Another way she encourages economic development in her community is through photography. By photographing various locations around Baltimore, she communicates the attributes she sees in the city to people who have never been there. Some of her photographs have even been sold at a nonprofit auction; she also posts them to her Facebook and Instagram pages. "I try to educate people outside the city and show them what Baltimore really is about," she says.
Harrington credits a lot of her interests to her time as a Millikin student: "I was always promoting the school when I was there, and I guess that introduced me to the skill of promoting where I live now." At MU, Harrington was a resident assistant as well as a member of Millikin Alumni Student Hosts (MASH), an organization that fostered alumni-student relations (now known as the Royal Blue Ambassadors). She credits her knack for photography to her art major. "I attribute a lot of what I do to my Millikin days," she says, "My affection for Millikin runs really deep."
Prior to entering commercial real estate, Harrington was an award-winning weekend radio news anchor at WPOC-FM/Clear Channel Baltimore from 1987-2007, top in its market. Before that, she completed an internship with Decatur's WAND television station that led to her two-decade career in radio.
Harrington also holds positions on several boards and committees, including the Foundation Board of Bon Secours Health System, the University of Baltimore Real Estate and Economic Development Advisory Board, and the Greater Baltimore Committee Leadership and the Downtown Partnership of Baltimore boards.
---
Shanlee Bratten of Decatur completed a writing internship for the Alumni & Development Office. A Bradley University graduate, she is teaching in Spain this fall.