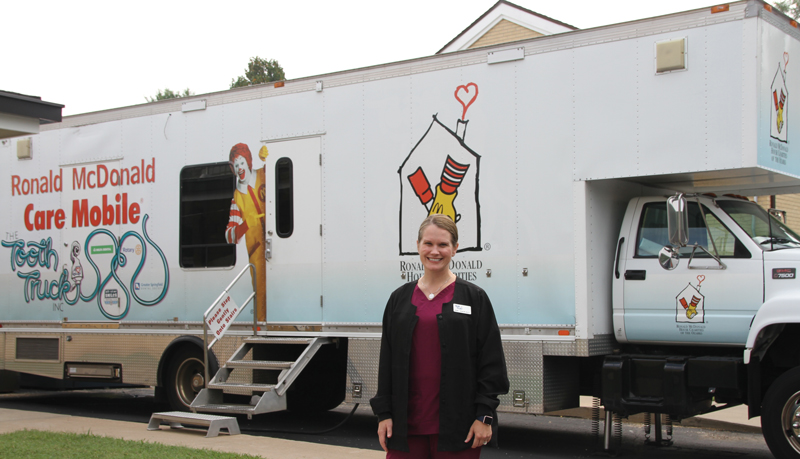 When Sarah Creson Cimino '04 became a dentist with the Ronald McDonald Care Mobile, fondly known as the "Tooth Truck," in Springfield, Mo., she saw it as a temporary job until she could start her private practice. She committed to 18 months, saying, "Nobody stays in public health very long." Almost six years later, Cimino has changed her mind about the Tooth Truck and has no intention of leaving. "I fell in love with their mission," she says.
The Tooth Truck is a 250-square-foot, fully equipped dental office on wheels. Cimino, two dental assistants and an office manager park the truck mainly at schools, providing dental care to children who qualify for free or reduced school lunches and lack access to a dentist or dental insurance. Cimino and her colleagues have permission to bring children out of their classes for appointments.
"We see children who haven't been to a dentist in years or have only been for an emergency," says Cimino. Patients are not charged for services — less than half of their funding comes from Medicaid, with the rest coming from local community support and a commitment from the Ronald McDonald House Charities of the Ozarks. "Dentistry is one of the last things to get paid for when money is short," says Cimino. "How can you focus in class when your mouth hurts? You can't eat well. You can't focus. Sometimes we can fix the painful tooth in one visit. It's great to be allowed to do that."
Although the Tooth Truck is fully equipped, it brings with it a unique set of challenges. Cimino and her colleagues all have a commercial driver's license for the 40-foot truck. Each day they drive to their location and set up. At the end of the day, they have to secure everything with tie-down straps.
"There is absolutely no space," Cimino laughs. Her personal office is a drawer in a file cabinet, and she eats lunch in the children's waiting area. A hardback Clifford book often makes a tabletop for her meal.
For Cimino, the inconvenience is worth it, because her job is more than dentistry. It's a chance to help improve a child's self-esteem. During the school year, Cimino sees approximately 250 children a month, most of them between ages 3 and 14. Repairing a chipped front tooth is one of her most rewarding procedures, one that brings an immediate response from a child: "They grab the mirror and want to show every teacher they pass and their friends. After school, they run out to the car, and I see the mom take the child's head in her hands to look at the repaired tooth."
She remembers one 14-year-old girl who came into the Tooth Truck. "She was very well-spoken and beautiful, but every time she talked to you, she would hold her hand over her mouth," said Cimino. When Cimino examined her teeth after her cleaning, she realized why. With cavities in 26 of her teeth, the girl was too embarrassed to show them when she talked. As they fixed cavities over several appointments, Cimino says, "I could see her confidence blossom." Each visit, a little more of her personality would come out, and she stopped covering her mouth when she spoke.
Often she will let the children listen to a movie while she is working on their teeth, turning appointments into a fun break from school. She comments on their new shoes or asks about soccer practice. She and her colleagues take notes on the child's interests, so they can ask about them at their next visit.
"They might not get much individual attention at home or in a busy classroom," says Cimino. "So when they come out to the Tooth Truck, we make sure they feel like they're the most important person at that time. We want them to know they are remembered and that we care."
Cimino lives in the Springfield, Mo., area with her husband, Justin, and their two children: Adelaide, 4, and Alexander, 1.
---
Amanda Hamilton '14 works as a marketing specialist for HSHS Medical Group and enjoys occasionally writing for Quarterly.