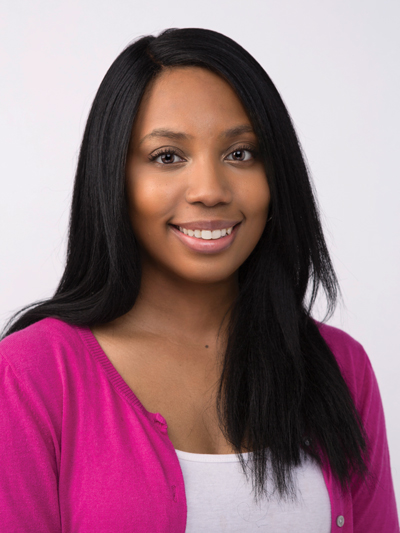 Britteny Dunson '10 is talent acquisition lead at the Museum of Science and Industry, Chicago. In this new role, she heads up all hiring across the institution, including establishing processes, employment branding and bringing in world-class talent.

Millikin Quarterly: Why did you choose MU?
Britteny Dunson: I grew up always going to small, private and religious schools. I wanted an experience where I could really be more than a number and have some hands-on learning. I also had a friend who already attended MU who put me in touch with Jessica Barrientos (now Jessica Pickle) who was an admissions counselor at the time. She sold me! She gave me such one-on-one attention throughout the recruitment process that I just knew that if how she treated me was any reflection on the school itself, I would love it. I was right. I visited and auditioned for the School of Music and fell in love with the people and campus!
Millikin Quarterly: What activities did you participate in as a student at MU?
Britteny Dunson: Everything humanly possible. I worked for Kirkland Fine Arts, admission, office of student programs and media relations. I was secretary of Multicultural Student Council, the views section editor (and Illinois College Press Association award winner) for the Decaturian, MilliSTAT member, Alpha Phi Alpha fraternity's Miss Gold 2009, member of the 2009 Homecoming committee board and a chartering sister of the Iota Delta chapter of Sigma Lambda Gamma National Sorority Inc., the first Greek organization of its kind at MU. I was member No. 13, and we now have 46 members. I was also nominated as Senior Woman of the Year.
Millikin Quarterly: What are some of your accomplishments since graduating from Millikin?
Britteny Dunson: I have grown from being a receptionist in 2010, to an assistant in 2012, and now lead talent acquisition for the world-renowned Museum of Science and Industry, Chicago. A true testament of hard work, hustle and dedication! I also am a mother to a beautiful, smart, spunky 3-year-old. I take pride in remaining very active with the organization I helped start, Sigma Lambda Gamma National Sorority Inc., by helping the women grow their chapter at MU as their chapter adviser.
I was recently invited to serve on the Millikin Association Alumni Board, with my term beginning this fall.
Millikin Quarterly: Would you talk about your recent visit to campus and about your experience engaging with current students?
Britteny Dunson: I love current MU students. Regardless of when we attended Millikin, we all share a certain spirit about our openness and creative drive. It's refreshing! During a visit to campus to speak as a member of a panel for Sister Circle, I met a student who approached me to tell me about her passions. Through her proactive approach, I was able to get her an internship at the Museum of Science and Industry. It's inspiring!
Millikin Quarterly: Who is your most memorable MU professor or staff member and why?
Britteny Dunson: I had what feels like every class of my junior and senior year with Dr. Nancy Curtin, associate professor of communication. She is a fabulous woman, and she is so dedicated to what she teaches. I also can't watch the movie "Office Space" without thinking of her! T-Dunk (Dr. Thomas Duncanson, professor of communication) was another. I would go into his office and explore my life and often get metaphorically knocked in the head. And finally the angel that was the late Dr. Priscilla Meddaugh, former assistant professor of English.
Millikin Quarterly: What advice do you give to current Millikin students about preparing for life after graduation?
Britteny Dunson: Take advantage of the unique opportunity you have NOW to shape who you are and add value to the world around you. You will never again get the opportunity to start an organization or travel the world with some of the best resources in the world at your disposal, like you do at MU. Get messy, make mistakes – at least you are in a position to do so in a safe haven of people who truly care about your future. Don't settle! If you work your *** off, and you still fail, ask why and push harder. Never settle for what you're given unless you know you did all that you could.
Millikin Quarterly: Anything else you would like to share with the Millikin community?
Britteny Dunson: I would not be the person I am today if it weren't for the bubble that shaped me. I am forever grateful for having my blood turned Millikin blue.