Hogwarts, Harry and The Issues That Must Not Be Named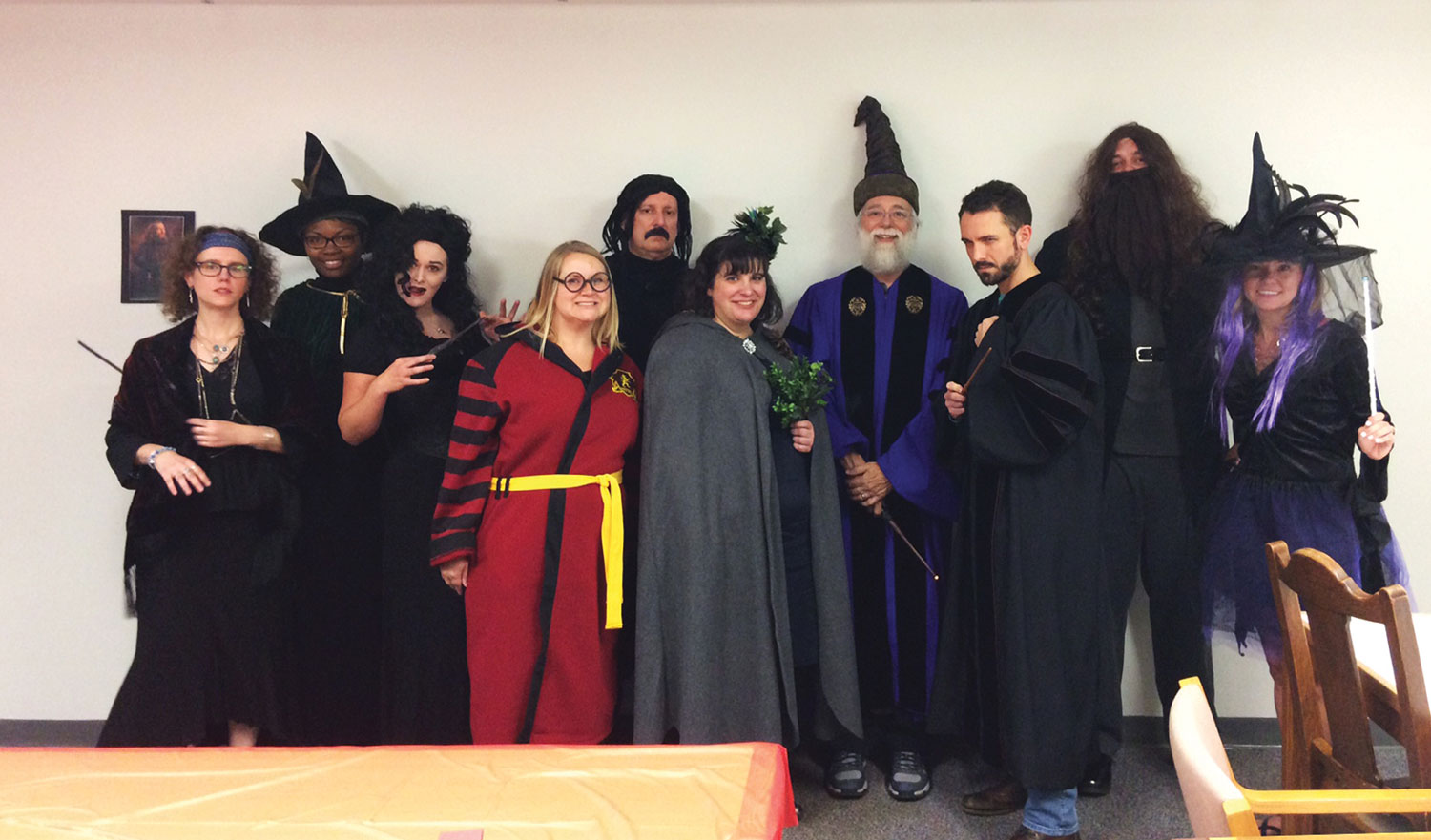 "It takes a great deal of bravery to stand up to our enemies but just as much to stand up to our friends." — Headmaster Albus Dumbledore, "Harry Potter and the Sorcerer's Stone"
Harry Potter knew what it felt like to be an outsider. As such, J.K. Rowling's book series about the boy wizard provided a suitable subject for a Millikin class designed to foster critical thinking about tough issues that are hard to discuss.
To promote the upcoming January immersion course, some campus and community members brought out their inner Hogwarts last fall. Putting their "Potter on" in the name of education were, from left: Amanda Pippitt, associate professor and access services coordinator, Staley Library; Dr. Ngozi Onuora, assistant professor, School of Education; Alissa Henkel, head of the adult division, Decatur Public Library; Amber Lusvardi, lecturer, history/political science; Scott Rueter, adjunct faculty member, history/political science; Rachel Bicicchi, associate professor/librarian/education technician, Staley Library; Dr. James Rauff, professor of mathematics; Dr. Tom Robson, assistant professor, School of Theatre and Dance; Dr. Travis Wilcoxen, associate professor of biology; and Dr. Christie Magoulias, director/associate professor, School of Education.
During the course, students examined notions of "othering," marginalization and difference, and studied how these differences can be used to perpetuate political corruption and feuds, social injustice, ethnic animosities, cultural tensions, racial hatred, violence, unjust policies and even all-out war.