Gold Standard

Last September, Karla Wessels '07 traveled to Rio de Janeiro to serve as athletic trainer for the U.S. women's wheelchair basketball team at the
2016 Paralympic Games, where the team won the gold medal. In between prepping the team for daily competition, Wessels taught online classes for her students at Georgetown College, where she is assistant professor and director of the athletic training program.
MM: In Rio, you were the athletic trainer for the U.S. women's wheelchair basketball team that won gold. Talk a little about that amazing experience.
KW: Rio was exactly what you said: amazing. It was great to be a part of the Paralympics and specifically that gold-medal team. To watch that team grow over the years and develop into a gold-medal team was fun and truly remarkable. The Paralympics as a whole was outstanding. There was a lot of negativity surrounding the Olympics and Paralympics, but Rio did an amazing job and everything ran smoothly. On top of that, Rio is a gorgeous city, so it was nice to be able to experience that!
MM: What was a typical workday like at the Paralympic Games?
KW: While in Rio, the team had a game and practice each day. Being their athletic trainer, I went to each game and practice to make sure they were physically ready and able to play. In between the practice and game, or at the end of the day, I would do treatment with whoever was nursing an injury or had muscle tightness and pain. When I wasn't serving as an athletic trainer for the team, I graded homework, answered emails and made sure my classes and athletic training program were running smoothly back home.
MM: What kind of preparation went into the Rio trip?
KW: There were years of preparation for this trip for the team and staff as a whole. First, we had to qualify for Rio by earning a spot at the Parapan Am Games in 2015 in Toronto. From there, we trained on a monthly basis to prepare for Rio, either through a training camp or a competition. I also had to prepare to leave my current job for three weeks. I didn't want the students to suffer and have to play catch up when I returned, so I had all of my classes online during the time I was away.
MM: How did Millikin prepare you for what you're doing today?
KW: Millikin is where I studied athletic training and became an athletic trainer, so to say it helped prepare me for this is an understatement. In addition, the reason I am involved with adapted athletics is because an MU professor encouraged me to take a graduate assistantship at the University of Illinois with the wheelchair basketball and track teams. It is because of that encouragement that I began this journey.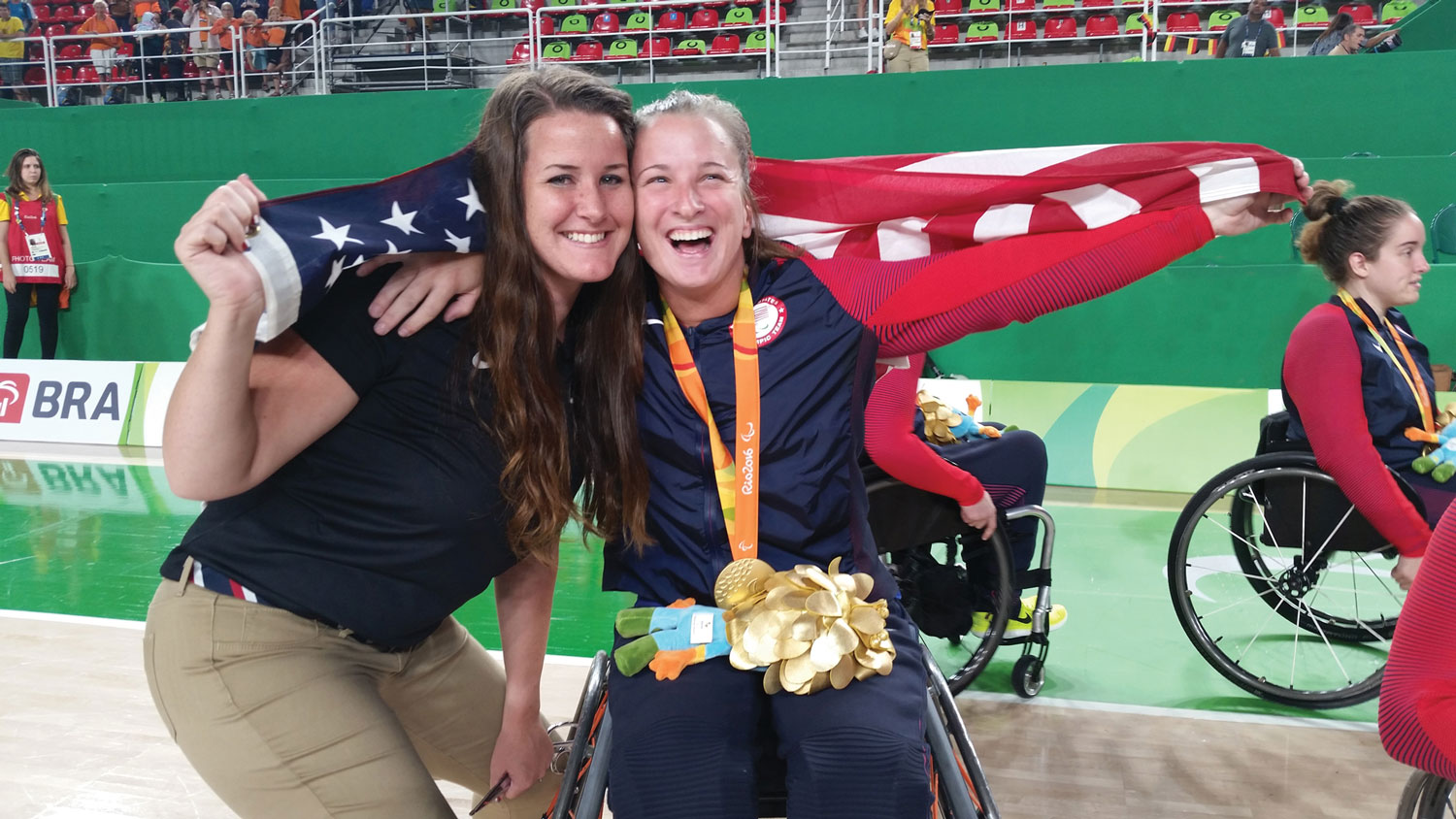 MM: Who were some of the MU professors or administrators who made a special impact on your education?
KW: The entire athletic training program did a great job preparing me to become an athletic trainer. During my tenure, the staff included Tisha Hess '98, Noel Neptune and Trevor Bates '02. Specifically, Noel and Trevor made a huge impact on my education and continue to do so today. They were not only my mentors then, but they continue to mentor me and offer advice whenever it is needed now. They have been a guiding light through it all.
MM: What is the best career advice you've received?
KW: I think some of the best advice I have heard is to step outside of your comfort zone. Who knows where I would currently be if I had not stepped outside my comfort zone and went to work with the wheelchair athletics program at the University of Illinois? I listened to the advice, and because of it, I have a doctorate from a great school, am an athletic trainer for Team USA and landed my dream job at a young age. Everything could be completely different had I decided to stay in my comfort zone.
MM: What are your future career goals?
KW: The athletic training program that I currently direct is an undergraduate program. Athletic training education is moving to the master's level, so my most immediate goals are to see that through. I also would like to work on publishing my research about balance assessment after concussion in individuals with physical disability, so other medical professions can properly care for this population.