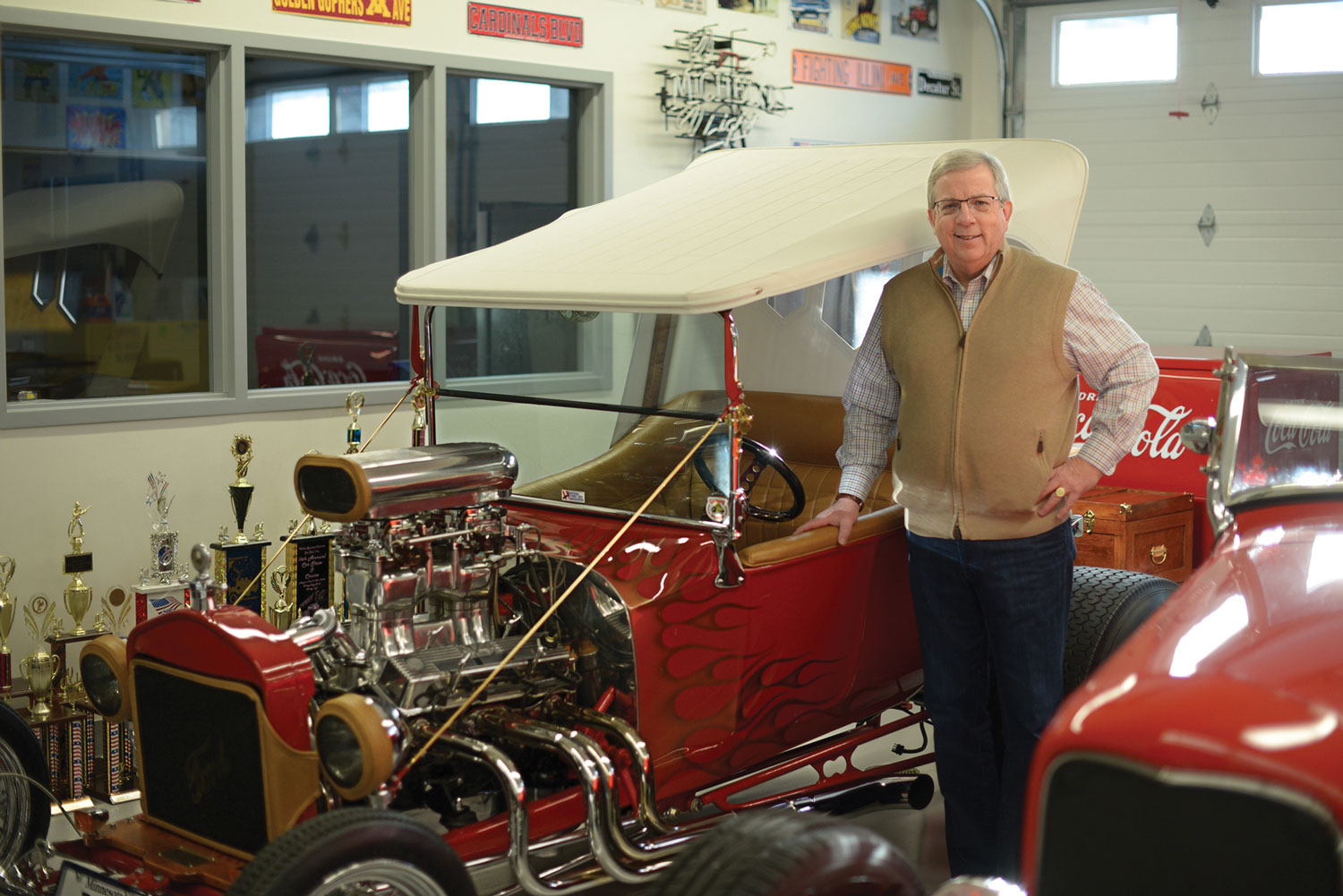 In October 2016, Norman Oberto '74 discussed his path to heading his own company with a campus audience that included several students considering careers as entrepreneurs.
Norman Oberto's "Journey in Determination," as he calls it, began at a young age. A Decatur native, the 1974 industrial engineering graduate lost his father when he was just 14 years old. A heartbroken Oberto, his mother and his sister, Glenis Oberto '77, decided to "make it work." He began working at a grocery store after school, saving his money to complete an unfulfilled dream he had shared with his dad: to build a car together.
"After my father passed away, what really saved me was I decided to build a street rod anyway," he says.
Oberto worked on the car whenever he had spare time: during his four years at Millikin, through meeting his future wife, Lori Gould Oberto '75, even through getting married, moving into a little house by Decatur's Nelson Park and working five years at Firestone. To his long-term regret, he felt he needed to sell the car when he started work for an East Coast manufacturing company in 1979.
Oberto went on to work for several years in manufacturing sales, eventually returning to his hometown to work as vice president of sales and marketing for Wagner Castings for 10 years. All the while, he was reaching out to the business owners he knew, asking their advice on the ins and outs of business ownership. A dream larger than building a street rod had taken a strong grip, and Oberto couldn't shake it.
"I'd always wanted to own my own company. Thought about it for years. But it took me 30 years to get the courage to go out and do my own thing," he says. "Some people are not born entrepreneurs, and I certainly fell into that category."
Finally, in 1996, after some research and investigation, he found a Minnesota plastics company. As he puts it, he "fell in love" while visiting there, talking with the current owner until 2 a.m. and making the deal while Oberto's wife was back in Illinois preparing for the birth of their third child.
So at age 44, Oberto purchased Imperial Plastics Inc. in Lakeville, Minn. He made the determination despite the advice of his respected former MU professor, Dr. Bill Williams, who had advised that the ideal age to purchase a business was 38 or younger.
"As an entrepreneur, you need to get used to the fact that people are going to tell you that you can't do something," he says, noting that taking risks and bucking popular notions are part of the package of business ownership. "Along the way, not everybody is going to be with you."
Unfortunately, Oberto had a problem.
"I still didn't have any money," he says.
So he called on a Decatur connection who helped him obtain the $10 million in financing he needed.
Today, his company has grown from $9.2 million in annual sales when he purchased it to $115 million in annual sales, 850,000 square feet of space, 800 employees and 153 machines for producing everything from Polaris hoods to OtterBox phone cases.
"I've been fortunate to be the leader of the band, but I don't play the instruments," he says. "It's been a fun journey."
Currently chairman of the board, he will retire when he turns 65 later this year.
"I truly don't like the word 'retirement,'" he says. "I want to do something different. So I'm dabbling."
In other words, he's exploring opportunities to invest in another type of industry, perhaps as far away as Austria.
Childhood friend Warren Jesek '74 thinks Oberto will succeed at whatever he sets his mind to next: "I've known him since first grade. Got a great relationship with his people. Success in any business is to know and love people. This man's got it."
And that street rod he sold in 1979? Oberto's "Journey in Determination" didn't end with owning Imperial Plastics. Five years ago, he hired a private detective who tracked the car down in Missouri, 10 owners and several trophies later. Oberto proudly shows off a photo of the car again in his possession, saying, "I wanted that car back in the worst kind of way. It gave me a goal to work on."