The Other Side of Fear
Leaving your home and moving nearly 9,000 miles away to a country where you don't know anyone or speak the language is daunting to most. But for Amy Turner '05, moving to Cambodia to work with Hope for Justice, a global organization that fights human trafficking and slavery, was years in the making and a lifelong passion realized.
"I started volunteering when I was a kid — it's a family thing," Turner says. "I started my first 'nonprofit' when I was nine. I got my elementary school to make care packages for troops in the first Iraq war. I chose Millikin because they encouraged volunteerism from students."
Originally enrolling as a theatre major at MU, Turner realized she found more inspiration in her art classes. So she changed her major to studio art, and that change in major led to some major changes in her life, and an innate courage being realized.
"The professors were amazing. [Professor of Art] Jim Schietinger and [Assistant Professor Emeritus of Art] Annette Russo '88 challenged me to do something beyond what I knew," Turner says. "They pushed me to the other side of fear to embrace challenge. Even today, when I face a decision, I think of those people who pushed me to try new things. They made me who I am today."
Their positive feedback helped Turner excel beyond her expectations. "I did much better in college than in high school," she says. "My high school guidance counselor said I wasn't going to make it in college. So I got two degrees just to show her!"
Turner enrolled in graduate school at the University of Louisville (U of L) after a friend suggested a career in art therapy, which would combine Turner's love of creativity with her desire to be a change-maker. And Turner also continued volunteering.
"While I was in grad school, I volunteered with 'Made by Survivors' in India," she says. The organization, known today as "Her Future Coalition," helps shelter, educate and employ women and children rescued from sex trafficking. Turner's first trip to India was during winter break. But she didn't think that was enough time, so she went back for three months during the break between her first and second year of grad school.
"I worked in the red-light district in Calcutta with children of prostitutes, doing art therapy in groups," says Turner. "I still have some of their drawings that have traveled with me since 2009."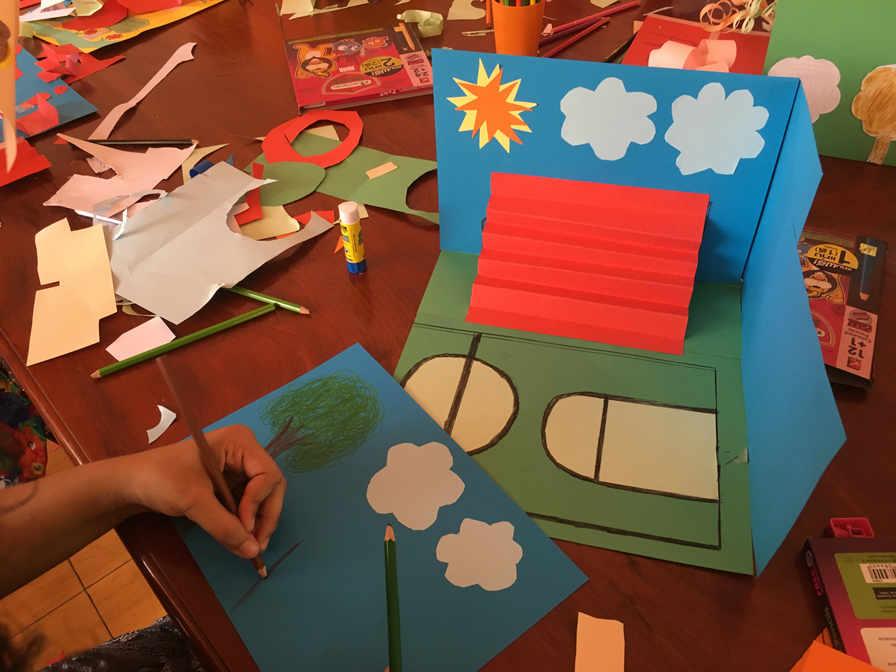 After graduating from U of L, Turner worked in the Tennessee juvenile justice system as a licensed counselor and art therapist. Although she was making a difference, her passion was helping victims of sexual exploitation and human trafficking.
"When I couldn't find a job doing it, I found volunteer opportunities," she says. "I led therapy groups with girls in group homes. I served meals in strip clubs and made friendships with the dancers. I also volunteered with [the nonprofit organization] End Slavery Tennessee."
Then came the opportunity that would define and change her life in July 2015.
Turner's supervisor in the juvenile justice system also helped train workers for Hope for Justice (HFJ) and knew that the organization would be a perfect fit for Turner.
"My supervisor and HFJ found me; it was a collaborative effort," Turner says. "If it wasn't
for her encouragement, I wouldn't have gone through with the interview. No one knew I had sent in my information, because I thought it was such a shot in the dark. I was told I had gotten the job before I even told my parents I'd applied!"
Turner left for Cambodia that following September to work at Hope for Justice's assessment center, where clients are brought after being rescued from sex trafficking. She also collaborated with law enforcement and government entities to help identify and rescue victims, and worked at the organization's "Dream Home," where clients receive therapy, medical care, vocational training and help with eventual reintegration into society.
"Cambodia is what turned the dial in my life from where I was going to where I am now," she says. "It's kind of cliché to say it changed my life, but it totally changed who I am and where I'm going."
Unfortunately, the opportunity was short-lived; just before her contract came up for renewal, Turner learned funding for her position had been discontinued. Reluctantly, she returned home in September 2016.
"Coming back was more of a culture shock than going," she says. "Even little things were so different, like how expensive everything is here and how much consumerism is in your face."
It took some time, but Turner eventually found an outlet for her passion stateside. In January 2017, she began working at The Center for Women and Families in Louisville and now serves as director of the sexual assault program. Funded solely through grants and donations, The Center is the only domestic violence and sexual assault center serving seven counties in the greater Louisville area.
"It's a really great organization," she says. "All the services are free. We even provide legal support if clients need to get a protective order."
Outside of her day-to-day work, Turner also writes a blog, himynameisamos.com, in an attempt to broaden minds and motivate others.
"Maybe my blog can inspire someone and let them know they're not alone in trying to change things," Turner says. "If I can't change the world myself, I want to inspire someone else to do it."