Ask the Expert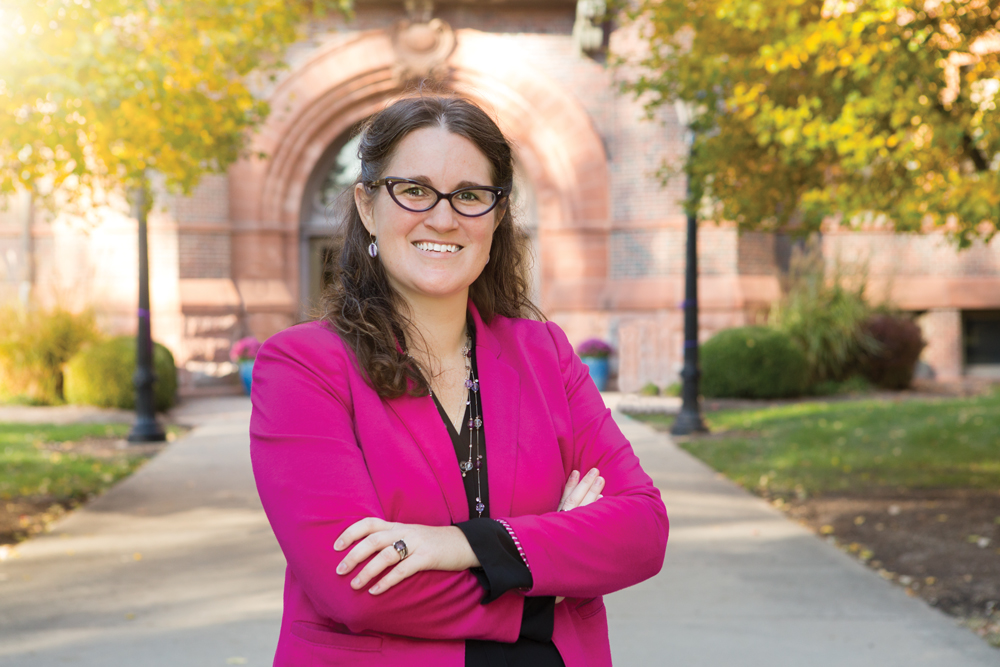 Dr. Laura A. Dean is an assistant professor of political science and the Williams Professor in Global Studies at Millikin. As a researcher and advocate for more than a decade, she has spoken internationally about human trafficking, including providing expert commentary for BBC World Service and Dutch Radio. Before joining MU, she was appointed to Georgia's Governor's Office for Children and Families' Commercial Sexual Exploitation of Children Task Force in 2015. She earned her doctorate in political science from the University of Kansas in 2014 and a graduate certificate in women, gender, and sexuality studies in 2013. Among her most recent accomplishments, she was awarded a 2016-17 American Fellowship by the American Association of University Women to support her work on her book "Beyond the Natasha Effect: Determinants of Human Trafficking Policy Variation in the Post-Soviet Region." In her downtime, she enjoys running, learning Ukranian (she also speaks Latvian and Russian), traveling, volunteering at local women's shelters and the occasional Latvian folk dance.
Q: What is human trafficking?
A: Human trafficking happens in chat rooms, hotels, fields, nightclubs and on the street — all within plain sight, yet remains unseen by most people. When was the last time you asked the person who paints your nails if they do so of their own choosing? How about the person who cleans your hotel room? Picks the vegetables you eat? Farms the coffee you drink every morning? All these industries are tainted with human trafficking.
Referred to as a modern-day form of slavery, human trafficking is manifested in sexual exploitation, forced labor and organ trafficking. While the issue is often conflated with prostitution, illegal migration, and labor, at its core, human trafficking includes elements of force, fraud, and coercion for the purposes of exploitation.
Sex trafficking of young girls is often the type of trafficking most heard about, but forced labor is becoming more prevalent. Due to the undercover nature of the crime, it is difficult to know the true extent of the problem. The Global Slavery Index estimates 45.8 million people are in some form of modern slavery, while the U.S. Department of State estimates that 14,500-17,500 people are trafficked into the U.S. each year.
Most of the attention in Illinois is centered around Chicago, but human trafficking can happen anywhere, even in central Illinois. Trafficking rings have been identified from Decatur to North Carolina where victims were sold for sex, from Chicago to Springfield, and from small businesses where family members sold relatives for the purpose of sexual exploitation. Trafficking in rural communities is a growing problem that needs our attention.
What can you do? Educate yourself on this issue. Learn to recognize the signs. Support organizations in your community helping youths, homelessness, and trafficking and domestic violence victims. Tell your representatives to support improving laws on trafficking in your state and to increase federal and state funding for anti-trafficking programs. This is the only way we can begin to combat human trafficking.

Warning Signs for Labor Trafficking and International Sex Trafficking
Is not free to leave or come and go as he/she wishes
High security measures at work and home
Is unpaid, paid very little or paid only through tips
Works excessively long and/or unusual hours
Is not allowed breaks or suffers under unusual restrictions at work
Avoids eye contact
Withdrawn, depressed, distracted, fearful or anxious
Has few or no personal possessions
Is not in control of his/her own money, no financial records or bank account
Shows signs of physical and/or sexual abuse, physical restraint, confinement or torture
Is not allowed or able to speak for themselves (a third party may insist on being present and/or translating)
What to do if you encounter a trafficking situation
Do NOT intervene! This could endanger you and do irreparable harm to the victim. If the victim is in immediate danger, call 911 and alert local police to the situation.
If the person is not in immediate danger, you can report tips to the National Human Trafficking Hotline at 888.373.7888. Remember to write down the information with as much detail as possible including location, description of the victim, description of the perpetrator, license plate numbers, make and color of the car, etc. Even if you are not sure if the situation you witnessed was exploitation, the counselors can guide you through the referral process.
You can also report a human trafficking tip to the Department of Homeland Security Immigration and Customs Enforcement by calling 866.347.2423 or ice.gov/webform/hsi-tip-form.
Source: The Polaris Project