Living His Type of Life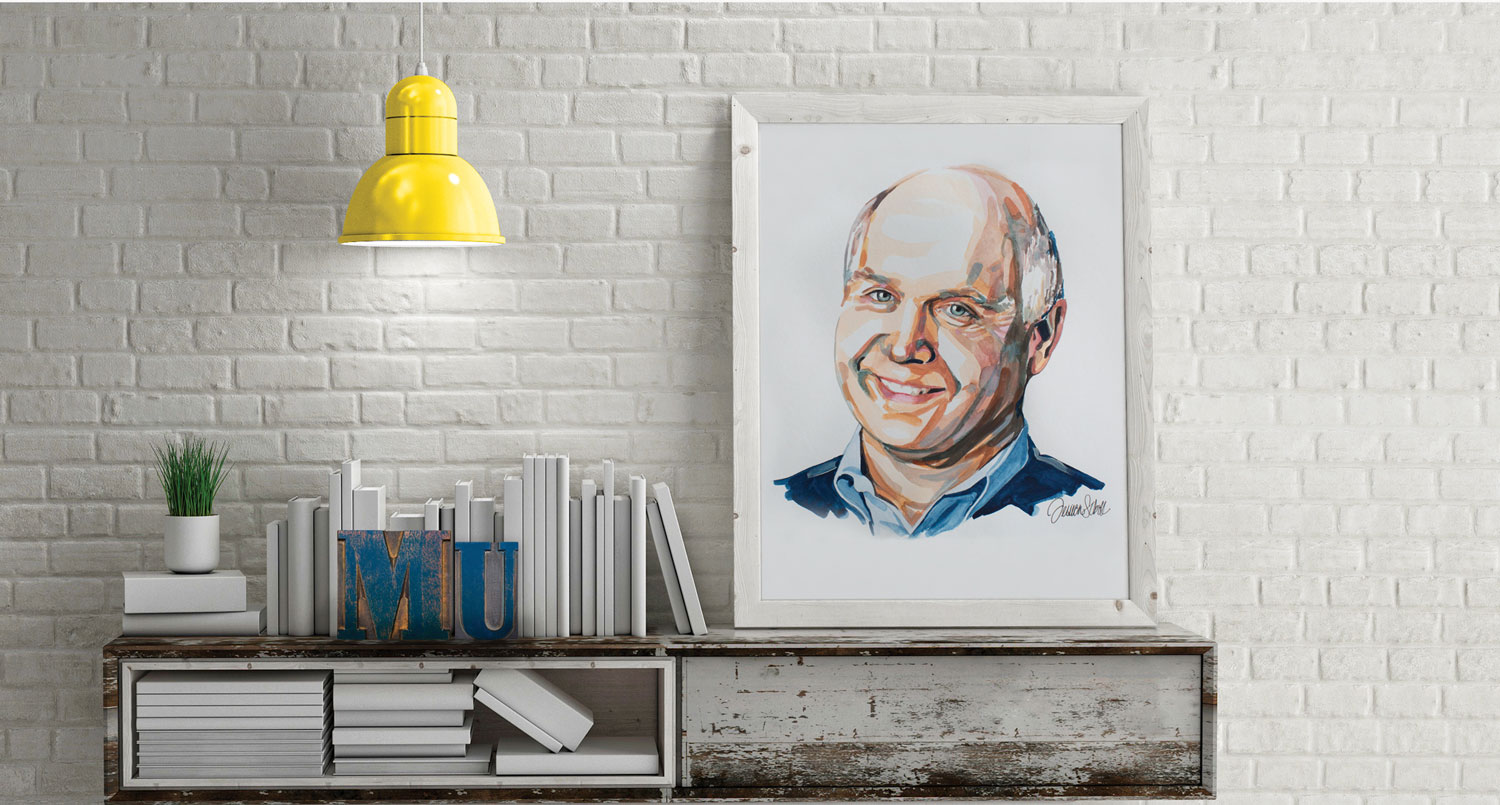 The year was 1986. Robert "Bob" Givens '66 was asked to head up an experimental company working on a new and revolutionary concept: scalable type. The company's products meant that, for the first time, an average Joe and Jill could produce high-quality printed documents in type of various sizes on their home printer instead of relying on a local print shop. Now known as Monotype, Givens' company helped usher in the era of "desktop publishing." From a modern perspective, that term may sound as old style as a reference to Gutenberg's printing press.
But that observation would be a mistake, one that Givens — a man prone to sweater vests and warm curiosity — would likely forgive, if quickly correct. As Givens, Monotype's long-time CEO, recently told a group of Millikin business students: "Every single one of you, every single day, uses our products."
More than ever, our world is bathed in type, and displaying type correctly in a digital, global age is a tricky endeavor. How do you get a brand motto to look clear and recognizable across English, Urdu and Swahili? On billboards, laptops and smart watches?
These are problems that Monotype tackles with its type technologies. It's a niche business, employing software engineers and type designers who fret over the finer points of rasterization and stroke-width. The fonts that Monotype creates and leases comprise their own exotic language: Quire Sans, Classic Grotesque, Neue Haas Unica, Rockwell, Metro Nova, Times New Roman, et al.
The names are often fantastical, but the stakes are real. In a study conducted with MIT, for example, Monotype found automobile drivers can read "humanist" type styles on navigational displays a half-second faster than other fonts. At 60 miles per hour, that half-second translates to a stopping distance of almost 50 feet.
The many dizzying applications of typefaces and typeface technology have powered Monotype's growth into the $200+ million-per-year company it is today, with more than 700 employees in offices from New York to London to Hong Kong. Givens attributes that astronomical success in part to a Midwestern work ethic that got its start many decades ago in Decatur.
In postwar Decatur, the Givens family was the picture of prosperity. Givens' father owned a successful roofing and siding business, while his mother was a respected socialite who volunteered for local charitable organizations.
But in the mid-1950s, their comfortable lifestyle quickly deteriorated when Givens' parents divorced. Within one year, his mother (who had taken over the family business) had to declare bankruptcy. Both parents suffered health problems that prevented them from working. For Givens and his older brother, Charles, the family home became temporary and transient. They were forced to move from apartment to apartment, as money for rent was scarce. They moved six times in a five-year period. Givens describes these as difficult times but also times that taught him many valuable lessons about family.
Originally, Givens had planned to attend the University of Illinois at Urbana-Champaign. But when his mother underwent a serious eye operation and could not drive, Givens chose to attend Millikin to stay closer to home.
"Going to a small college like Millikin was very important to my academic and personal well-being," Givens says. "I would have been lost at a massive school like the University of Illinois."
Givens worked two to three jobs during college to pay his family's rent. Beginning his freshman year, he worked more than 30 hours a week as a salesman at Bachrach's men's clothing store. Later, he added a job working the night shift as a newspaper delivery driver.
Despite his busy schedule, Givens threw himself into campus life. He joined Sigma Alpha Epsilon (SAE) fraternity and became an active leader in Greek life, as well as president of his senior class. He also met his college sweetheart, Tri Delta Connie Richeson '67, whom he married.
The Givens brothers' chaotic childhood proved a powerful motivator for both Givens and his brother. Charles, who became famous in the 1990s as a financial guru, embodied financial success. He authored a bestseller, "Wealth Without Risk" and appeared on various TV shows, including "Oprah" and "Larry King Live."
"My brother centered his life around building a successful business, and he certainly achieved that," Givens says. "We had the same upbringing but different life goals. I was more concerned with building a successful family, and I carried that notion to my company."
For all his ambition, rising from an entry-level salesman to CEO and chairman of a publicly-traded company, Givens insists that his career was always a means to that end: creating and sustaining a sense of family.
But the journey toward that goal was initially uncertain. After graduating from Millikin, he pursued a master's degree in higher education administration. After working briefly at the University of Connecticut, he was drafted into service and served in the infantry during the Vietnam War. Returning to the U.S. after his service, he craved a job where he could call the shots.
"I do like to be in control," he says. "I like to run things."
He started in sales in the Printing Products Division of 3M and in 1975 moved to Compugraphic, a company that sold typesetting equipment. In 10 years, he rose from a sales position to international marketing manager, all the while striving to make his family, which now included two daughters, his top priority. As a result, he sometimes went to work at 6:30 a.m. to ensure he could be home for dinner.
Then in 1986 came the opportunity of a lifetime. His boss, a vice president at Agfa (the multinational company that bought Compugraphic), asked if he would like to head an experimental new company within their corporation based on a patent for scalable type. Agfa had an inkling of the new technology's value, though no one could foresee how low-cost desktop publishing would explode as a result. Agfa extended a three-year commitment to the new company, Font Technologies, with the expectation that it would produce five large customers and at least $2 million in revenue.
Although the company started with one modest customer, within 30 days, a dream client arrived on their doorstep. Hewlett-Packard, which dominated roughly 65 percent of the printer market at that time, approached Font Technologies about including scalable type in their upcoming HP Laser Jet III printer. Givens' team would load eight typefaces and their patented technology into the new printer.
Three months after the deal was struck, it threatened to unravel when Font Technologies' chief engineer told Givens they would be three weeks late delivering the software. "We were looking at each other thinking, 'we just started this business, and this is probably it. We're going to have to close things down,'" Givens says.
He immediately called the HP lab manager with the bad news. For an excruciating while, she said nothing. Finally, she asked, "How late?" Givens, thinking quickly, said six weeks to provide some wiggle room. She agreed.
Font Technologies met the extended deadline, and the debut of the HP Laser Jet III became the most successful printer release up to that time. Later, the HP lab manager told Givens, "No software company calls and says they're going to be late. When you called to tell us, I knew we could trust you and work with you guys."
The story crystallized a company ethic: proactive honesty, internally among employees and externally with clients, no matter the consequences. That policy helped build Monotype's reputation and a company culture in which people could trust one another. These principles were informed in part by Givens' Christian beliefs, but they also held practical value. The resulting strong relationships were good for business.
For example, Givens opted for royalties over fees as compensation for the software his company installed on other companies' products. He stood steadfastly by this model, even turning down a seven-figure offer for a paid-up license at a time when the company's sales were $2–3 million. Investing in his partners' success paid dividends, as those partners expanded to include IBM, Canon, Toshiba and others.
It was one of several key decisions Givens made to further Font Technologies, which later became Agfa Type Division, then Monotype. He acquired several companies that owned important typeface libraries. Then, he ensured that Monotype's technology and typefaces were always licensed together. In 2004, he led the leveraged buy-out from Agfa so that Monotype could flourish as an independent enterprise. He also ensured his employees would receive equity positions in the new company. One of his last achievements as CEO was the acquisition of the Linotype typeface library, (which includes such well-known typefaces as Helvetica and Frutiger), solidifying Monotype's font collection as one of the largest in the world.
Givens retired as CEO in 2007 and served as Monotype's board chairman until 2014; today he serves as chairman emeritus. Meanwhile, the company he leaves behind has made its mark on human history. As part of a five-year partnership with Google, Monotype created a free font (Noto) designed to accommodate more than 800 languages, including dead ones like Coptic, and those without a typographic tradition, such as Tibetan. Expressed in a universal font, these languages can now survive into the digital age.
But if you ask Givens about his legacy, he points to the moment at his retirement party when he learned his successor sent a terminally ill employee and her family to Italy, fulfilling her lifelong dream.
"At that moment, I knew [he] had learned everything he needed to learn from me to continue the company culture," Givens says.
Monotype's culture of caring continues. Even today, Givens can't slip into headquarters without hearty greetings from employees at every step.
"This is a family," he says.
These days, Givens is turning his attention to another family. In his memoirs, he reflects on a time he suffered a "downhill slide from which I might not [have] recover[ed]." In his junior year of college, overwhelmed by obligations, Givens started regularly missing classes. But MU's dean of students noticed and intervened with the wake-up call Givens needed — one, he is convinced, that could only happen at a small college like Millikin.
"I am forever grateful for the help I received from everyone at Millikin — professors, administrators, even Dr. Paul McKay, the university president," Givens says. "This school provided me the support I needed to succeed during a difficult period in my life, and it's one of the reasons I feel privileged to be able to financially give back to the university that served me so well."
Now, Givens is bringing his business and leadership skills to Millikin as one of the newest trustees. Because, as Givens well knows, drive and compassion and integrity make the difference — at any scale.